T-fal Cookware is a famous brand of kitchen products that began over 60 years ago. The founder, Marc Gregoire, was a French engineer that worked with lubricating materials. As the story goes, he was advised by his wife, Colette, to treat her pans to prevent sticking. The non-stick frying pan was born!
Yes, T-fal was the first company to introduce non-stick cookware to the world. The result was much less need for cooking oil, thus saving money and improving health. As you're probably well aware, almost any cooking pan you buy now features some form of non-stick technology. All thanks to T-fal!
The full name brand is Tefal, but is marketed to the US and Canada as T-fal. A brand that originated out of France could be manufactured anywhere in the world! Is the US one of those places? Let's look deeper and find out where T-fal manufactures their goods.
Verdict: Is T-fal Cookware Made in the USA?
No, T-fal Cookware is made in China. The company began in France, and according to their website, they claim that manufacturing continues in this homeland. But, it doesn't. And it's certainly not made in the USA. Hang with us while we unpack our investigation below.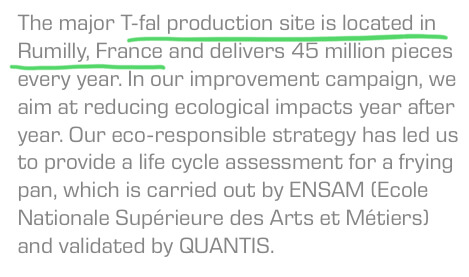 It is difficult to find manufacturing information on the company's lacking website. Their About Us section is miniscule. You'd expect a company to be proud of the fact that they originated in France and continue to produce in France. Oh wait, they don't! Though the brand leads you to believe manufacturing continues in France, it mostly takes place in China.
We noticed that T-fal reported their major production site was located in France. This made us question…do you have minor sites that are located elsewhere? Finding nothing on their website, we reached out to customer service.
All American: I saw your website stated that your major production site is located in France. Is this where all of your products are made?
T-fal: give me one minute. You said France, right?
AA: Yes…
T-fal: Our products are made in China.
AA: Is that just your appliances? Aren't the pots and pans made in France?
T-fal: the handles are made in France, but the pans are made in China.
T-fal products can be found in over 120 countries. The company offers not only cookware, but kitchen electrics and steam irons. They're a large company, and as it usually goes, big corporations outsource their work.
After getting off the phone with the first representative, we received an email back from submitting a contact form. That employee stated that products are manufactured in France. So, now we're back to being confused. To clear things up, we called the customer service line again.
Second phone call:
All American: Hi – I just called earlier today and was told that your cookware was made in China, but I got an email from customer service that it's made in France?
T-fal: ok, let me check for you.
placed on hold
T-fal: ok, I talked to my supervisor and they said that for the most part, our products are manufactured in China or Malaysian countries like Taiwan.
AA: Ok, I was told earlier that some handles are made in France?
T-fal: yes, some pieces might be made in France, but for the most part, products are made in Asia.
Then, we received a message back from our email contact, stating the same: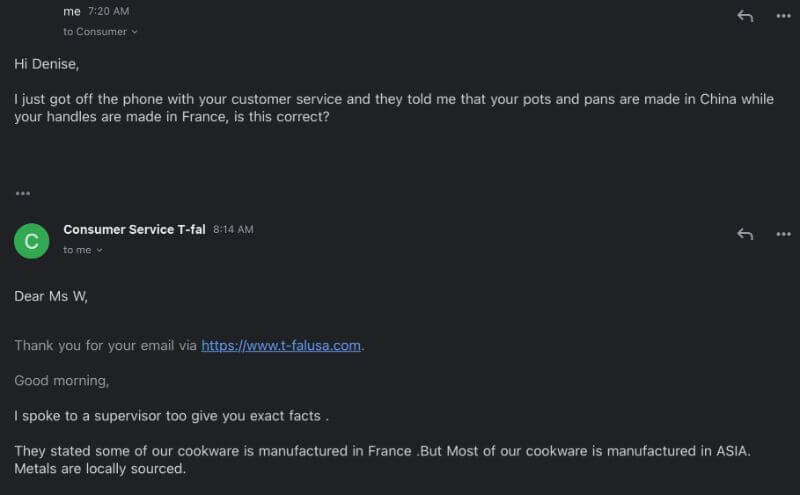 What we learn from this inquiry is a lesson taught over and over again. If you aren't proud enough of your practices to state them to the consumer, why do you continue them? No, it is not noble for a seemingly French cookware company to hide behind a thin veil of production secrecy. For shame.
Popular American Made T-fal Cookware
Popular T-fal Cookware Not Made in the USA
Excite Non-Stick 14 Piece Cookware Set
Ultimate Stainless Steel 6.3 Qt Pressure Cooker
Actifry Air Fryer
Related Articles