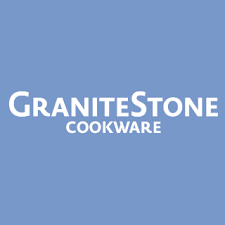 Want that cozy speckled campfire cookware vibe without having to haul out the tent and firewood? Granitestone Cookware is for you. But not so fast! First, you might want to know where this cookware is made.
First created as a financially accessible cookware option, then debuted on As Seen on TV, Granitestone Cookware now has an extensive product lineup. Stainless steel, ceramic, induction capable, and more are a few of the features you'll find on their product pages. With all of its expansion, the brand retains its "accessible" intention by offering lower prices than other high-quality brands. 
Their cookware is nonstick and comes in a variety of colors, sets, and options. Outside of cookware, the brand also offers bakeware and specialty items like knives, appliances, accessories, and cast iron goods.
Granitestone is owned by Emson, an investor brand that has been around for over 70 years. They also own Gotham Steel, Best of As Seen on TV, and TacBrands. Emson also hosts a unique collection of interesting inventions like the Betterbrella, Bacon Bonanza, and NutriChopper. If it's going to be As Seen on TV, it better be interesting.
Granitestone has the noble intention of aiming its offering toward affordable products. But, sometimes, corners are cut in quality, like manufacturing location, to get there. Read on to find out where Granitestone Cookware is made. 
Verdict: Is Granitestone Cookware Made in the USA?
No, Granitestone Cookware is not made in the USA. It is made in China.
Aside from the products for sale on their website, there really isn't much substance to it. You won't be able to find out when the brand was founded and the steps it took to get to where it is today. You won't learn where the headquarters is, and you certainly won't find out where the products are manufactured. 
We scoured the Granitestone Cookware website looking for just that and came up empty-handed. After scraping the bottom of the barrel, we reached out to their customer support team. Here is the email response we received.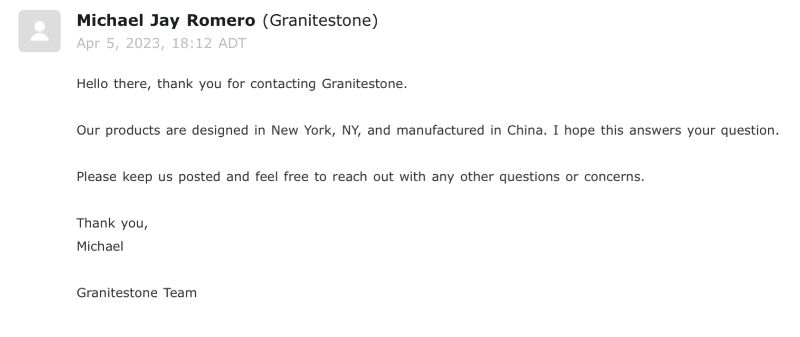 China. Is it surprising?
Considering their grand lack of information on the website, it isn't alarming to finally find our answer. We would've hoped that at least some of their products were US made, like the cast irons, but unfortunately, that seems not to be the case. 
The company makes it very clear that its main mission is to provide cookware that is affordable. And it's well known that the best way to make things affordable is to manufacture them as cheaply as possible. That location tends to be China. 
Although Granitestone has a mission, it could use some improvement. There are more important aspects to business and products, like quality and ethical processes that support people and the planet. 
Popular American Made Granitestone Cookware Products
Popular Granitestone Cookware Products Not Made in the USA
Granitestone Get It Together 10 Piece Stainless Steel Induction Capable Cookware Set
Granitestone 10 PC Ceramic Cookware
Granitestone Stackmaster Stackable 10 Piece Cookware Set
Related Articles