Millennials and aesthetic-seeking home chefs are flocking to Caraway, a new cookware brand that hit the social media scene by storm.
Their number one product is a cookware set that includes a dutch oven, fry pan, saucepan, and sauté pan. A four-piece all-you-need kitchen crew to get you through any recipe, whether it is frozen nuggies or artisanal risotto.
Aside from these kitchen basics, they also offer a range of accessories like steamer baskets, mini pans, food storage containers, and kitchen linens. The cookware products made by Caraway are non-toxic, non-stick, sleek, and sustainable. When you receive your kit order, you won't find any single-use plastic packaging.
Caraway Cookware is minimal, modern, and high utility. But is it made in America? Let's find out.
Verdict: Is Caraway Cookware Made in the USA?
No, Caraway Cookware is not made in the USA; it is made in China.
American at the start, Caraway Cookware was born in New York, but it didn't stay there. After designing the pans, the brand searched for a manufacturing partner and landed on one in China. It usually happens that way, doesn't it?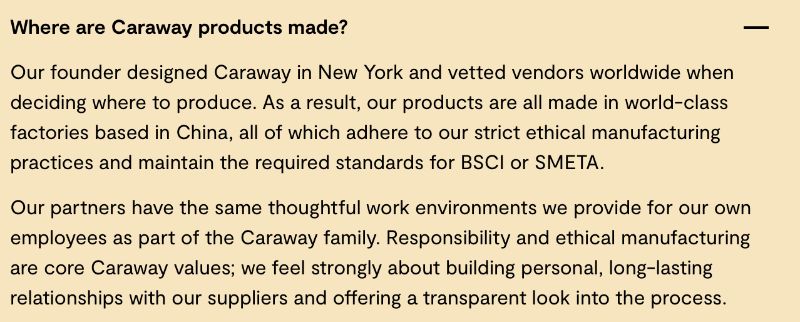 An important note about cookware is that many non-stick pots and pans (actually, over 95% of them!) are made with a chemical known as Polytetrafluoroethylene (PTFE). And it's not just a doozy of a vocabulary word. PTFE is also nasty on the environment and labeled a "forever chemical" because it can take decades, or more, to leave your body after you eat food prepared on it. And when it does leave your body, it never breaks down in the environment. Never!
When it comes to responsible purchasing, a few things should be considered. Environmental impact is a big one. A major benefit of searching for American made products is that they have a much smaller environmental footprint. They don't have to be shipped overseas for one…have you seen the aftermath of oil spills or the whales washing ashore after getting hit by container vessels? And that's just a small piece of the much bigger picture.
So, sometimes the products you purchase come down to a balance between manufacturing location and overall environmental impact.
If you do end up purchasing a Caraway kitchen set, it is easy to recycle it at the end of its use. Simply visit the Recycle page on the Caraway website, type in your zip code, and you'll be issued a list of the closest recycling facilities near you.
Although this was a simple answer: Caraway Cookware is made in China, we respect the honesty and transparency of the company. They don't try to hide anything. It didn't take prodding a customer service rep, digging through their environmental reports, or scoping third-party articles to find our answer.
Is it made in America? No. Is it made well? You be the judge.
Popular American Made Caraway Cookware
Popular Caraway Cookware Not Made in the USA
Cookware Set
Food Storage Set
Steamer Duo
Related Articles