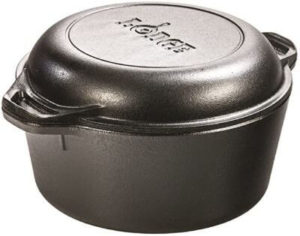 Lodge has a long history of producing high-quality cast iron products. Originally called Blacklock, they're the oldest, longest-running cast iron manufacturer in the United States. Operating out of a dormant railroad foundry in South Pittsburg, Tennessee since 1896, Lodge is known for making kitchen sinks, sad irons, tea kettles, and of course, cast iron cookware.
Though it's gone through several changes and improvements over time, including a factory move following a fire in 1910, Lodge's method of creating high-quality cast iron cookware remains essentially the same.
To meet its product demand, Lodge Cast Iron has converted from a hand-pour operation to an automated molding process to create a safer working environment for its employees. They also opened a second foundry in 2017 which has increased their potential manufacturing capacity by 75%.
The company values family, America, and high-quality cookware. Everything you receive from Lodge Cast Iron has passed a rigorous inspection, and you know you're only getting the best of the best in American-made craftsmanship.
For a company that's been going since 1896 and that has grown and developed its manufacturing process significantly in that time, we ask – are their products still made in the USA? We did the research, our verdict is below.
Verdict: Is Lodge Cast Iron Made in the USA?
All of their cast iron and carbon steel products are made in the USA. These are melted, poured, molded, finished, and packaged in their South Pittsburgh, Tennessee factories. Some of their products not made out of metal are made elsewhere.
With an impressive company history and a clear dedication to creating quality products, it's no surprise that Lodge shares a lot about its manufacturing process. On their website, there are loads of videos and detailed information on how they manufacture their cast iron cookware. It shows you from beginning to end how their products are created, from melting the materials to packaging their products and shipping them out for delivery.
Even when they set up their second factory in 2017, they continued to remain in Tennessee, just a few blocks down from the original factory.
However, a small minority of Lodge products are not made in the USA. All of their main cookware items and anything made out of metal (like their cast iron and carbon steel ranges) are made in their Tennessee factory. However, some of their smaller accessory items, typically made out of silicone, like spatulas and glass pan lids are not made in America. Though they state clearly on each product page where it's made, so at least they're transparent about this.
Lodge Cast Iron clearly takes great pride in using such an ancient but state-of-the-art manufacturing process and being made in the USA. We think it's safe to say, it's unlikely that will be changing anytime soon.
Popular American Made Lodge Cast Iron Products
Popular Lodge Cast Iron Products Not Made in the USA
Spatulas (made in China)
Deep fry basket (made in Cambodia)
Silicone egg ring (made in China)
Glass pot lid (made in China)
Related Articles