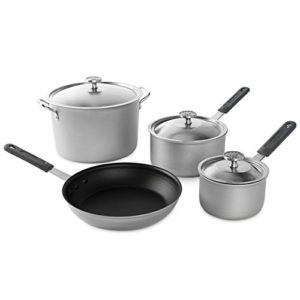 This company started producing cookware in 1946. Determined Dotty and her newly-back WWII veteran husband, Dave, wanted to start their own business, despite only having $500 to their name.
As a result, the kitchenware company, Nordic Ware, was created from the basement of their house in Minnesota. When they first started they only had a few items that were focused on Scandinavian cookware. Now, over 75 years later, those original products have been joined by expansive kitchen and cookware lines.
Nordic Ware is renowned for its famous Bundt® pan. Coined and trademarked by co-owner, Dave Dolquist, the uniquely-shaped cake tin was designed with a hole in the center and a fluted construction to help cakes bake more evenly. The Bundt® pan rose to fame after winning a prize in a national caking contest and can now be found in over 75 million households around the world and are known for being a quintessential American dessert.
Despite growing from two employees to hundreds, Nordic Ware is still a family-owned and operated business with three generations working within the company. With all of that experience comes 75 years of innovation, and that is why you're getting high-quality products for such a low price. Nordic Ware now distributes its products internationally and they even hold a spot in the Food History exhibit at the Smithsonian in Washington, D.C.
So, after over 75 years of making high-quality kitchenware, is Nordic Ware still made in the USA? We did the research to find out, see our verdict below.
Verdict: Is Nordic Ware Made in the USA?
Nordic Ware manufactures the majority of its products in the USA. They take great pride in this and make a very conscious effort to support American jobs, suppliers, and businesses. Some of the materials they use are imported, which is made explicit on each product page.
Being American-made is clearly incredibly important to Nordic Ware. The webpage on their US factory shares a lot about their commitment to this. With a factory in Minneapolis that manufactures over 300 products, Nordic Ware explains that they make as many products as possible in the USA, believing that lower overseas prices aren't what their consumers want. They pride themselves on having a smaller eco-footprint, ongoing American job creation, and consistent, responsive customer service.
They believe that producing products domestically gives them the advantage of carefully monitoring quality control and working closely with other American suppliers. For local suppliers, they use machine shops, tool and die makers, and contractors. Nordic Ware also has suppliers in Minnesota and Wisconsin for packaging and corrugation and use suppliers in Pennsylvania and Wisconsin for coating. They source metal and raw materials from across the United States.
Nordic Ware is committed to supporting American jobs and communities and already employs hundreds of people in the USA. They're going to be creating even more jobs with expansions to their manufacturing and distribution areas as well as a brand new shipping facility.
Another thing that's great about Nordic Ware is that they're incredibly transparent about where their products and materials are sourced. They state which ones are made in the USA, which are imported, and which are assembled in the USA with imported materials. Each product page lists materials used and where it was made, being specific about the elements. For example, a page might say 'Made in America using imported components' and then list 'China (handles)', so you even know exactly which elements are made in the USA or elsewhere.
Popular American Made Nordic Ware Products
Naturals® aluminum bakeware
Naturals® nonstick bakeware
Prism bakeware (except the half sheet with grid)
Procast bakeware
Most cookie and pie accessories
Cast aluminum bakeware
Cake keepers and dessert stands
Prep and serve bowls
Pizza pans
Microwave bacon racks
All outdoor cooking grillware, griddles, and grill pans
Popular Nordic Ware Products Not Made in the USA
Treat™ bakeware (made in China)
Pizza stone set (globally sourced)
Roasting trays (some racks and handles made in China)
Most woks (handles made in China)
Most breakfast pans (handles made in China)
Most restaurant cookware (some handles and lid knobs are made in China)
Stock pots (handles and knob lids made in China)
Most saute and skillet pans (handles and knob lids made in China)
Related Articles