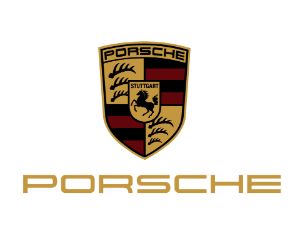 It reads class, flash, and dash. You know it when you see it: a Porsche. The quintessential sports car got its start in 1930 at the hands of Professor Ferdinand Porsche, a German engineer.
A collaboration between mechanical brains, the original company took shape in a business center in Stuttgart, Germany. Originally, they didn't build branded cars. Instead, they designed and developed vehicles, operating based off of custom orders and consulting business.
An early project commissioned by the German government was to create an everyday car for the everyday person. With this assignment, the Porsche design team rattled history by inventing the iconic Volkswagen Beetle.
Today, the Porsche name technically falls under the ownership of the Volkswagen Group, though the two entities retain brand independence. The merger took place in 2011 and at that time Porsche joined the VW ranks, which also include Audi, Bugatti, and Lamborghini.
German from the start, there may be no mystery where Porsches are made today. Read on to find out exactly where their production plants are located.
Verdict: Where Are Porsche Cars Made?
Porsche cars are manufactured in Europe and Malaysia. There are no production facilities in the USA.
They aren't shy about sharing where their cars are made and developed. The Porsche website clearly outline every facility and the models they produce: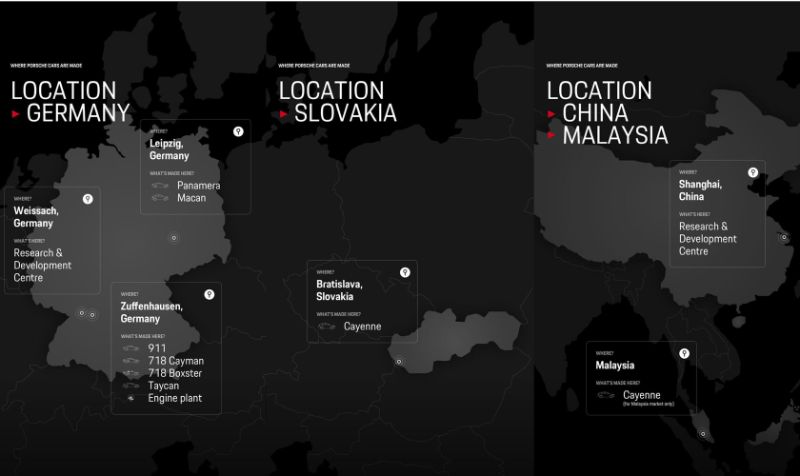 For the majority of the company's history, Porsche vehicles have been manufactured in Germany. It wasn't until 2021 that the first non-European based facility was announced. This was the Malaysia plant. The factory located in Slovakia is owned by parent company, Volkswagen Group.
To this day, Porsche retains a main manufacturing footprint in Germany. Two warehouses in particular, are considered their main facilities: Stuttgart and Leipzig. Leipzig produces over one third of the Porsche annual output, equating to around 550 vehicles per day. This plant will soon be expanded to focus efforts on electromobility and employee training.
Aside from their manufacturing plants, Porsche also hosts two main Research & Development facilities, one in Weissach, Germany and one in Shanghai, China. Their main parts warehouse is located in Sachsenheim, Germany.
Domestic German sales only account for a small percentage of the vehicles that are made in Germany. The vast majority (over 86%) are exported to other countries. The company sold over 300,000 cars in 2021, a 14% increase from previous years. Furthermore, Porsche sales in the US continue to grow by the year. Perhaps that will lead to the company expanding their footprint to the Americas in the future.
International Porsche Manufacturing Plants
| | | | |
| --- | --- | --- | --- |
| Facility Name | Location | Annual Production Capacity | Primary Models |
| Porsche Factory in Suttgart | Zuffenhausen, Germany | 95,000+ | Sports Cars (911, 718 Cayman, 718 Boxster, Taycan) and all engines |
| Porsche in Leipzig | Leipzig, Sachsen, Germany | 118,000+ | Panamera, Macan |
| Sime Darby's Assembly Plant | Kulim, Kedah, Malaysia | 38,000 | SUV Cayenne for local market only |
| Volkswagen Group Factory in Slovakia | Bratislava, Slovakia | 86,000+ | Cayenne |
How to Tell Where Your Porsche Car is Made
If you'd like to find out where your Porsche was made, you can check the VIN, or Vehicle Identification Number. This code contains important information about your car, including the location it was built. You can typically find this number on the dashboard of the driver's side. It might be easiest to stand outside of your vehicle and look in through the windshield.
Your VIN can tell you more than just where your car was made. Use a free service like faxvin.com to pull more important information from your Porsche's VIN.
Other Manufacturers
Related Articles