Finding the right tire for your car can be tough, and even tougher to know where it's coming from. We did the research to help ease that research and decision-making process, finding the tire manufacturers who are making tires right here in the USA. Below are our findings, along with information on how to know where a tire is from, deeper details on each brand, and some information on foreign tire makers that have U.S. facilities. Happy hunting!
Full List of Tire Brands Made in the USA
---
How to Spot Tires Made in the USA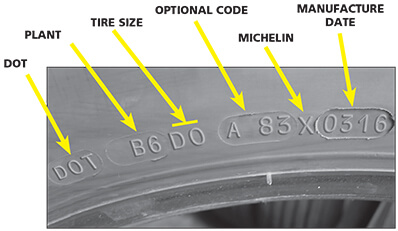 Luckily, identifying whether a tire is made in the USA or not is relatively easy to spot – designating the place of manufacturing on the tire itself is required! You can identify where a tire is manufactured by looking at the DOT (Department of Transportation) code on the side of the tire. After the letters "DOT", you'll see the Tire Identification Number (TIN), which has a few components in it (see the graphic). The first ID number after the letters "DOT" identifies the manufacturing plant that the tire came from. We've listed those IDs for the American facilities of various tire manufacturers above, so you know how to spot American made tires! If you want to look up any other plant codes, Tire Safety Group has a comprehensive list with all codes listed, so you can check that out. The rest of the DOT string identifies tire size, manufacturer, and production date.
Materials
Here is some background on the common materials used in tires and whether or not it's common to find U.S. suppliers for each.
Rubber
Rubber is the main component of any tire. Most tires are made of a combination of natural and synthetic rubber. So, let's dive in and learn more about rubber production worldwide and in the United States.
The United States produces around 35 million tons of rubber each year. Although that may seem like a lot, the United States is actually not even one of the top ten rubber producers. Instead, countries like Thailand and Indonesia top the charts – most of the world's rubber comes from these two countries.
Since, comparatively, the USA doesn't produce as much rubber as some of these other countries like Thailand, it can be harder to find US-made rubber. However, this doesn't mean that it's impossible. There are plenty of rubber-producing companies based in the United States that solely deal with American-made rubber – both natural and synthetic.
Steel
Steel is used in tire belts and beads to reinforce the tread and withstand wear.
China is currently the largest steel-producing country, producing just over half of the world's steel. So, most steel you see on the market will likely come from China. The United States doesn't fall too far behind in terms of steel production, coming in fourth. Tire companies that care more about the quality of their tires will be more likely to use American steel than Chinese steel, as American steel is three times stronger. So, if you're looking for a good quality tire, American-made is the way to go. Overall, it shouldn't be too difficult to find American-made steel as it is superior to Chinese-made steel.
Carbon Black
Most tire rubber compounds will include carbon black. Carbon black helps to increase the tire's lifespan by keeping the heat away from the tread and belts. This material also protects the tire from harmful UV rays.
As with most other materials, carbon black is mostly produced in China. However, the United States is the second-largest producer of this material. So, US-made carbon black is not too difficult to find.
Silica
Silica is another compound used in rubber. It is used in tires to help against wet road conditions. Silica also has an incredibly high tear strength.
China produces an estimated 64% of the world's silica. Other top countries for silica production include Germany and the United States. Although the USA certainly doesn't produce as much silicon dioxide as China, it is still possible to find American-made silica for tires made in the USA.
---
YouTube Video: How to Find Tires Made in the USA
---
Foreign Tire Brands with U.S. Facilities
Michelin
Michelin is a French company that is making tires worldwide and started doing so in the U.S. in 1950. They have a particularly big production presence in South Carolina.
Here are their U.S. DOT codes to look out for:
4M, M3 – Greenville, South Carolina
B6 – Spartanburg, South Carolina
B7 – Dothan, Alabama
B9 – Lexington, South Carolina
Some of the subsidiaries that they have acquired over the years include companies like: BFGoodrich, Kleber, Kormoran, Riken, Tigar, and Uniroyal.
Continental
Continental hails from Germany and got started all the way back in 1871. They didn't start exploring the U.S. until more than 100 years later when they bought General Tire & Rubber Company in 1987. Since then, they have put down some roots in the U.S.
Here are the Continental U.S. DOT codes that you can look for:
6B, A3 – Vernon, Illinois
A9 – Bryan, Ohio
AC – Charlotte, North Carolina
AD – Mayfield, Kentucky
VY – South Sumter, South Carolina
Pirelli
Pirelli is a double whammy – they are an Italian manufacturer and are owned by a Chinese company called ChemChina. They have a huge footprint across the globe (facilities in 13 countries) and also maintain a few production facilities in the U.S.
Here are the Pirelli U.S. DOT codes to look for on their tires:
CH – Hanford, California
CK – Madison, Tennessee
JR – Rome, Georgia
Dunlop Tires
Dunlop was founded in England in the late 1800s and is owned by Goodyear. They primarily focus on selling their tires in North America, Australia/New Zealand, and Europe.
Bridgestone
Bridgestone comes from Japan, the largest tire manufacturer in that country. They produce all kinds of tires, everything from motorcycles to commercial trucks and passenger vehicles. They expanded into the U.S. in the late 1960s and have invested heavily in production facilities here.
U.S. DOT codes for Bridgestone tires:
0B, W2, Y2 – Wilson, North Carolina
1C, HY – Oklahoma City, Oklahoma
2C, 4D, 5D – Morrison, Tennessee
2M, 3M – Bloomington, Illinois
7X, 8X, 9X – Graniteville, South Carolina
8B, VE, YE, YU – Des Moines, Iowa
D2, E3, W1, Y7 – Lavergne, Tennessee
YD – Decatur, Illinois
Yokohama
Yokohama is another Japan-based tire manufacturer that is a little less present in the U.S., with only one known manufacturing facility in Salem, Virginia (DOT code is CC). Similar to Bridgestone, they expanded to America in the late 1960s.
---
Related Research