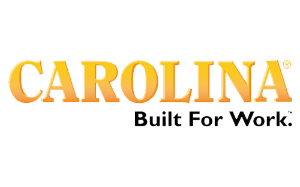 Carolina Shoe Company is a popular boot maker among workmen and hobbyists that need rugged and dependable footwear. There are a lot of footwear companies out there making work boots. How do you know which one to shop from? For us, it comes down to brands crafting their products right here in the USA. We looked into Carolina Shoe Company to find out where their boots get made.
This relatively young company was founded in 1963 under the larger brand HH Brown, an already established footwear producer. HH Brown owns 19 subsidiary shoe brands, including Carolina, Kirk-Ease, Matterhorn, Dexter, Born, and more. They sell through online retail and third-party stores. 
Carolina Shoe Company is headquartered in Martinsburg, Pennsylvania. They also own a manufacturing facility in the same location. Why they're called the Carolina Shoe Company, we could quite tell off the bat.
Aside from these basic details, there isn't much more to the company's bio or history. Without much to get started with, we continued our investigation to find out where Carolina Boots are manufactured.
Verdict: Are Carolina Boots Made in the USA?
Only some Carolina Boots are made in the USA. Carolina Boots are mass-produced in countries like Vietnam and China, but they also carry a line of American made footwear in their "Domestic" category.
From its founding in 1963 until 2000, all Carolina boots were made in, can you guess it, Carolina. But, after that, manufacturing shifted, and a lot of production was outsourced to foreign producers. They continue to produce a line of domestic footwear from their Pennsylvania factory.
Our first sign that split manufacturing was the case was a sales banner for their July 4th promotions:

That they have a category named "domestic styles" implies that they also have non-domestic styles.
At least it is easy to know which products are indeed American made from Carolina Boots. Before you even click on a product, you can know if it is domestically made by looking for this USA badge: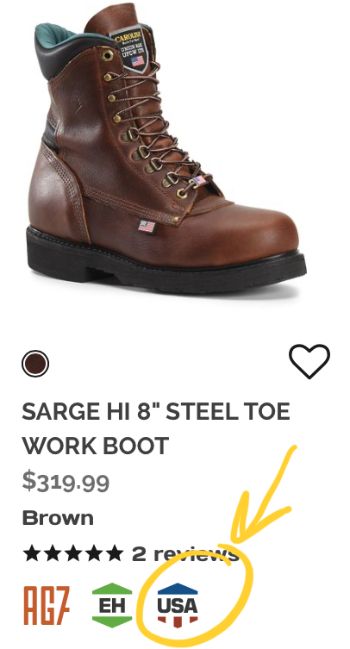 Here's what that badge indicates:

The product details cover a bit more, letting the consumer know that the shoes were made in Carolina's own factory located in Pennsylvania and that they were made using imported materials: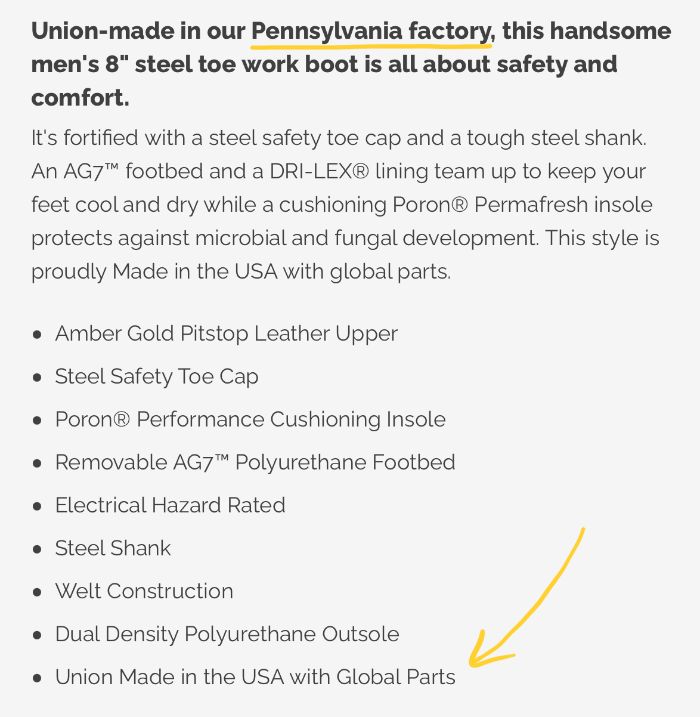 We still wanted to know where the boots that aren't US-made are being built. We reached out to customer service to ask this question. They wouldn't provide general information and instead would only respond to inquiries about specific products. We sent three product numbers over for their response. Here is what we got back: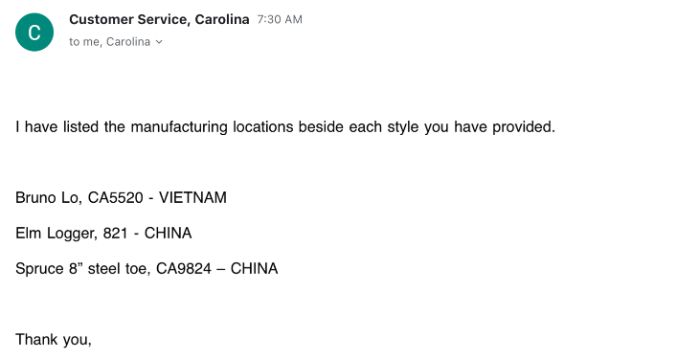 In conclusion, yes, some Carolina boots are made here in the US, but most are made overseas in locations like Vietnam and China. Pay attention to those badges to know which are American made.
Popular American Made Carolina Boots
Sarge Hi 8" Steel Toe Work Boot
Linesman 10
INT 2.0 Steel Toe
Popular Carolina Boots Not Made in the USA
Birch Comp Toe
Elm Logger
Bruno Lo 6" Soft Toe Waterproof Work Boot
Related Reading