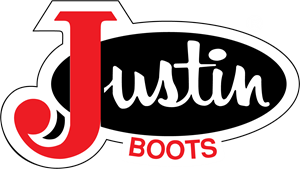 Justin Boots is a quintessential brand in the western wear industry, making cowboy boots and equestrian boots since 1879 when it was founded in Gainesville, Texas. Today, the company is owned by Berkshire Hathaway, a huge corporate holding company made famous by Warren Buffet. Under the Justin Boots brand are several other boot makers, including brands like Tony Lama Boots, Nocona Boots, Chippewa Boots, and others. With such strong roots in American history and culture, it's hard to imagine Justin producing their boots anywhere else. We investigated to see if that is truly the case. See our verdict below.
Verdict: Are Justin Boots Made in the USA?
Sadly, not all Justin Boots are made in the USA. Only select styles are "made in the USA with global parts" according to our research. This includes both the main Justin Boots line as well as the subsidiary brands like Tony Lama and others.
It is estimated that close to 75-80% of Justin Brands boots are made internationally. Here is a rough breakdown for each of the Justin subsidiary brands:
Tony Lama: 35-40% made overseas
Chippewa: 50% made overseas
Nocona: 20% made overseas
However, it is nice to see Justin keeping some of their assembly in the U.S. for popular product lines. Later on, we list some of the Justin products that are made in the USA from global parts. Here is a video from Justin employees on their assembly process and experience with the company.
I have a full YouTube video on cowboy boots which you can check out on our YouTube channel.
Here are a couple Justin Boots models that are made in China.
Stampede Rush Waterproof Work Boots (sorry for the thumb close-up haha):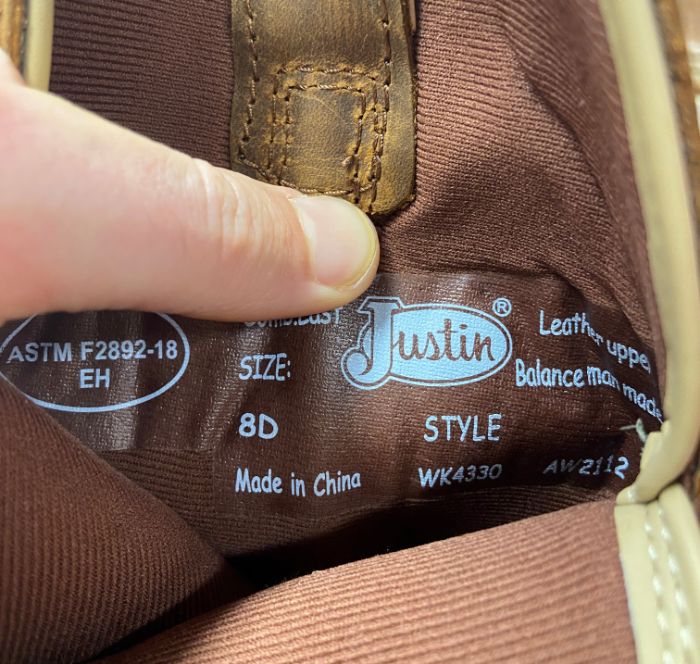 Stampede Composite Toe Work Boots: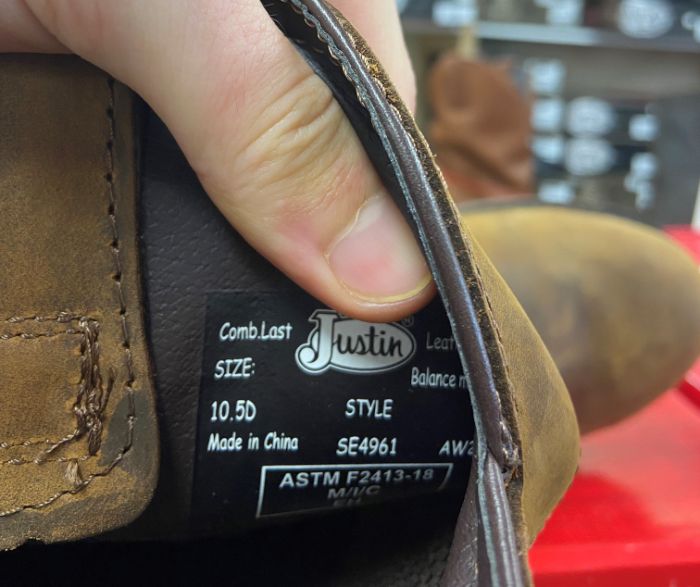 Popular American Made Justin Boots
Driscoll Bay Apache style (men's)
Beau style (men's)
Tobias style (men's)
Llano style (women's)
Wildwood style (women's)
Yancey tan style (women's)
Full lineup here.
Popular Justin Boots Not Made in the USA
Stampede collection
George Strait collection (men's)
Silver collection (men's)
Farm & Ranch Butch Tan style (men's)
Fashion collection (women's)
Farm & Ranch Tracy Brown style (women's)
Justin Gypsy collection (women's)
Other American Made Alternatives