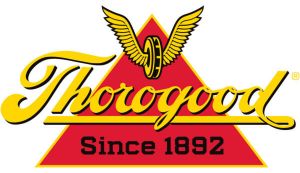 Thorogood Boots was founded in 1892 upon the idea that they could make boots unique to the jobs they were meant to do. In a partnership between Albert Weinbrenner and Joseph Peffer, a company grew under the original name of Weinbrenner Shoe Company.
The business was so successful that they reached the point of manufacturing over 40,000 boots in a single day. This was quite impressive for the early 1900s. During World War II, the brand supplied boots to the US military. In 1960, they became the official boot for the Boy Scouts of America. And after 9/11, they donated fire boots to rescue workers.  
Throughout this company's history, there remains the thread of American patriotism. Thorogood is based out of Merrill, Wisconsin, where they own three manufacturing facilities. It is still an employee-owned company, and they retain the "boots custom to their job" design mentality. 
So, where are the official boots of the Boy Scouts of America being made? Let's step off and find out.
Verdict: Are Thorogood Boots Made in the USA?
Only some Thorogood boots are made in the USA. Thorogood manufactures their products both in the US and abroad. Some of their boots are manufactured in China.
The thing is….they are a little sneaky about it. If you're just reading through the company's website, it seems as though all of their products are American made. Have a look at the two snippets below, taken from Thorogood's "History" and "About Us" pages:

And here:

In case you missed it, "Thorogood continues to manufacture the iconic styles you and love in our three central Wisconsin facilities." Okay, so they manufactured beloved boots in their facilities. That's true, but it doesn't say the only place they make boots is in Wisconsin. The next section reads, "Our work has expanded to three Wisconsin factories and beyond." … Where exactly is beyond? Turns out it is China.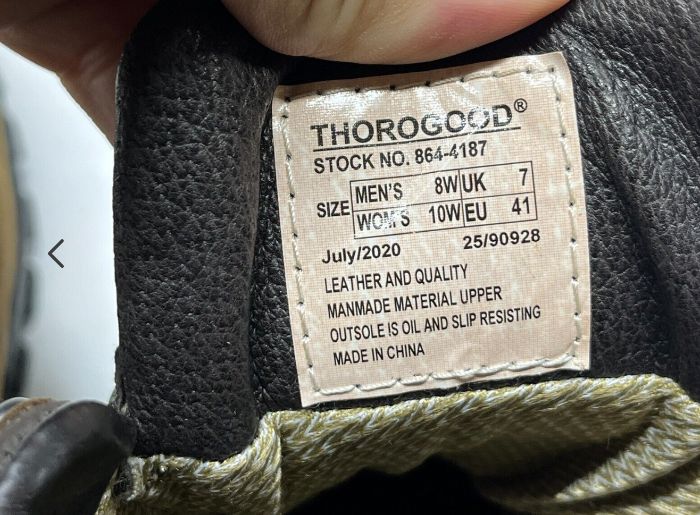 Lesson learned: it's important to read between the lines….and check your tags.
As stated above, Thorogood does own three stateside factories in their home state of Wisconsin. Their newest manufacturing building was opened in 2022.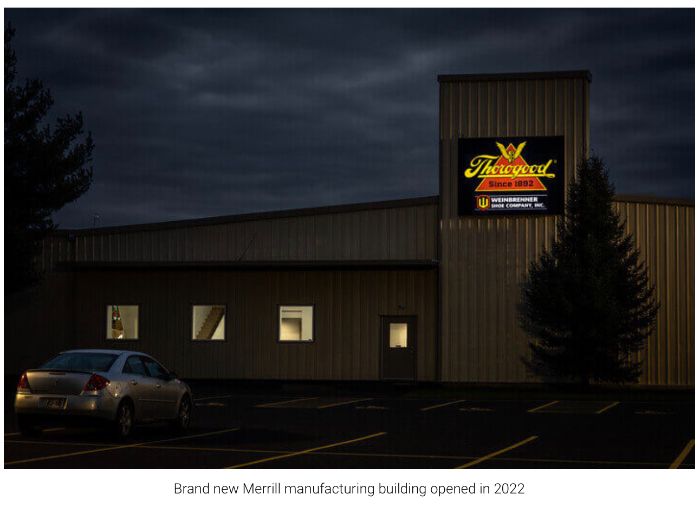 By search, the website yields six pages of products made in the USA. This includes products in the American Heritage collection,1957 series, Logger series, and other items like some socks and insoles. Though, that list isn't exclusive, and there may be some manufacturing crossover. 
American made boots are made in the USA with both local and global materials. Be sure to check the product details to verify that it is indeed Made in the USA (see image below). If you're shopping secondhand, look for a little American flag tag on the shoe.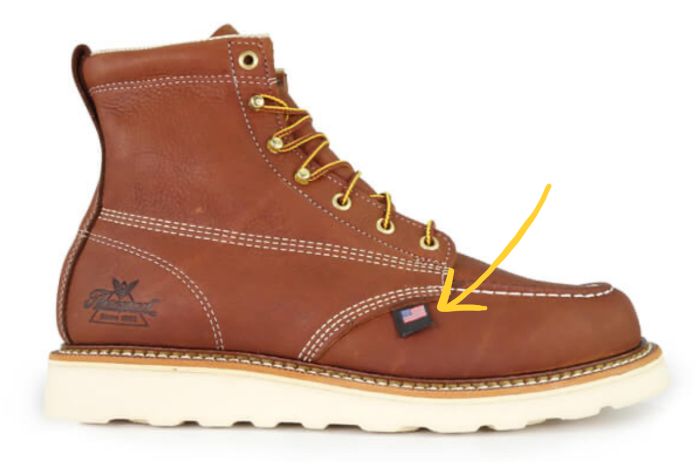 Following information from the American Heritage -11" Tobacco Pull On Wellington Maxwear Wedge:

There is a good amount of USA made boots available from Thorogood. We're just disappointed that they paint the picture that all of their boots are American made, when in fact, they are not. So, shop discerningly and check those product details before Adding to Cart. 
Popular American Made Thorogood Boots
American Heritage 11" Tobacco Pull On Wellington Maxwear Wedge
1957 Series Flyaway Waterproof 6" Briar Pitstop
Logger Series 9" Brown Trail Crazyhorse
Popular Thorogood Boots Not Made in the USA
Crosstrex Polishable Oxford BBP Waterproof Safety Toe
Code 3 Series Oxford
Soft Streets Series Insulated 6" Weatherbuster
Related Articles