Snap-On has long been a staple of American work belt, most well known for their wrenches and other hand tools. They've expanded their product offering over the years (since starting in 1920) and currently mostly focus on tools for transportation industries like: automotive, aviation, heavy duty trucks, military and defense, railroads, and marine, among others. They also have a lower-end tool brand that offers more affordable hand tools called Blue-Point. Snap-On started in Milwaukee, Wisconsin almost 100 years ago and has grown to employ more than 12,000 people – but do they still manufacture in the U.S.? Check out our verdict below.
Verdict: Are Snap-On Tools Made in the USA?
Only certain Snap-On tools are still made in the USA. Most hand tools are still made in their facilities in Milwaukee and other U.S. manufacturing locations, but products like their cordless power drill kit are made in China, among other countries. More details below.
Here are all of the locations of Snap-On's current manufacturing facilities in the U.S.:
Algona, Iowa
Carol Stream, Illinois
City of Industry, California
Conway, Arkansas
Elizabethton, Tennessee
Elkmont, Alabama
Louisville, Kentucky
Milwaukee, Wisconsin
Murphy, North Carolina
West Lebanon, New Hampshire
As we mentioned, they also maintain several international facilities in these cities:
Bramley & Branbury, England
Bollnäs, Edsbyn, Kungsör & Lidköping, Sweden
Correggio & Florence, Italy
Irun, Placencia & Vitoria, Spain
Kunshan & Xiaoshan, China
Minsk, Belarus
Santa Bárbara d'Oeste, Brazil
Santo Tome, Argentina
Sopron, Hungary
Strasbourg, France
Vila do Conde, Portugal
Popular American Made Snap-On Tools
Popular Snap-On Tools Not Made in the USA
Cordless Screwdriver Kit – China
Variable Speed Polisher – China
Gas Torches – Ireland
Welding Helmets – China
Safety Gloves – China
Air Compressors – Canada and China
Pro Tip
You can see if a Snap-On tool is made in the USA or not by looking at the Country of Origin underneath the product specifications tab on their website product pages. Here's an example for their hex short spline combination wrench, which you can see is made in the USA. The Country of Origin is second from the bottom of their product specs information.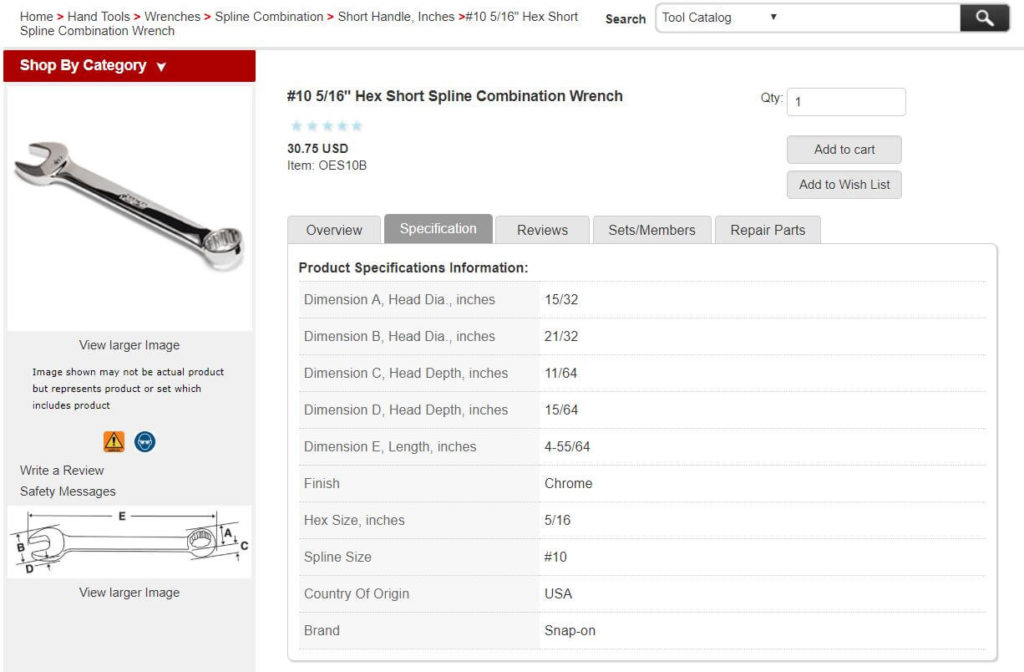 Find an American Made Alternative
Related Articles