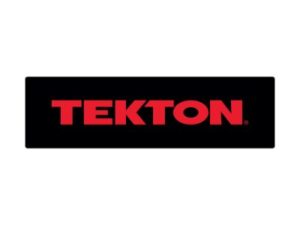 When it comes to tools, the last thing you want to sacrifice is quality. We love a good American made brand, as we know that US standards are high. But finding an American brand can be a real challenge. That's where All American comes in.
One brand we chose to investigate is Tekton Tools. This family-owned business is headquartered out of Grand Rapids, Michigan. They sell hardware products, singular hand tools, complete sets, and more. 
Tekton is very proud of its Michigan heritage. They're also very proud of their tools. The company offers endless customer support, no matter how long ago you purchased your tool. They employ less than 100 employees stateside, and their revenue is just under $20 million. 
So, does that Michigan pride extend to manufacturing as well? We did the work to find out for you. 
Verdict: Are Tekton Tools Made in the USA?
No, the majority of Tekton Tools are made overseas. According to the company, they produce about 22% of their tools in the United States, and the remaining are made abroad. However, the company is making efforts to bring more manufacturing stateside.

But, let's pause there. Can we get a "hell yes!" for Tekton Tools? Granted, it would be nice to see a number higher than 22% for local production; Tekton makes it incredibly easy to find out where each tool is from. That level of honesty is rare in the consumer world. 
All you need to do when shopping online is scroll down to the details section of the product page to find the country of origin. 
Putting that claim to the test, we snooped around the Tekton website. Sure enough, every single product had a specific country of origin listed under the "Specs" section.
Following information from the ¼, ⅜, ½ inch Drive 6-Point Socket and Ratchet Set (213-Piece):

Now, let's find an American made product. A simple search for "Made in USA" on the Tekton website yields over 600 products. Every single one of these we checked was indeed made in the USA. That's a pretty trusty search.
Following information from the Pick and Hook Set (5-Piece):

Going a step further in the "Made in the USA" range, Tekton states that when one of their tools is made in the US, it really means made in the US. Not just the tool, but even the materials are locally sourced.
And the good news keeps coming…Tekton doesn't plan to stop at that 22% American production. They're actively working on expanding their domestic manufacturing. So, all you tool-heads, rejoice and raise a pint to Tekton. 
Popular American Made Tekton Tools
Pick and Hook Set (5-Piece)
⅜ Ince Drive Crowfoot Wrench Set, 30-Piece
½ Inch Drive Crowfoot Wrench Set, 10-Piece
Popular Tekton Tools Not Made in the USA
¼, ⅜, ½ inch Drive 6-Point Socket and Ratchet Set (213-Piece)
⅜ Inch Drive Hex, Torx, TR Torx, Phillips, Slotted, Square Bit Socket Set (91-Piece)
½ Inch Drive x 24 Inch Breaker Bar
Related Articles