U.S. General tool boxes are sold pretty much exclusively at Harbor Freight Tools, a discount tools retailer that operates over 1,000 stores and employs over 20,000 people across the United States. The U.S. General brand is just one of their several exclusive brands that they sell. Harbor Freight's U.S. General tool boxes are incredibly popular with options for everything from mechanic's carts to roller cabinets, service carts, single bank tool chests, and more. The question is – are any of their tool boxes made in the USA? We dug in to find out. Our verdict is below.
Verdict: Are U.S. General Tool Boxes Made in the USA?
No, U.S. General tool boxes are not made in the USA – they are made in China. It doesn't matter what series or model you are looking at, pretty much all of their tool storage options are made in China, which we confirmed with the Harbor Freight team.
While not incredibly surprising given their lack of clarity about the country of origin on their website (more on that below), this news is disappointing given the "U.S. General" name.
What really gets me is there is no indication for the country of origin on their product pages, as you can see below. You would need to go into one of their stores or give them a call to find out that information.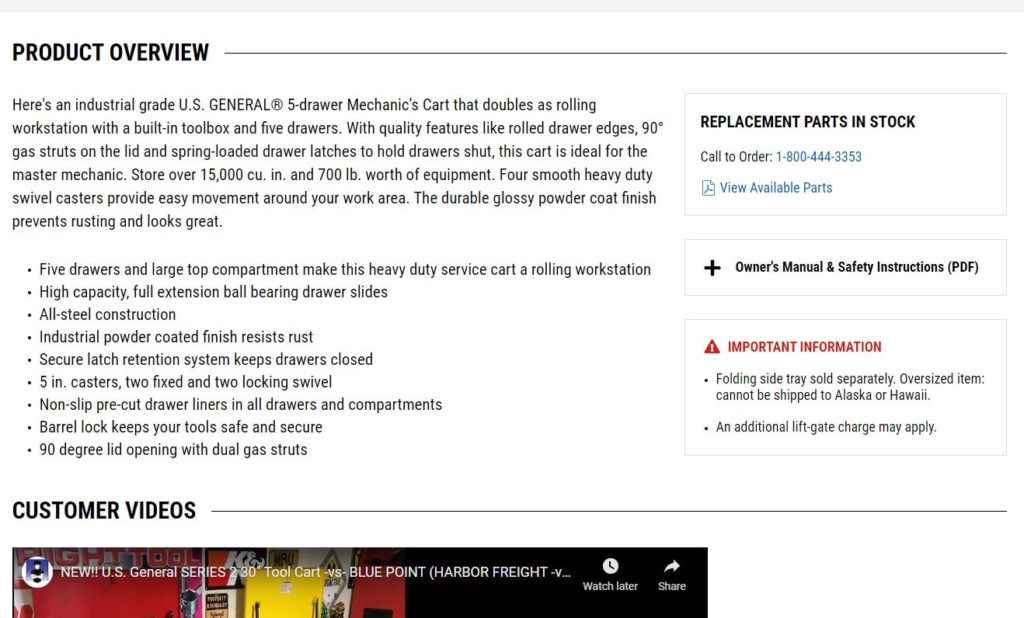 In addition to not being clear about the country of origin for any of the products on their site, Harbor Freight has gotten into some other trouble before about not being so honest with their pricing.
In 2015, Harbor Freight had a class action lawsuit filed against them that claimed the company falsely advertised "discounted" prices to make consumers think they were getting a deal, when in fact the products were never offered at the higher price in the first place. Harbor Freight basically admitted their guilt when they eventually settled on the lawsuit, paying out a hefty $33 million to consumers.
After looking through their product inventory, it doesn't look like Harbor Freight offers many made in the USA products, outside of their U.S. General tool boxes that are made in China. We listed some better alternatives below in our related articles section.
Popular American Made US General Tool Boxes
Popular U.S. General Tool Boxes Not Made in the USA
Mechanic's Carts – China
Service Carts – China
Single Bank Roller Cabinets – China
Double Bank Roller Cabinets – China
Single Bank Top Chest – China
Double Bank Top Chest – China
Related Articles