Pottery Barn is more than its name implies. The company sells everything from fancy glassware to fluffy sofas and designer lamps. It's been around for over 70 years and isn't slowing down.
Charming as the story goes, Pottery Barn actually started as… a barn full of pottery. The founder purchased three barnfulls of pottery in a small town in New York. The brand's journey ignited from there.
Pottery Barn is now a company owned by Williams-Sonoma, the kitchen retailer tycoon. They are based out of San Francisco, California but have shops worldwide.
Their website highlights fair-made and sustainable goods and even features a "Found" collection for vintage items. Vintage aside, where do their products originate from? We took steps to find out where Pottery Barn furniture gets made.
Verdict: Is Pottery Barn Furniture Made in the USA?
Yes and no. Furniture items are made in the US, Asia, and India. From the wide range of offerings from the brand, only one main category is made stateside.
Pottery Barn reports that "nearly" all of their upholstery is made right here in the USA.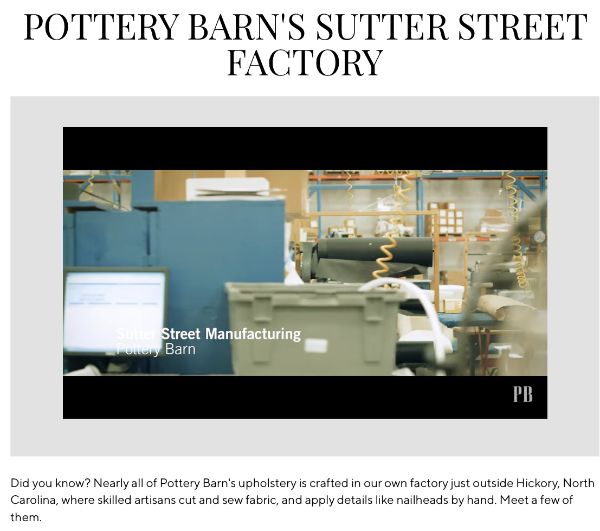 However, we looked at a few of their upholstered items and easily found several with "Imported" tags. And unfortunately, a search for Made in USA items yields nothing at all.
When items are made domestically, you will find that information on the product page. It's stated clearly and easy to see. Though items may be made in the USA by Pottery Barn, it can be expected that the materials are imported.
The following information from the York Roll Arm Leather Sofa: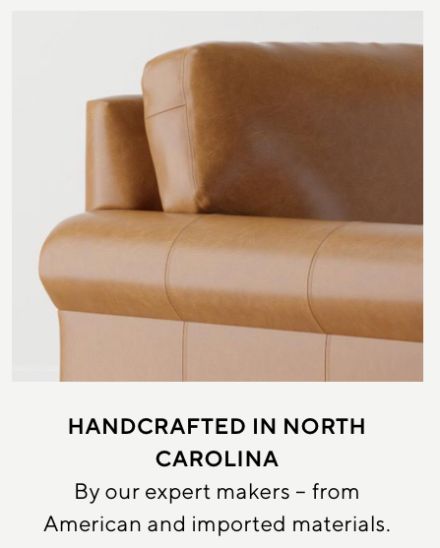 Their non-upholstered furniture is seemingly all made outside of the US. On a product page, the only location detail you are likely to see is an "Imported" tag.
The following information from the Folsom Square Coffee Table: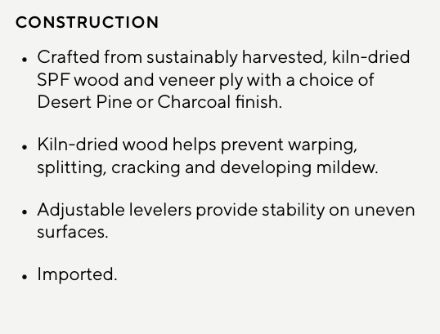 While we appreciate the effort towards sustainable products, it would still be nice to see the country of origin.
We contacted customer service to ask where they manufacture non-US-made furniture items. The first person we spoke to had no idea and had to transfer us to another employee. That person supplied this answer: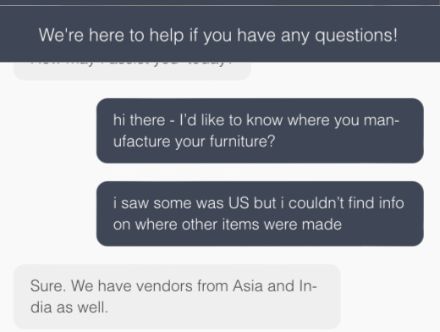 Further in the conversation, we asked if there was any way to find out where a specific item was from on the website. Unfortunately, there is not. The only solution is to ask customer service about a single item and cross your fingers.
In summary, most of Pottery Barn's upholstered furniture is made in the USA. But, be sure to check the product page information, as this isn't the case for every soft furniture item.
Popular American Made Pottery Barn Furniture
York Roll Arm Leather Sofa
Jake Upholstered 3-Piece Sectional with Wood Legs
Big Sur Roll Arm Deep Seat Upholstered 3-Piece L-Shaped Corner Sectional
Popular Pottery Barn Furniture Not Made in the USA
Folsom Square Coffee Table
Serene Slipcovered Sofa Chaise Sectional
Aubrey 6-Piece Entertainment Center
Related Articles