The roots of Broyhill Furniture date back to the 1920s. At this time, a chair company was created by founder James Edgar Broyhill. The chairs were so popular that the company decided to expand and purchase several local furniture plants. Now making more than just chairs, the focus shifted to bedroom furniture and upholstered pieces.
In the late 1960s, sales skyrocketed, and Broyhill Furniture grew substantially. The furniture business is lucrative, and Broyhill soon saw sales in the hundreds of millions. They quickly became a leading manufacturer of mid-priced furniture goods.
Good times come, and good times go. Big Lots eventually purchased Broyhill around 2019, and it is now exclusively sold through them. All Broyhill trademarks are now owned by Big Lots as well. And indeed, every product category selection on the Broyhill website leads directly to Big Lots for purchasing.
We'd like to get to the bottom of this: is Broyhill still made in the USA? With a retailer like Big Lots, the future doesn't look promising. We did the digging to find out.
Verdict: is Broyhill Furniture Made in the USA?
Likely not. It can't be said with flawless certainty, but from our investigation, we concluded that Broyhill is most likely not manufactured in the US.
Selecting any product category from the Broyhill website routes you directly to Big Lots. Here, you can see product information and pricing and have the opportunity to purchase items. However, there is no information regarding the country of origin for any Broyhill product we searched for.
Without any luck searching through the products, we turned to getting in contact with the companies for more information.
First, we sent an email through the Broyhill website to ask about manufacturing. What came back to us was a response from Big Lots. They avoided answering the question and instead said that they couldn't help with anything until a product SKU was provided. That is not helpful, considering the Broyhill line at Big Lots includes over 1,200 items. And even after providing them with an SKU, they never responded.
Next, we entered a Live Chat on the Big Lots website. The representative helping us…didn't help. After several minutes of being on hold, they returned with a response that the "case needs to be escalated." All for the simple question of "where is it made?"

Apparently, the company needs a few days to think about it before answering us. Spoiler alert, no further information came from escalating the case. We attempted another chat with the customer service team and again met a wall of resistance.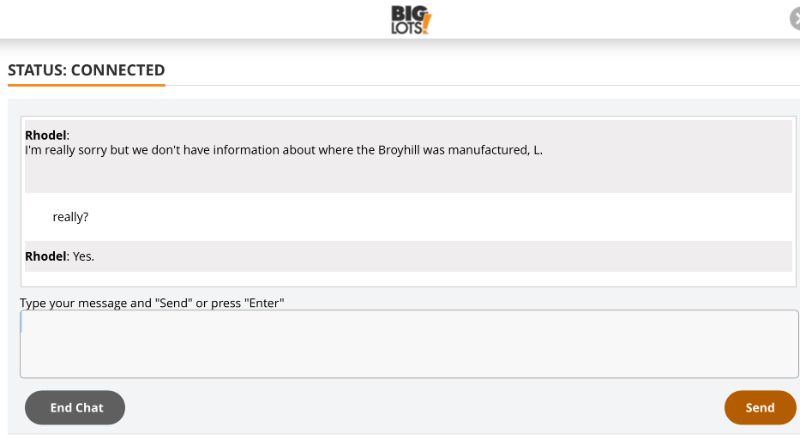 This employee went on to state that they didn't have any information on where the "vendor" Broyhill manufactured their products. However, Broyhill isn't a vendor. Big Lots owns them. In that case, stating where an item was manufactured should be very simple. Again, they offered to "escalate" the case. And we already know that leads nowhere.
As can be expected when a business is so hesitant to reveal information, at this point, we highly suspect that all Broyhill Furniture is imported. And if it isn't, we would still suggest finding a company with a bit more integrity to shop from.
Popular American Made Broyhill Furniture
Popular Broyhill Furniture Not Made in the USA
Wellsley Leather Power Reclining Sofa
Chico All-Weather Wicker Cushioned Patio Glider Chair
Everyday Support White Standard Pillow
Related Articles