Let's take a look at POLYWOOD Furniture to learn about its business and manufacturing practices.
Like many important businesses of our day, POLYWOOD began in a garage. It began in the 1990s with a mission to supply families with sustainable spaces to gather outside. But, beyond that, the founders wanted a business model that also considered future generations. They use recycled plastic materials to craft their products, a component referred to as "genuine POLYWOOD lumber."
As it turns out, helping the earth also helps your outdoor entertainment! That recycled plastic material is super durable and can withstand just about anything that Mother Nature throws at it. Today, POLYWOOD does its own recycling, not just from post-consumer products, but also from the scraps of their own crafting. Their waste stream is 99% recycled. Two green thumbs up for that.
POLYWOOD certainly stays busy with its recycled and product crafting business. Read further to find out just where they get all this work done.
Verdict: Is Polywood Furniture Made in the USA?
Yep! POLYWOOD Furniture is made in the USA. Specifically, it is made in two factory locations: Syracuse, Indiana, and Roxboro, North Carolina.
Right from the front page, the POLYWOOD values are made clear. "Proudly Made in the United States" is boldly stated on their website, and they continuously remind their customers of this fact. It makes sense…being US-made is something to be proud of.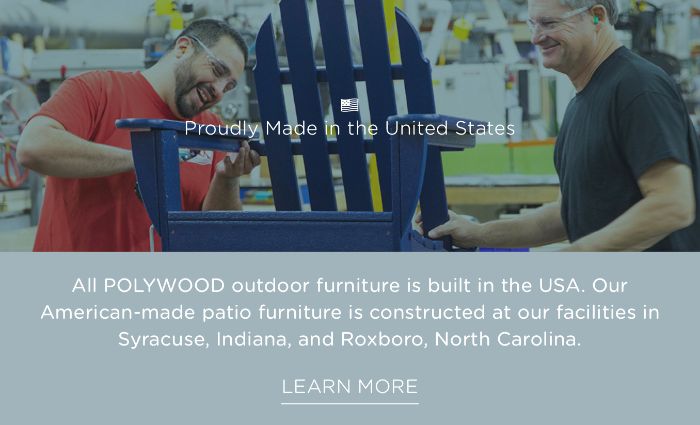 As stated in the description at the top of this article, POLYWOOD does its own recycling at its onsite recycling center. They use that material to then make their signature POLYWOOD Lumber. It is made from #2 recyclables, which include items like used milk jugs, laundry detergent bottles, cleaning products, and many other plastics. This revolutionary POLYWOOD lumber is far from bland. Many of their furniture products come in over 14 colors, including neutrals and bright hues.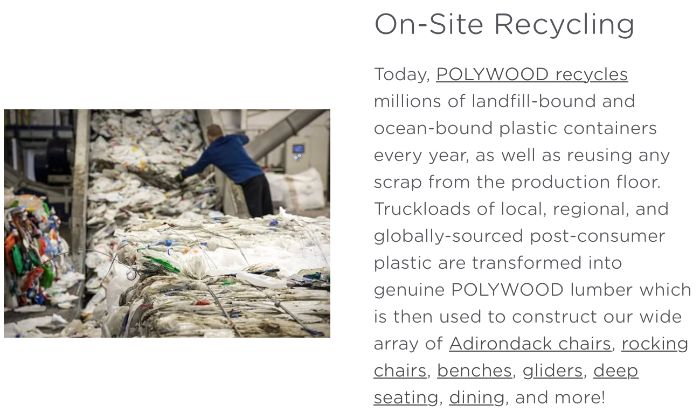 With that onsite recycling center, POLYWOOD uses post-consumer plastic that has been sourced both locally and globally. The resulting "lumber" is ultra tough. It's strong, durable, UV-resistant, color stable, and will never splinter, crack, or peel.
The following information from the Long Island 18" Side Table: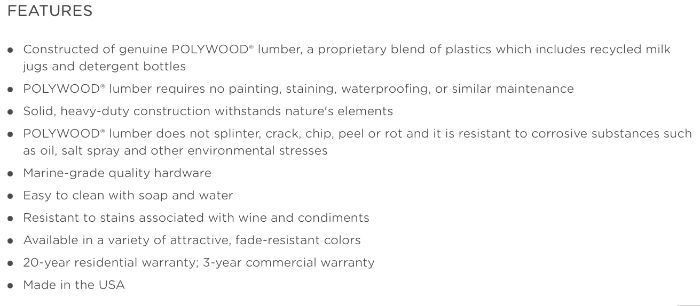 We've got to give POLYWOOD major props for taking the, not just one, but many extra steps of effort in being a quality business. Not only do they manufacture in America, but they also do their own recycling, have a 20-year warranty, and have big plans.
POLYWOOD opened its second manufacturing facility, this time in North Carolina, and aims to create over 1,450 new American jobs this year.
So, the only part of the puzzle that isn't American is that some of those post-consumer plastics used to create their materials may be sourced globally. Considering that is a win for the world, we'll give it an easy pass.
Popular American Made POLYWOOD Furniture
Adirondack Chair
Long Island Table
Natural Chaise with Arms
Popular POLYWOOD Furniture Not Made in the USA
Related Articles