Ashley Furniture has been around since they started boxing mac and cheese. From a meager beginning as a family-run company to exponential growth, they've certainly come a long way.
They started with only 35 employees and now have over 17,000 workers in their care. Retail locations expand beyond the US and can be found all over the world. Good furniture is popular everywhere.
With two corporate offices in the US (Wisconsin and Florida) and four internationally (India, China, Malaysia, and Vietnam), the answer to the question "is it made in the USA?" seems a bit rhetorical.
However, for a company with such a large global presence, you might be surprised to find out where Ashley Furniture manufactures its products.
Verdict: Is Ashley Furniture Made in the USA?
Ashley Furniture is made in both Vietnam and the USA. The company has five manufacturing facilities in Vietnam and more in the United States. However, the US-made items seem to skew towards home goods, not furniture.
Right from their About page, we see that they mention global economies and manufacturing space.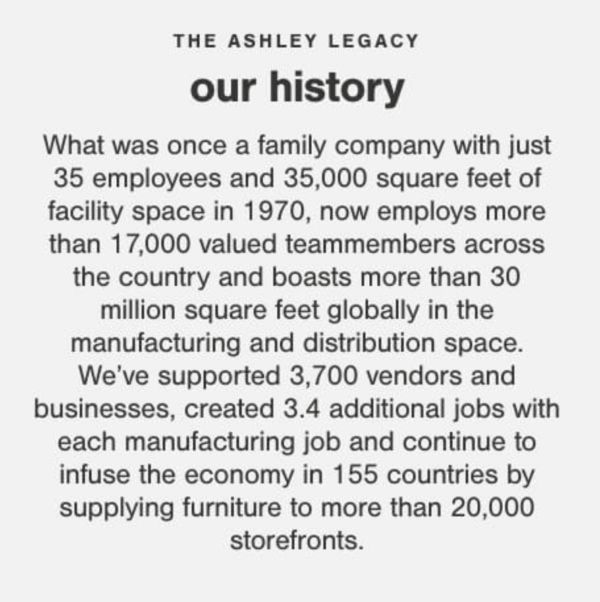 The company has manufacturing facilities in only the US and Vietnam. Retail locations are not exclusive to the US. Ashley Furniture has brick-and-mortar shops around the world, including in Vietnam, New Zealand, Uzbekistan, and many more locations.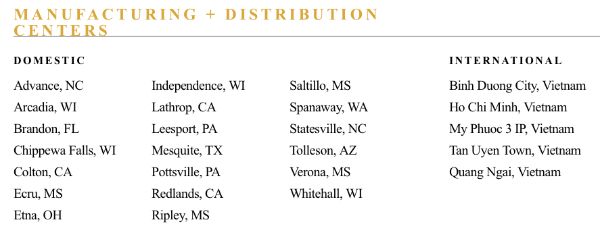 Now, the question remains, what exactly is made in the USA, and how do you find it? With a large retailer like Ashley Furniture, it can be quite difficult to filter down products if the company isn't doing that work for you.
We started a chat with their customer service department to ask these very questions. Initially, the representative we spoke to gave us a quick and upfront answer about the main manufacturing locations of the furniture. Then, asking for more details, things got a little fuzzy…much like chenille couch fabric.
Here is our chat: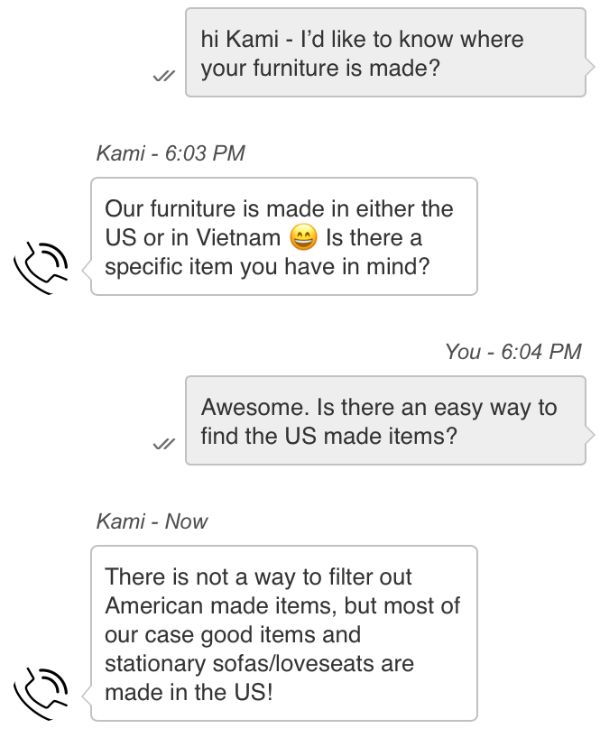 At least the customer help gave us a starting board. We went searching for more details on the sofa and loveseat product pages. Scanning through a few items, we weren't able to find much. Instead, we took a different approach and tried the old "Made in USA" website search.
Here, we found a few products that did list their country of origin. However, it wasn't a perfect search. Even the first item on the list said that it was imported. And a few items down, there was a TV Tray with a big American flag on it, but no indication of whether it was made in the USA. It always stings a bit to see a US flag item that isn't made here.
Of course, the search did yield some US-made products. The following information from the Delta Children PerfectSize Potty:

So, the website "Made in USA" search is a bit of a needle-in-a-haystack situation. Though we were able to find a few clearly American made products, it wasn't exactly easy. It would really be much better if Ashley Furniture featured an "American Made" section or filter on their website.
Following information from the Barnwood USA Rustic Farmhouse 16"x20" Shadow Box Picture Frame:

The information to this point felt a little lackluster, so we needed more details to consider this case closed. In a chat with another customer service rep, we learned that most of the upholstered items are US made, whereas most of the hard material furniture is made in Vietnam.
Here is that conversation:
All American: hi Jacob, I have a question about manufacturing. Can you tell me what items are made in the USA
Jacob: Sure! We manufacture many of our items in the USA, especially most of the upholstered furniture.
Jacob: We source materials from around the world. But we have many plants across the states where items are manufactured and assembled.
AA: Ok, nice. I didn't see the country of origin on the furniture I was looking at? Is it in a specific section?
Jacob: There is not; pretty much all upholstered furniture is made in the US, and a lot of case good items that have veneer finishes will be made in our Vietnam plants.
AA: What is a case good item?
Jacob: Like bedroom furniture, hard material items.
Unfortunately, this isn't information you can find on each product page. The best advice is to stick to the general categories described above and, when in doubt, reach out to customer service to inquire about a specific item.
Popular American Made Ashley Furniture
Delta Children PerfectSize Potty
Barnwood USA Rustic Farmhouse 16"x20" Shadow Box Picture Frame
Darcy Loveseat
Popular Ashley Furniture Not Made in the USA
Starmore Panel Bed
Nashburg Metal Bed
Aldwin 62" Home Office Lift Top Desk with USB Charging
Related Articles