Marmot is a very popular outdoor clothing and gear company in the United States. They got started in 1974 (called "Marmot Mountain Works" back then) in Grand Junction, Colorado by Tom Boyce, David Huntley, and Eric Reynolds. Their first prototypes were several jackets and down sleeping bags and they quickly expanded that selection over the coming years. Marmot's quick expansion and popularity caught the eye of investors too and the company has been through several acquisitions since the mid 1970s. They were acquired by K2 Sports, which was then acquired by Jarden in 2007, which was subsequently acquired by Newell Brands in 2015 (yes, the huge consumer goods conglomerate). Today, Marmot makes just about every style of outdoor apparel you can think of, plus lots of tents, sleeping bags, backpacks, and other equipment. But with all that changing of hands over the years and ending up with corporate giants, is any of their gear made in the USA? We dug in to find out. Our verdict is below.
Verdict: Is Marmot Made in the USA?
No, Marmot gear is no longer made in the USA. Most of their gear is made primarily in China and Vietnam, along with other Asian countries.
This news isn't totally surprising given their roller coaster history of acquisitions over the years, eventually landing in the hands of one of the biggest consumer goods conglomerates on the planet that, more often than not, squeezes out every last penny of cost savings for the brands they acquire.
Jarden, who acquired Marmot in 2007, is a top 20 importer of containers in the United States, which means lots of international buying power and lower rates on transportation costs and materials. So, it's only fitting that they would abandon American workers and switch over sourcing for any companies that they acquired over the years to overseas options.
What bothers me more though is the lack of transparency on their website. There is zero indication of the country of origin in the product details (like the example shown below), which is super unhelpful for folks that do their shopping online.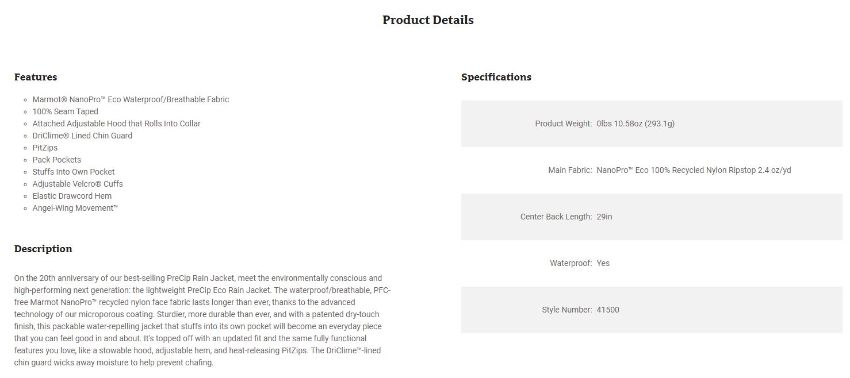 However, the country of origin is pretty clear on their clothing when you are shopping in store (as required by U.S. law) and their customer service team was helpful and detailed when we called to confirm for some Marmot products we couldn't find in stores.
Anyways, there are definitely better made in the USA options when it comes to outdoor gear than Marmot, which we've linked to below in some of our other research.
Popular American Made Marmot Gear
Popular Marmot Gear Not Made in the USA
Men's PreClip Eco Jacket
Women's Denare Insulated Hoody
Men's Arch Rock Pants
Women's Kodachrome Convertible Pants
Tungsten 2-Person Tent
Paiju Sleeping Bag
Rockridge Day Pack
Related Articles