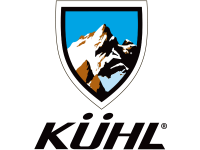 You want your outdoor wear to be rugged, sturdy, and, let's admit it, cool. Or…KÜHL? Jokes aside, KÜHL Clothing is a mountain culture clothier that makes some pretty decent stuff.
They began as Alfwear in 1983 and transitioned to the KÜHL title in 1994. The brand name is derived from the German language and literally means "cool." This name swap was inspired by the brand's pattern-maker at the time, who hailed from the slopes of Germany.
Though its name was born from German, the company started in the US and is still headquartered in Salt Lake City, Utah. They are privately owned and respect their product so much, they've never had a sale. Along this same ethos, they vow never to over-produce their goods.
From a high podium of ethics, KÜHL stands strong on remaining independently owned to retain its values. We'd like to know if one of those values covers manufacturing. Scroll down to find out more about the KÜHL brand and where their products are from.
Verdict: Is KÜHL Clothing Made in the USA?
No, KÜHL clothing is not made in the USA. They are made in Vietnam and other countries.
To get started on our search, we chatted with customer service. It's expected, but sometimes those help representatives beat around the bush a bit. It's a simple question "where is this made?" It shouldn't take an entire conversation to figure it out.
Here is what the KÜHL employee was willing to work with us on (spoiler alert, it was basically nothing):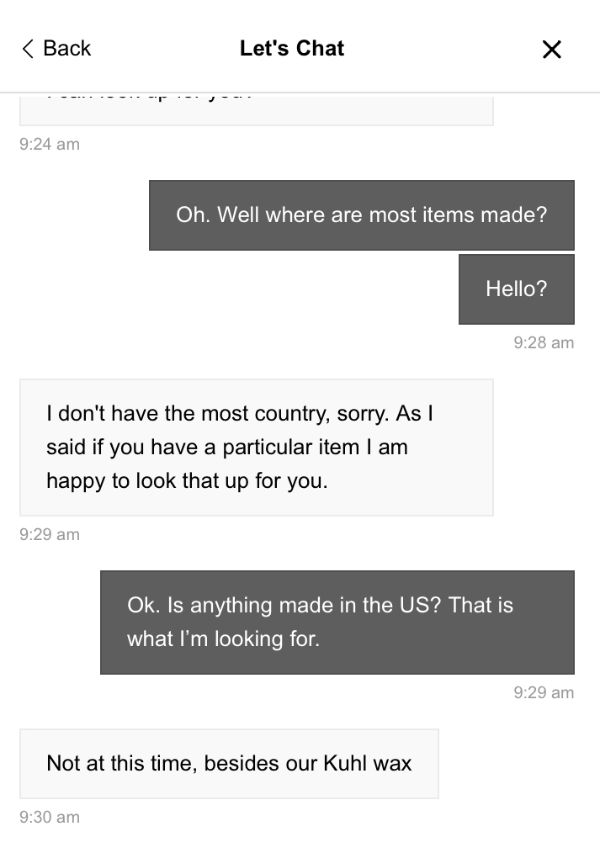 To our question, "where are your items made?" We received the answer, "all over the world." But a request for details beyond that yielded no more information. A company should at least know where the majority of its items are made.
The only item produced out of the US is the Kuhl Wax, a natural wax blend used for waterproofing fabric like pants, backpacks, hats, and more.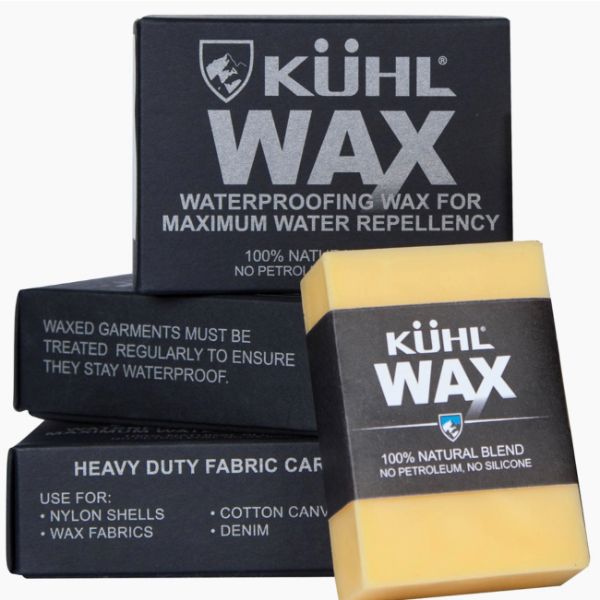 It's respectable for a company to stand strong on the value of its items, like when KÜHL refuses to have any sales. But… if your items are made so well, why won't you tell us where they are made? That's an integral part of the quality story.
On their About Page, they state their partners are environmentally conscious and ethically minded, with the facilities meeting high standards. Yet, why can't they tell us where these wonderful factories are?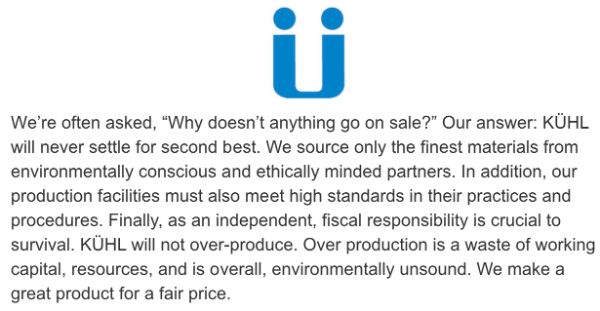 So, if they won't tell us, we'll just have to do a little secret shopping of our own. And that's exactly what we did.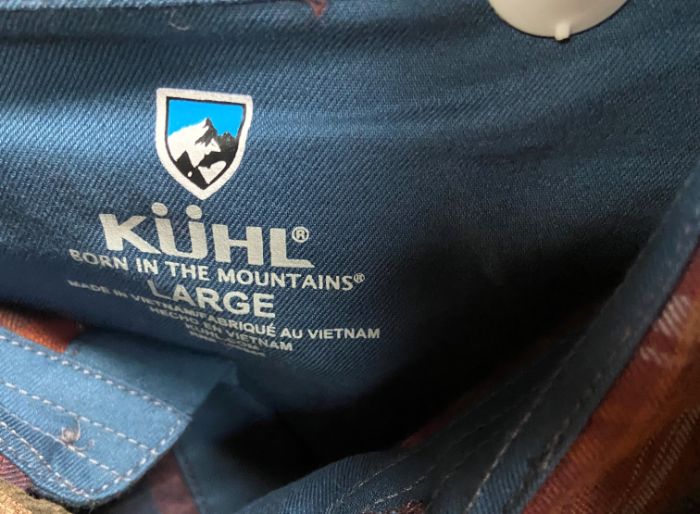 As you can see above (sorry about the weird angle), this shirt is made in Vietnam. We noticed that country of origin on a lot of the clothing items we looked at.
KÜHL takes a stand as being a company that breaks the rules, stands for free will, and destroys mediocrity. If these represent authentic values, we'd ask for more effort regarding manufacturing practices and transparency.
We now know that KÜHL clothing items are not made in the US. So, if you're shopping for American made outerwear, look elsewhere.
Popular American Made KÜHL Clothing
Popular KÜHL Clothing Not Made in the USA
Dynawool Jacket
Revel ¼ Zip Sweater
Deceptr Pants
Related Articles