No matter the case, big things always start small. Columbia Sportswear, currently a billion-dollar company, didn't find its start as the mega-corporation it is today. Quite the opposite, almost 100 years ago, in 1938, the company began with a small business hat maker.
When the escalation of World War II pushed a family out of Germany and led them to flee to the United States, they landed in Portland, Oregon. Here, the father restarted his hat-making business, labeling it Columbia Hat Co.
The business grew, and eventually, the company morphed into Columbia Sportswear. Retaining its "family-owned" quality, it was handed down to the founding family's daughter, Gert Boyle. Expanding from hat production, they made ski jackets, fishing gear, and adventure wear.
Now, Columbia Sportswear is a publicly traded company that owns other brands, including Sorel, Mountain Hardwear, and PrAna. They rake in over $3 billion annually, have over 8,000 employees, and have 450+ stores worldwide.
From small-town hat makers to worldwide outerwear, Columbia has truly come a long way. Let's find out where they still manufacture their products.
Verdict: Is Columbia Clothing Made in the USA?
For the most part, Columbia Clothing items are not made in the USA. The majority of their products are manufactured in Southeast Asia.
We opened up a Chat with customer service on the Columbia website. Here is an excerpt from that conversation: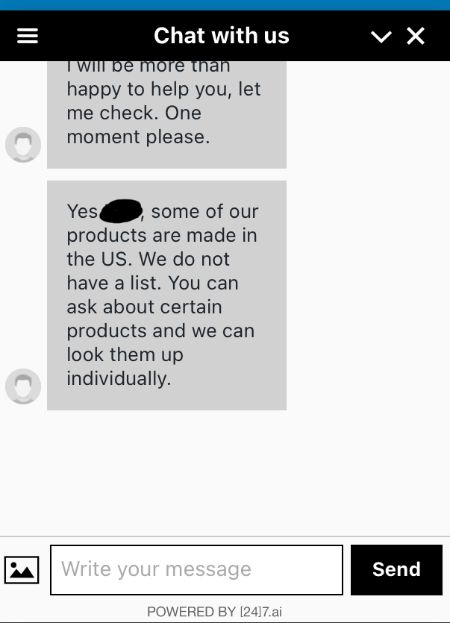 The customer service rep was not much help. He stated that the US-made items that Columbia offers cannot be searched for. You have to investigate each product individually. That's not the most efficient way to shop, is it?
Regardless, we gave it a shot anyway. Searching for "USA Made" on the Columbia website yielded products that were very American in appearance…meaning, sweatshirts, hats, and other items with American flag decals. But…none of these items were made in the US.
The following information is from the Men's PFG Fish Flag II Hoodie, which is a sweatshirt with a big American flag logo made out of fish images:

If you're going to put an American flag on something…shouldn't it be made in America?
Every item we checked had the label "Imported," rendering our search rather dismal.
Now that we know there may be some items made in the US, we still need to find out where Columbia does most of its manufacturing. We reached out again, via their text helpline to ask that question.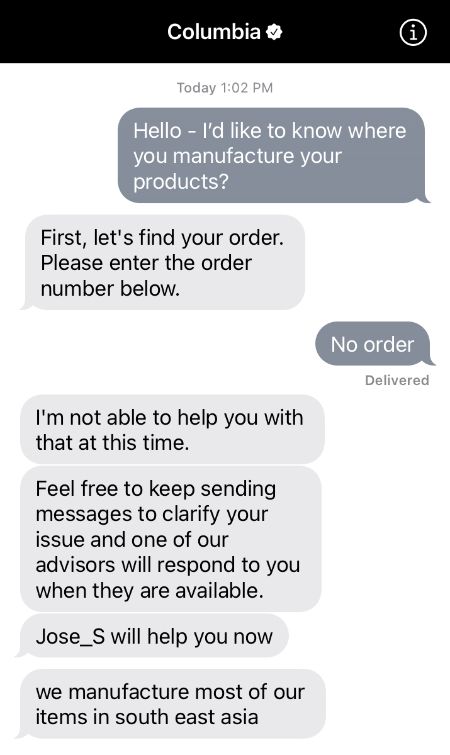 Columbia Sportswear publishes its Environmental, Social, & Governance Report under the Corporate Responsibility section on its website. In the latest version from 2021, we found that the majority of their items are produced out of Bangladesh and Vietnam. Women make up over 75% of the employees in these factories. Per this report, the company partners with Business for Social Responsibility and HERproject to support these women.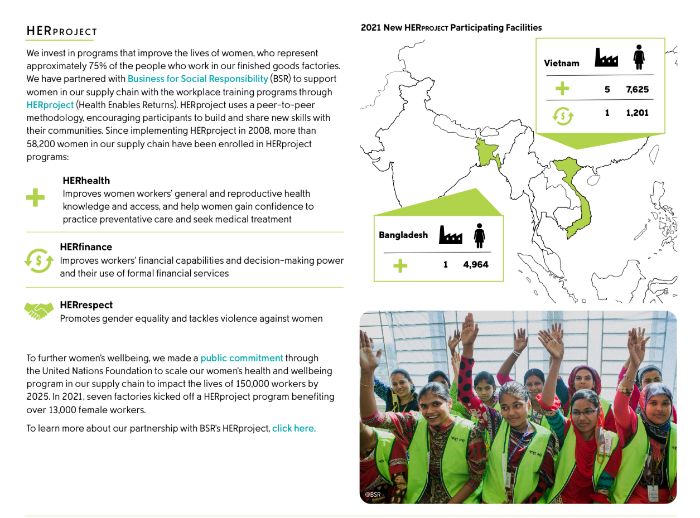 Here's a tag from a Columbia Jacket: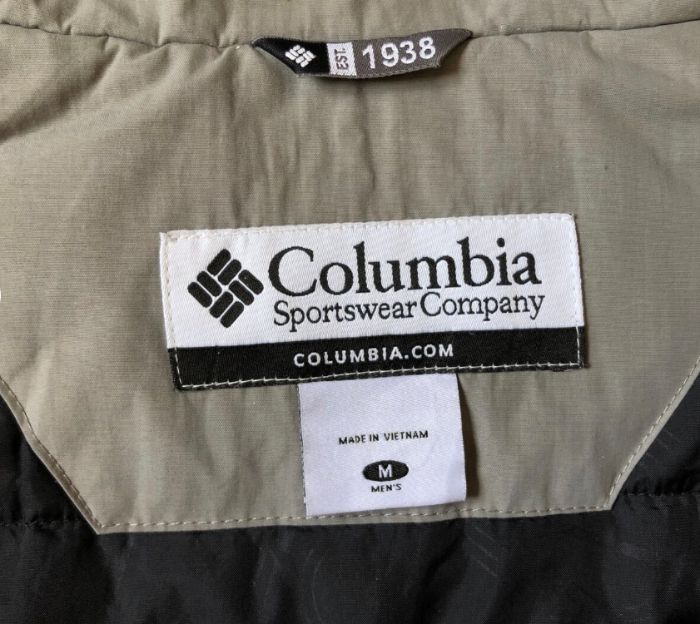 So, what from Columbia Sportswear is made in the USA? Apparently, there may be some items, but as stated by the company, you can't find out which ones! Therefore, it's safe to assume that the vast majority of Columbia goods are made overseas.
Popular American Made Columbia Clothing
Likely vintage items, but no current items that we could find.
Popular Columbia Clothing Not Made in the USA
Men's Newton Ridge Plus II Waterproof Hiking Boot
Men's Barlow Pass 550 TurboDown Jacket
Women's Suttle Mountain Long Insulated Jacket
Related Articles