Aren't there enough athletic clothing companies out there? It might seem so, but such was the inspiration behind a relatively new brand. The fast-growing athleisure label, Vuori, was founded in 2015 by Joe Kudla. It started when Kudla was searching for comfortable men's yoga clothing and frustratingly found lacking options.
In the beginning, Vuori was launched for menswear only. It took some time for Kudla to figure out where men would most likely shop for the clothes, and he eventually partnered with REI in 2016. It turned out that the traditional REI offering of active outdoor wear needed the supplement of the softer styles of Vuori, and the brand saw great success.
Now, Vuori is sold in a variety of retail stores, including their own brick-and-mortar locations and online shop. Vuori's physical locations include Encinitas, Manhattan Beach, San Francisco, and more. The brand added women's wear to their lineup and again saw growth.
Vuori is headquartered in Encinitas, California. They began operating internationally in 2022. From a small California startup to a global activewear enterprise, Vuori has come a long way in less than 10 years. Now we move on to answering the question at hand: Where is Vuori clothing made?
Verdict: Is Vuori Clothing Made in the USA?
No, Vuori clothing is not made in the USA. Most of their products are manufactured in Colombia, Vietnam, or China.
Vuori assures consumers that their clothing is produced ethically despite being made abroad. They feature a web page dedicated to this explanation, although they leave out where "abroad" is explicitly. And a search for "Made in USA" on their website doesn't exactly yield helpful results.
Not being able to find anything to answer our question on their website, we reached out through customer support. Here is the answer we received back: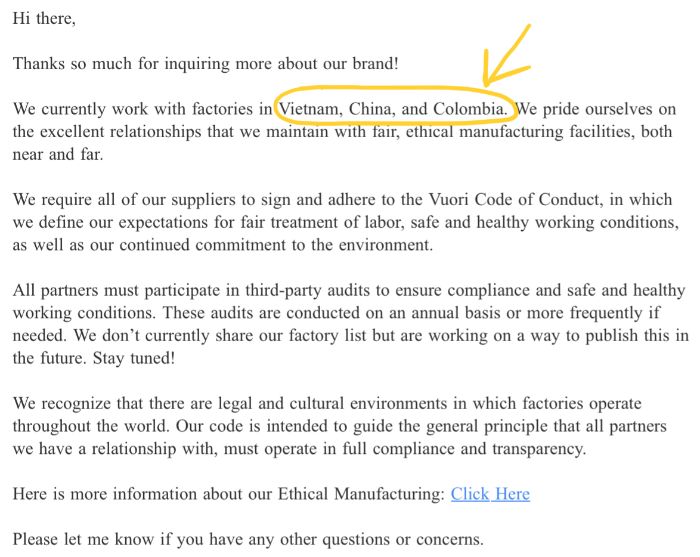 Vuori Clothing is not made in the US; it is made in Vietnam, China, and Colombia. As expected, they highlight the ethical practices of their factories. Although the focus is appreciated, these statements tend to come off stronger if the brand can prove it. Let's see some video montages of the manufacturing process, a behind-the-scenes look at the facilities, or articles on employees.
There is so much more to a brand than the company headquarters. Oh, you have an esteemed designer? You host a running club? That's great. But who is actually doing the stitching?
Where we can give kudos to Vuori is their Sustainability efforts. The company is Climate Neutral Certified, meaning they have offset all carbon emissions from their production and delivery. On top of that, they hold even loftier reduction goals to achieve by 2030.
All in all, Vuori seems like a decent company that is making an effort. They aren't intentionally hiding anything, but they certainly aren't putting it all on display, either. Bottom line, Vuori is not made in the USA. So, when you start your new yoga habit and shop for a coordinating sweat-wicking ensemble, keep that in mind.
Popular American Made Vuori Clothing
Popular Vuori Clothing Not Made in the USA
Performance Jogger
AllTheFeels Legging
Ponto Short
Related Articles