Dog food companies are always under the microscope. It only takes a few "mishaps" to hit the news with stories of toxic dog food and give every pet owner anxiety over what they feed their animals.
It's important to know about your pet food, including where it comes from. We looked into the pet food company, IAMS, to find out more about where they source ingredients and manufacture their products.
IAMS itself was founded in the 1940s by an animal nutritionist by the name of Paul Iams. The brand was at the forefront of developing dry dog food, thus replacing the standard "table scrap" meals that dogs were commonly fed.
The company has traded hands a few times, now landing under the ownership of Mars. Here, IAMS is joined by other brands, including Pedigree, Royal Canin, Nutro, Greenies, and more. But that's just the Pet Care category of the brands that Mars owns. You'll also recognize global names like Altoids, Dove, Juicy Fruit, M&Ms, and much more.
A global presence and leading pet food producer worldwide, IAMS has a stable seat in the pet nutrition business. Now, let's find out where all this kibble gets crafted.
Verdict: Is IAMS Pet Food Made in the USA?
All IAMS Pet Food is manufactured in the USA, but some ingredients are sourced globally.
On each product page, there is no obvious information about where the ingredients come from; they are simply listed by title. With no luck on the pet food product pages, we worked to look a bit deeper into the IAMS company policies.
Following the link to Supply Chain Transparency on the IAMS website, you're led to pages on the Mars website, which generally cover ingredients that may be sourced for any of their numerous brands. For example, Mars sources their beef ingredients from Latin America. See below: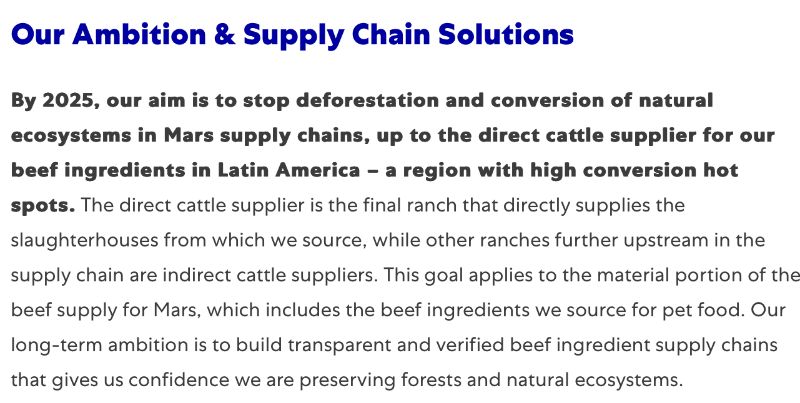 The beef ingredients that Mars uses for its brands are sourced from locations such as Brazil, Argentina, and Mexico. Soy is sourced from Brazil. Wild-caught fish come from water regions around Asia Pacific and Europe.
We sent an inquiry to customer service to ask specifically about the pet foods from IAMS. Here is the response we received: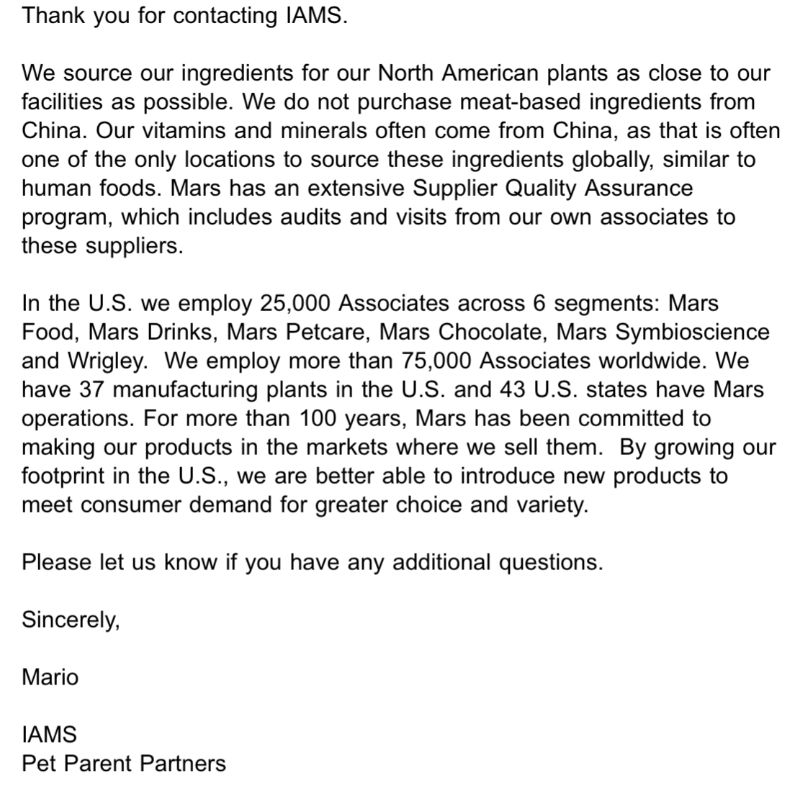 Pet foods are manufactured in the many US facilities that Mars operates. Though the effort is made to source ingredients close to those factories, global materials are used regardless. The customer service representative that responded to our email did clarify that no meat-based ingredients are bought from China.
On the back label of the pet food cans, you can see a "Distributed By.." section. Taking a look below, you can see this IAMS food can states that it is distributed by Mars Petcare US, based out of Franklin, TN. But does that also tell us that the food is manufactured in the US? The regulations for human food state that a can must be labeled with the country of origin if the product was not made in the US. Does this rule also apply to pet food?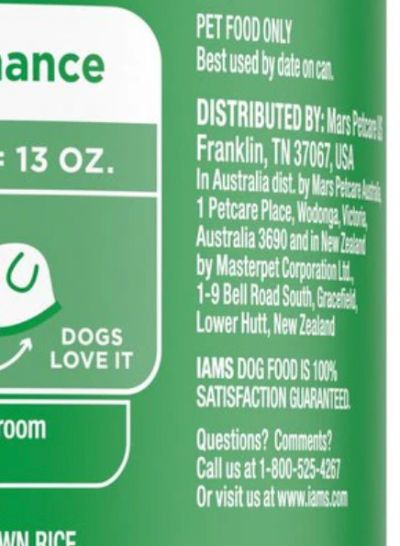 We started a chat with the IAMS team to ask for verification of the manufacturing location. Here is that conversation:
All American: Hi. I would like to know if IAMS pet food is made in the USA?
IAMS: Okay, bare with me please
I would like to inform you that Iams is made in US!
AA: that's good to know, thank you. Are all of the ingredients also from the US?
IAMS: Yes, the majority of the ingredients!
AA: ok thanks. Even though the back of some cans says "if distributed in Australia" it's still made in the USA?
IAMS: Bare with me please! Yes, no it is!
In summary, IAMS Pet food is made in the USA, though some ingredients are sourced globally.
Popular American Made IAMS Pet Food
IAMS Minichunks Lamb & Rice
IAMS Proactive Health Urinary Tract Health With Chicken
IAMS Puppy with Chicken and Rice Pate
*All recipes have some internationally-sourced ingredients.
Popular IAMS Pet Food Not Made in the USA
None that we could find that is cooked internationally, but keep in mind they use several globally-sourced ingredients.
Related Articles