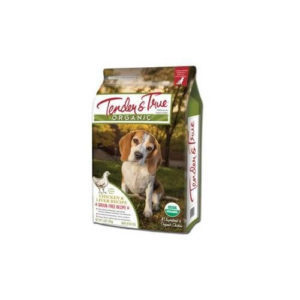 Tender & True is a new company that is classic middle America – it is independently owned and based in Omaha, Nebraska. Founded in 2014, Tender & True set out to be the leader in certified humanely raised pet food. You have likely heard of the movement "farm to table" that is part of the trend of organic food.
Tender & True strives to produce organic "farm to bowl" pet food. They know they needed great relationships with fisheries and growers so they could get the best ingredients at the best price. Their pet food was the first to be recognized for using zero antibiotics in 2014. In 2015, they entered into a partnership with the Marine Stewardship Council to ensure they only used certified, sustainable fish.
Their products go through a rigorous process to ensure that what they produce contains organic and sustainable ingredients.
Like other organic pet food, Tender & True doesn't strive to offer an enormous volume of food at the lowest possible price. Pet owners who want purely natural and sustainable food for their pets will be the ones that purchase this product.
But is everything from Tender & True made in the USA? We dug in to find out. Our verdict is below.
Verdict: Is Tender & True Dog Food Made in the USA?
Tender & True cooks all of their dog food in the U.S. and sources a lot of their ingredients domestically, but also sources some ingredients globally.
We're not totally surprised by this news since it is pretty standard in the pet food industry. It's tough to find brands that are sourcing 100% of their ingredients from U.S. farmers and sources.
From what we found, Tender & True's global ingredients are from sources that fall under the Global Animal Partnership and MSC Sustainable Seafood initiative, both of which have good quality standards. For example, the lamb for their Lamb Jerky Treats and food is from New Zealand and Australia. Each batch of dog food is inspected and approved by their quality assurance and regulatory teams, and all of the ingredients pass strict quality standards established by the FDA and AAFCO.
We just wish they would put the country of origin for some of their major ingredients on their website, which is frustrating.
We were also able to confirm with their team that they do not source any ingredients from China, which is a plus.
Popular American Made Tender & True Dog Food
Organic Chicken and Liver Recipe*
Chicken and Brown Rice Recipe*
Ocean Whitefish and Potato Recipe*
Salmon and Sweet Potato Recipe*
*Not all ingredients are domestically sourced.
Popular Tender & True Dog Food Not Made in the USA
No food is prepared internationally, but some major ingredients, like lamb, come from other countries.
Related Articles