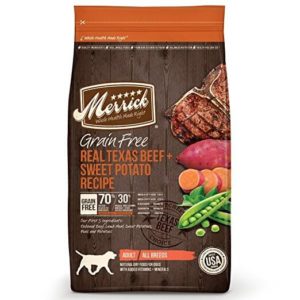 Merrick Pet Care has been around since 1988. The founder Gareth Merrick wanted to create a variety of healthy dog treats. With time, the company came up with real meat recipes. They now have an extensive line of wet and dry dog foods. In 2015, Merrick Pet Care was bought by the Nestle Purina PetCare Company, a giant conglomerate that we know is not all made in the USA. Merrick has a certified organic manufacturing facility, which means they make all their products in a way that adheres to industry-approved methods. But is their dog food made in the USA now that Purina has gotten their hands on it? We dug in to find out. Our verdict is below.
Verdict: Is Merrick Dog Food Made in the USA?
Merrick dog food is manufactured and primarily sourced in the USA from local farmers. However, some ingredients come from other countries. It is worth noting that zero ingredients come from China.
All of Merrick's dog food is made in one of their American kitchens, either in Hereford, Texas, or the two other kitchen locations they operate out of in Texas and Illinois. Most of their ingredients are sourced locally, but there are a few items that they get from international farmers. Most of the beef and other real meat they use in their recipes is from local farmers in Texas.
Because they source some of their ingredients from around the world, Merrick has to use obscure messaging on their dog food packaging like, "Safely USA Cooked" and "Cooked in our own kitchen with the world's best ingredients." These are telltale signs that some ingredients are sourced overseas.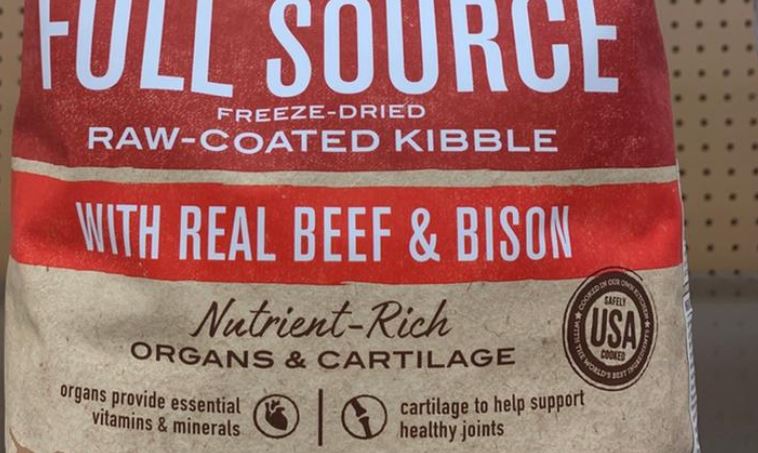 While we are slightly disappointed that not all of Merrick's ingredients are sourced in the USA (which is hard to do in the dog food industry), we are encouraged that Purina hasn't yanked their production process overseas yet and they are holding strong to American manufacturing.
Merrick (and hence Purina) also owns the Castor & Pollux dog food brand. The team devised recipes that focused on non-poultry proteins (such as salmon and duck), along with real fruits and vegetables (such as peas, carrots, and bananas). This produced natural, great-tasting dog food that would set dogs up to be as healthy and happy as possible. They still follow those recipes today and have relatively the same production footprint as Merrick.
Popular American Made Merrick Dog Food
None that is fully 100% sourced here
Popular Merrick Dog Food Not Made in the USA
Full Source Dog Food*
Backcountry Dog Food*
Grain Free Dog Food*

Merrick Grain Free Dry Dog Food Beef + Sweet Potato Recipe is one of our favorites for adult dogs of most breeds.

Healthy Grains Dog Food*
Puppy Food*

Merrick Grain-Free Dry Puppy Food-Chicken + Sweet Potato Recipe is an excellent choice if you're looking for a nutritious and healthy formulation for your pup.

Castor & Pollux Pristine Dog Food*

As we mentioned above, Merrick also owns Castor & Pollux. Their dog food follows the same manufacturing footprint.
*Cooked in the USA with many ingredients sourced here, but not all of them.
Related Articles