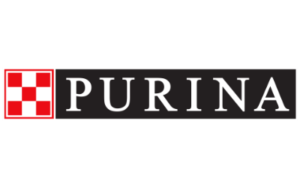 Pet owners know the importance of good quality food for their four-pawed loved ones. Purina was founded by William H. Danforth in 1902 and has been feeding animals ever since…that comes out to over 90 years! The brand began as a farm animal feed supplier, then moved exclusively to serve house pets in 1986.
As well as a long-established history, Purina has also blazed the trail of innovation when it comes to pet food. It was the first doggy chow to come in the classic "kibble" shape, the first to state that puppies have additional nutrient requirements, and the first brand to use real meat as the #1 ingredient.
Not to be dismissed, Purina was purchased by Nestle in 2001. With a partner brand of such size and global influence, it begs the question – is Purina pet food made in the USA?
Verdict: Is Purina Pet Food Made in the USA?
The answer is: mostly! As in, 99% of Purina pet food is made in the US. That's a pretty good stat. Purina sources nearly all of its ingredients from the US as well. Only a small portion of their products contain ingredients that were sourced globally. Their sources for some grains, fish meal, ocean fish, venison, and lamb are derived from non-US suppliers. I have a full list with specific countries of origin below.
Every factory used by Purina, stateside, is owned by them, and the company provides a great deal of transparency in its supply chain. This information is readily available on their site. My only drawback here is you can't tell on the final Purina product where the raw ingredients come from if they are sourced from multiple locations. For example, Purina sources fish from the U.S., but also from four other countries. There's no way to tell on their packaging which country it comes from.
Purina's website features an interactive map, which allows you to click on ingredients and see exactly where they come from. Through this infographic, you can easily find out which ingredients are from the US and which are not. For example, their fish meal comes from Mexico and the USA.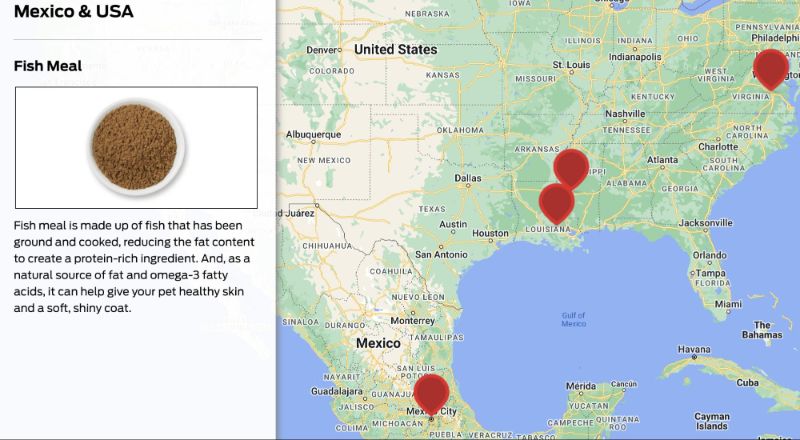 Fish-derived ingredients seem to be the one raw material that relies the most on international supply. You can see from the chart below, straight from the Purina website, the percentage of their ingredients sourced in the US.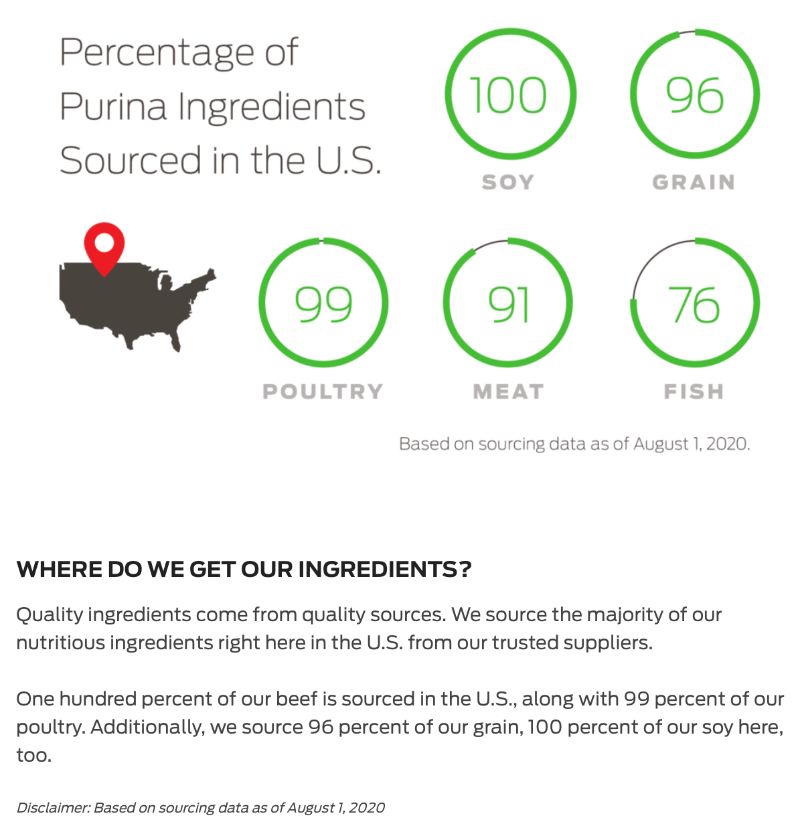 It's easy to see where each ingredient comes from directly from a product's page. Simply click on "Ingredients," then select any of the listed items to read more details and "view on map" to see right where the ingredient is from. However, this feature is not available for every ingredient. Shrimp, ocean fish, and fish broth, for example, do not include a "view on map" option.
We reached out to Purina to ask about the sourcing of the above-stated ingredients and the following response was received.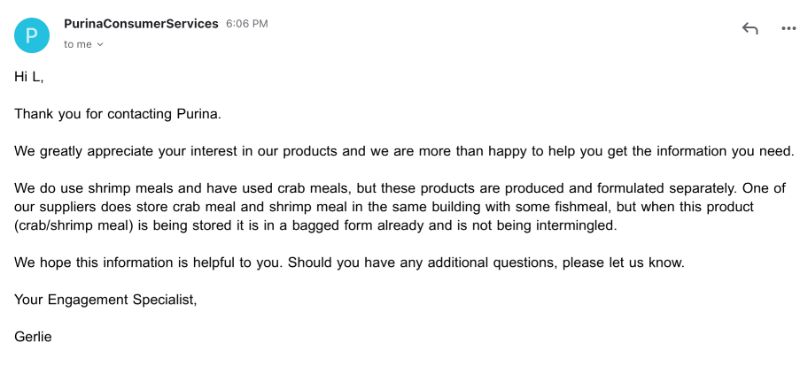 Based on the information that there is a shared supplier with fish meal, we can surmise that the crab and shrimp ingredients are likely from the US, but have a small chance of coming from Mexico, Purina's only other supplier of fish meal.
Overall, Purina is an impressive US-based company that extends a great amount of effort into remaining transparent about its material sourcing. Their website is informative and clear, both from general education to specific ingredient detailing.
Popular American Made Purina Products
All of Purina's pet foods are manufactured in the USA and most raw ingredients are also sourced from the USA.
Popular Purina Products Not Made in the USA
The following products from Purina are manufactured in the USA, but include ingredients that are sourced from outside America:
Pro Plan Puppy Lamb & Rice Formula
Beneful Infused Wet Dog Food Pate with Fish Oil, Chicken, Carrots, and Spinach
Prime Bars with Wild Venison Natural Dog Treats
Some of those popular ingredients include:
Whole oat meal – some sourced from Canada and the Netherlands
Chicken by-product – some sourced from Canada
Chicken by-product meal – some sourced from Canada
Fish meal – some sourced from Mexico
Lamb – sourced from Australia and New Zealand
Meat by-products – some sourced from Canada
Ocean whitefish – some sourced from Iceland
Salmon – some sourced from Australia, Denmark, France, and Iceland
Soybean meal – some sourced from Canada
Whole barley – some sourced from Canada
Whole grain wheat – some sourced from Canada
Related Articles