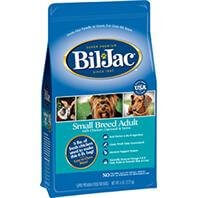 Back in the 1920s, Bill and Jack Kelly grew up on a farm and developed a love for animals. Both of the brothers served in World War II, and Bill's boot camp featured a kennel of German Shepherds. The dogs were treated poorly and were malnourished, so Bill worked to build them up so they could fulfill their duties as bomb-sniffing dogs in good health.
After the war, still carrying a passion for the care of animals, the brothers decided that nutrition in dog food was in desperate need of improvement. They began exploring what they could do. In 1947, they formed a company called Bil Jac that would produce high-quality dog food at a reasonable price.
Bil Jac was a pioneer in crafting dog food with protein that was not gluten-based, but meat-based. They initially provided frozen dog food. They maintained this practice until the early 1980s when they finally found a formula for a dry dog food that would pass their rigorous quality tests. Since the company has now been in business for more than 70 years, consumers can be confident the products are high-quality.
Bil Jac takes particular pride in producing dog food that has a large amount of chicken. While poultry is out of favor in some circles, the amount of chicken used in Bil Jac dog food makes it naturally high in protein without using fillers or additives. There are abundant natural vitamins and minerals to make it high-quality dog food. But is everything made and sourced in the USA? We dug in. Here is our verdict.
Verdict: Is Bil-Jac Pet Food Made in the USA?
Bil-Jac dry pet food is all cooked and manufactured in the USA and the majority of its major ingredients are sourced domestically. Bil-Jac does all its cooking and preparing at its headquarters in Medina, Ohio, and another facility in Berlin, Maryland. Bil-Jac wet dog food is not made in the USA; it's made in Thailand.
From our research, Bil-Jac definitely goes the extra mile on ingredients-sourcing for their dry dog food, which you don't see all that often from other pet food manufacturers. They use 25 pounds of fresh chicken to make a 30-pound bag of dog food, which adds up quickly. Bil-Jac purchases 60 million pounds of chicken, organs, and other ingredients every year from local businesses within 30 minutes of their plant in Berlin.
However, this is not the case for their wet dog food. We spoke to a Bil-Jac team member who confirmed that their wet dog food is made in Thailand. So, I would steer clear of all that type of food.
One other thing to note – Bil-Jac has some international distribution facilities in countries like Australia, Canada, Chile, Costa Rica, Israel, Japan, Malaysia, and Mexico. We couldn't find any evidence that they source ingredients from these locations, but they sell their products globally.
Popular American Made Bil-Jac Pet Food
Puppy Select Formula
Picky No More Small Breed Formula
Adult Select Formula
Senior Select Formula
*Some non-major ingredients sourced internationally
Popular Bil-Jac Pet Food Not Made in the USA
Related Articles