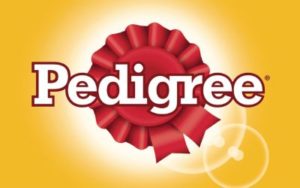 When many people think of dog food, the Pedigree brand probably comes to mind. It makes sense, as the company is over 60 years old. That iconic blue ribbon logo is easy to identify and can be found stocked on the shelves of just about every pet store.
You may be surprised to learn that Pedigree Dog Food didn't start in the US. It was founded in Manchester in 1957 under the name "Chappie." After being acquired by Mars and making production changes, the company eventually changed its name to Pedigree Petfoods in the 1970s.
Mars is a large parent brand of many companies offering pet foods, human foods, and animal veterinary services. A few popular products under the Mars corporation include Mars bars, Snickers, Orbit gum, Nutro pet food, and more.
Pedigree dog food is sold worldwide. In the United States, its headquarters is located in McLean, Virginia. But where exactly is it made? Read on to find out more.
Verdict: Is Pedigree Dog Food Made in the USA?
Pedigree Dog Food that is sold in the USA is cooked in the USA. However, based on our research, their ingredients are sourced from all over the world. This includes countries like Thailand, Brazil, and several Latin American countries.
Though it isn't glaringly obvious from the company's website, an inquiry to the Pedigree customer service team yielded a quick and simple response.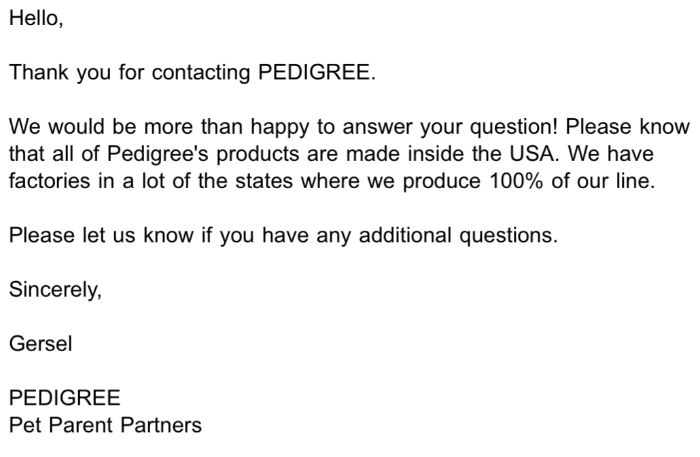 Pedigree reports that all their products are made in the USA at one of their many stateside factories. Unfortunately, that's about as clear as it gets. We've researched other dog food brands that display an entirely different level of transparency…offering ingredient maps, factory locators, and more. Pedigree doesn't have that.
There is a highlight page on Ingredients; however, it isn't descriptive for country or state of origin. This information section is disappointingly bland, despite the statement at the top of the page, "welcoming label readers" (that's us):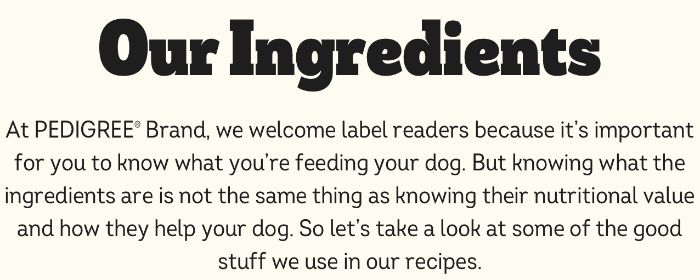 People take great care in knowing what they feed their pets. Food recalls are horrifying, and pet owners shouldn't be afraid of making their animals sick from simply feeding them "safe" products. That's why it is so important for pet food brands to offer the most information they can about what goes into their products. Pedigree drops the ball here. You'll probably leave less informed on that Ingredient highlight page than on how you arrived. Below is an image of the amount of knowledge you'll gain about any ingredient listed there. Brace yourself for this tidal wave of detail: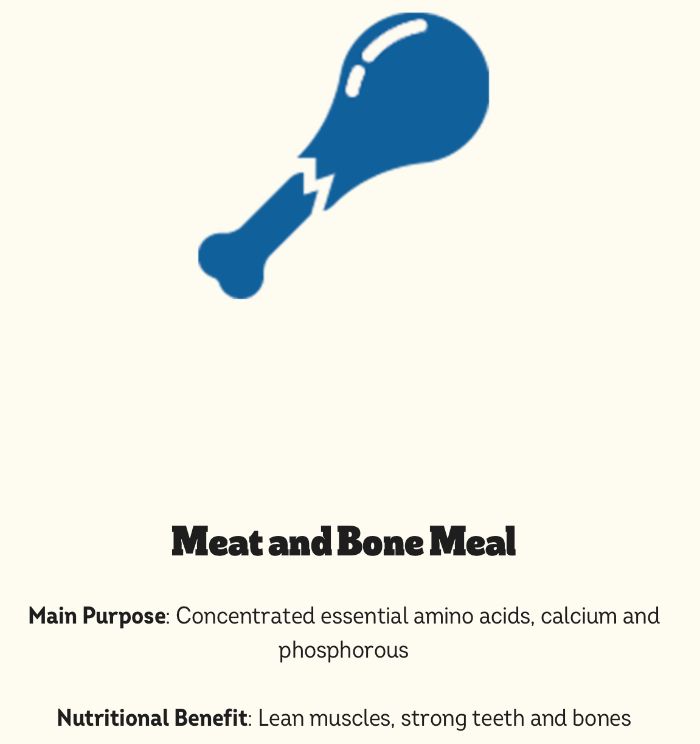 Following their website's "Supply Chain Transparency" link, you're directed to the Mars parent site. And it is all-encompassing for its many brands. Meaning there are bland and overarching statements about a few iconic ingredients. The focus remains on controversial components like cocoa, palm oil, and fish.
However, this information is clearly not exclusive to pet foods, as cocoa is a toxic ingredient for dogs. But we know that Mars also sells confections for humans. The Mars company has its subsidiary brands route back to their main website to congregate on a few shared pages of ingredient descriptions, regardless of the brand in question.
According to the Mars website, the potential sourcing of ingredients (though keep in mind, this would be across all of their brands) that are common in pet foods are the following:
Fish: Thailand
Beef: Latin America
Eggs: most likely US, but also sourced locally in Europe, Canada, and Australia
Soy: Brazil
In an attempt to verify ingredient sourcing, we contacted their Chat team. Here is that conversation: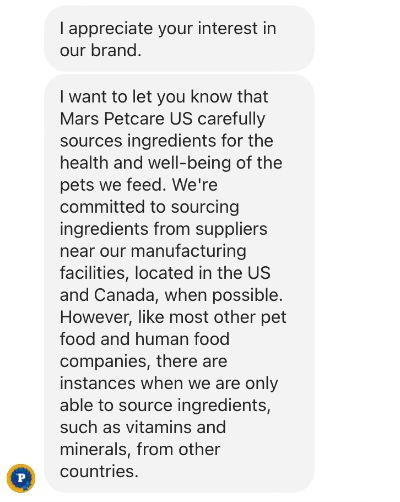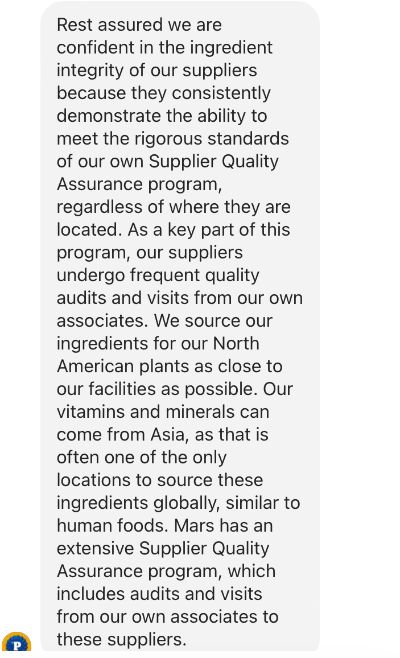 Yes, Pedigree Dog Food is made in the USA and includes globally sourced ingredients. That doesn't mean it is excellent. You should know that many dog food brands are US-made, and plenty of other choices offer much more information and transparency about their manufacturing process and supply chain. Shop wisely.
Popular American Made Pedigree Products
Pedigree Puppy Growth & Protection Dry Dog Food Grilled Steak & Vegetable Flavor
Pedigree Adult Marrobites Steak and Vegetable
Pedigree Dry Dog Food High Protein Beef and Lamb Flavor
Popular Pedigree Products Not Made in the USA
Related Articles