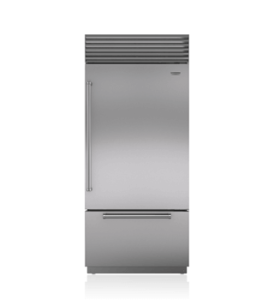 Around the 1930s, Westye Bakke started his experiments with refrigeration to figure out a way to store insulin reliably. In 1943, he produced his first freezer model out of scrap metal pieces found in his basement by bending the coils with his own hands. In 1945, Westye created the Sub-Zero Freezer Company and showcased the first freestanding system for keeping food at ultra-low temperatures (literally sub-zero).
Sub-Zero tries to stay as true to Westye's early efforts by finding and refining new ways to preserve your food's freshness while producing as little waste as possible.
Sub-Zero created a dual refrigeration system that utilizes different cooling systems for the freezer and refrigerator to prolong your food life. The refrigerators are built with an air purification system inspired by NASA's technology and rid the air of ethylene and various odors every twenty minutes. The units' doors are fitted with seals secure enough to prevent the thawing of frozen foods through days of power outages too.
Sub-Zero prides itself on following Westye's desires and never compromises on quality. But are they still made in the USA? Our verdict is below.
Verdict: Are Sub-Zero Fridges Made in the USA?
Sub-Zero refrigerators and freezers are assembled in the USA. However, Sub-Zero sources some parts and materials from other countries.
This sourcing news isn't totally surprising in the large kitchen appliance industry. Nearly all manufacturers import some parts for their fridges and freezers, and Sub-Zero is no different.
Sub-Zero is definitely dedicated to building their appliances in the U.S. though. The company has manufacturing facilities in Arizona and Wisconsin (their headquarters is in Madison, Wisconsin) that have been employing American workers for over 75 years.
In 2000, Sub-Zero acquired the Wolf Range Corporation, which also assembles here. Below are more details on some of Sub-Zero's most popular products.
Popular American Made Sub-Zero Fridges (Only Assembled Here)
Classic Over-and-Under Refrigerator/Freezer – A luxurious and high functioning piece of refrigeration technology. This product comes with one of the industry's best warranty options and has gone through the wringer in terms of testing.
Paired Refrigerator/Freezer with Ice Maker
Designer Refrigerator Drawers
Designer Freezer Drawers
Outdoor Ice Maker with Pump
PRO Refrigerator/Freezer
Popular Sub-Zero Fridges Not Made in the USA
Sub-Zero fridges and freezers are assembled in the USA, however they have some imported parts
Related Articles