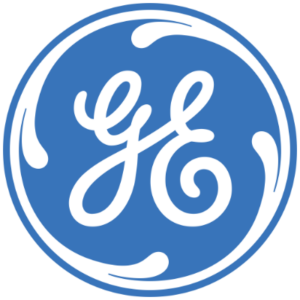 GE is one of the biggest companies in the history of the USA. They date back nearly 130 years to the days of Thomas Edison. In 1889, Drexel, Morgan, and Co. backed Edison's research and eventually founded Edison General Electric Company. An 1892 merger with The Thomson-Houston Company, Edison's biggest competitor, resulted in the company's founding as we know it today. It didn't take long for General Electric to become a powerhouse. Shortly after, the company employed more than 10,000 people and generated an impressive $20 million in annual sales. Shares of General Electric entered the New York Stock exchange in 1896, and it is now the only company remaining that was part of the original Dow Jones Industrial Average. Throughout the 20th century, their innovations never stopped flowing. They created the first air-tight refrigerator in the early 20s, as well as technology that eventually led to the microwave oven. In the late 30s and early 40s, GE invented fluorescent lighting, the trans-oceanic radio that proved crucial in World War II, and a host of plane technologies like autopilot and a turboprop engine.
GE has changed the way people live and cook in their homes and leads the way on innovations such as ovens, stoves, and other kitchen appliances. For example, GE produced the first self-cleaning oven and over the range microwave. But are their appliances still made in the USA? We dug in to find out. Our verdict is below.
Verdict: Are GE Appliances Made in the USA?
Yes, GE still produces a lot of appliances that qualify as "made in the USA" with anywhere from 70-90% U.S. sourced materials. So, they still import some parts for their U.S. made products.
GE is one of the big companies that, despite their massive size, has made a conscious effort to support American jobs and produce a lot of their products domestically. Over the last 5 years, the appliances division of GE has invested over $1.4 billion in American manufacturing, resulting in over 3,000 American jobs.
Going forward, GE is investing over $450 million at their Louisville, Kentucky headquarters for additional manufacturing capacity and corporate jobs. They are also expanding their cooking appliances manufacturing division in LaFayette, Georgia, investing over $118 million in the next couple of years.
Given the size of the company and how appliance technology has advanced in recent years, we're really glad that GE is investing at home. Most multinational conglomerates of this magnitude aren't as keen to invest heavily in American jobs.
Doing a little shopping of our own, GE has 210 appliances that are made in the USA, which is 25% of their total large appliance inventory.
9 washers (20% of washer models)
61 dishwashers (76% of dishwasher models)
16 wall ovens (31% of wall oven models)
39 ranges (30% of range models)
85 refrigerators (48% of fridge models)
If you're shopping on GE's website and curious where one of their appliance models is made, they clearly label appliances that are made in the USA with the badge shown below on their product pages.

Below is a bit more about some of the GE appliances that are made in the USA and some that aren't.
Popular American Made GE Appliances
Profile Series Refrigerators: These are an excellent buy for modern kitchens. This product has a limited 1-year entire appliance and limited 5-year refrigerating system parts warranties. The labor warranty ensures a limited 1-year entire appliance and limited 5-year sealed refrigeration system. We highly recommend the French door style to those with large families or who need to keep lots of food for extended periods.
Top-Freezer Refrigerators: A versatile, easy to use, and energy-efficient appliance. It is great for those that want a simple refrigerator without all the bells and whistles. It is well-built and is sure to last for a long time.
Profile Series Ranges: A huge selection of free-standing oven ranges.
Smart Built-In Wall Ovens: If you have a space in your kitchen to fit an oven separate from your stovetop, GE has a lot of options.
Profile Series Dishwashers: GE has both plastic and stainless steel interior dishwasher options that are made in America, depending on your budget.
Washing Machines: GE has nine washing machines (since we last checked) that they classify as made in America.
Popular GE Appliances Not Made in the USA
Cooktops
Freezer chests
Microwaves
Range hoods and vents
Related Articles