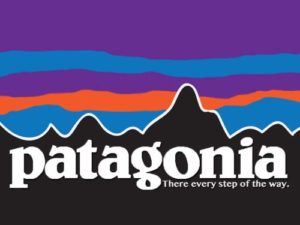 Patagonia is a staple brand in the outdoor and camping world. The company was founded by Yvon Chouinard in 1973 in Ventura, California, which is where they are still headquartered today. Chouinard worked on his own selling gear up until 1965, when we partnered with Tom Frost to start turning Patagonia into the brand it is today. While they are rooted in rock climbing, Patagonia has branched out over the years to several other sports and activities. They are best known for their outdoor clothing like fleeces, pants, and rain jackets, but have also expanded to other camping gear like sleeping bags, packs, and other essentials. They were founded in California, but are any of their products still made in the USA? We dug in to find out. Our verdict is below.
Verdict: Is Patagonia Made in the USA?
No, the majority of Patagonia products are not made in the USA. They produce their clothing and gear in over 40 factories across 16 countries. They manufacture some products in the United States, but it is a small percentage of their overall business (more in that below).
Obviously, this is disappointing to hear, but not surprising. While there has been a recent resurgence domestically, the American clothing industry has largely gone overseas over the past several decades for their manufacturing needs. Over half of Patagonia's sales are international, so their justification for international manufacturing is that it helps reduce their transportation carbon footprint by having facilities that are closer to their customers. Along with being very environmentally friendly, Patagonia is known for their other activism efforts.
What we appreciate is that Patagonia is very transparent on their site about where each of their products are made. As you can see in the screenshot below, the country of origin is clearly labeled in the specs for every product.
Since that information is available on all their product pages, we analyzed their entire online store to see what the country of origin is for each of their products. Across 1,123 products in their store, only 3.12% are made in the USA. Here is a full breakdown:
Vietnam – 40.69%
Sri Lanka – 16.03%
China – 13.09%
Thailand – 7.21%
Mexico – 5.16%
Colombia – 3.29%
USA – 3.12%
The Philippines – 2.05%
El Salvador – 1.87%
Bangladesh – 1.60%
Canada – 1.60%
India – 1.51%
Hong Kong – 0.98%
Nicaragua – 0.80%
Not Specified – 0.62%
Taiwan – 0.09%
South Korea – 0.09%
Spain – 0.09%
Portugal – 0.09%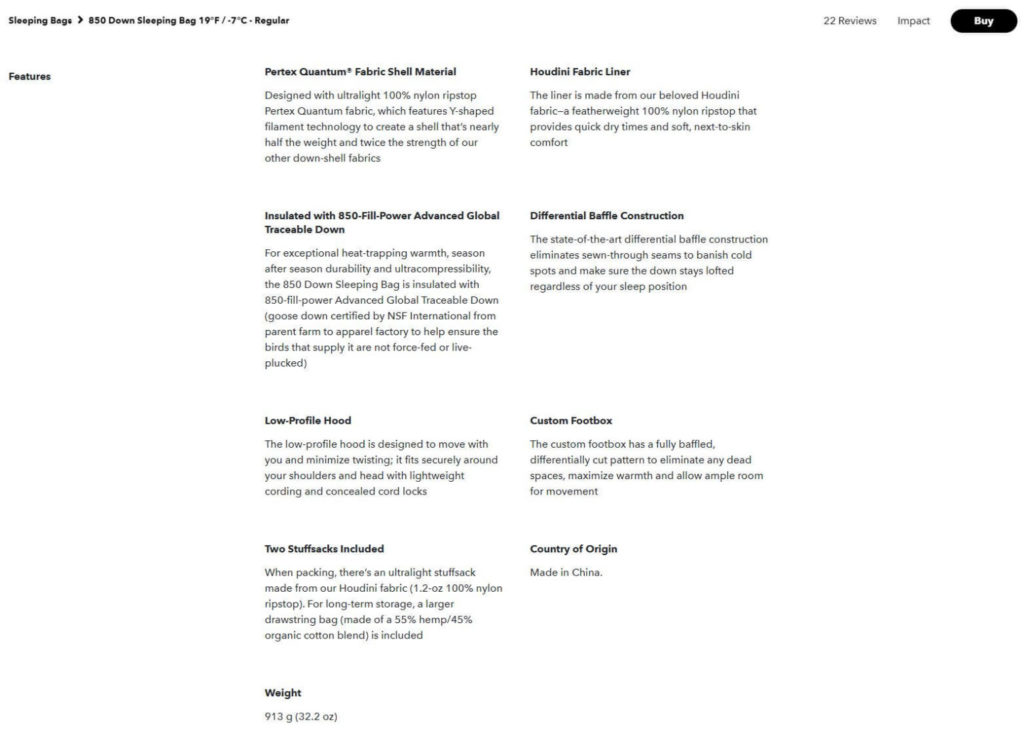 Below are some of their most popular products and a breakdown of which ones are made in America vs. manufactured overseas.
Popular American Made Patagonia Products
Men's Text Logo Organic Cotton T-Shirt
Lightweight Merino Daily Crew Socks
Men's and Women's Steel Forge Denim Pants
Patagonia Logo Disc
Popular Patagonia Products Not Made in the USA
Women's Nine Trails Pack – Philippines
Black Hole Duffel Bags and Packs – Vietnam
850 Down Sleeping Bag – China
Men's and Women's Sunshade Technical Hoody – Vietnam
Men's Baggies Shorts – Nicaragua
Women's Baggies Shorts – Vietnam
Men's Capilene Cool Daily Shirt – Sri Lanka
Men's Stand Up Shorts – Sri Lanka
Men's and Women's Better Sweater 1/4-Zip Fleece – Thailand
Women's Capilene Cool Trail Tank Top – Vietnam
Women's Nano Puff Jacket – Vietnam
Related Articles