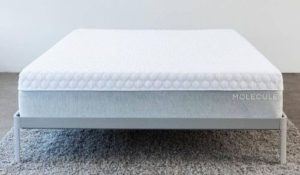 Molecule sounds like a bed from the future, and the company sure tries to live up to its name. These mattresses boast the proprietary MOLECULE Air-Engineered comfort technology, which promises a mattress that helps you recover while you sleep. They do this with features like temperature regulation, pressure relief, and adaptable support. Much like other online mattress brands, Molecule entered the industry just in the last few years. They market themselves as a mattress for athletes and folks with an active lifestyle, and they even have partnerships with athletes like Russell Wilson, Michael Phelps, Alex Morgan, and others. Molecule is based in Manhattan Beach, CA, but are they made in the USA? We dug in to find out. Our verdict is below.
Verdict: Are Molecule Mattresses Made in the USA?
Yes, Molecule mattresses are assembled in the USA and most of the materials are sourced in the USA too from independent manufacturing partners. After talking with their team, the only material in their memory foam mattresses that isn't sourced in the USA is the cover, which is made in China.
Molecule pushes hard on their website that their mattresses are manufactured in the USA, and in particular, they highlight their foam being made in the USA…a lot. Molecule uses CertiPUR-US certified foam, but that doesn't mean that the foam is sourced in the U.S., contrary to popular belief. Other countries produce CertiPUR-US foam too, like Italy and Mexico. However, in Molecule's case, their foam is made in the USA.
It doesn't surprise us that they push the foam so hard, given that the cover comes from China. However, it is encouraging that Molecule is sourcing the primary material for their mattresses domestically. For folks interested in the hybrid mattress, the individually wrapped coils are also sourced in the USA.
Similar to Saatva and other mattress brands that we've looked at, Molecule doesn't actually own the manufacturing facilities that produce their mattresses. They partner with a lot of independent factories to source and assemble their beds. So, while all the mattresses are slightly different, a lot of online mattress companies actually come from the same set of material manufacturers, whether they are U.S. sourced or from other countries.
Popular American Made Molecule Mattresses
*Only the cover is imported, otherwise assembled and sourced in the USA
Popular Molecule Mattresses and Other Products Not Made in the USA
Molecule mattress toppers – only designed and assembled in the USA
Molecule sheets – made in Bahrain
Molecule pillows – only designed and assembled in the USA (any foam is also sourced in the USA, although these pillows use a lot of different materials)
Molecule duvet covers and shams – made in Bahrain
Related Articles