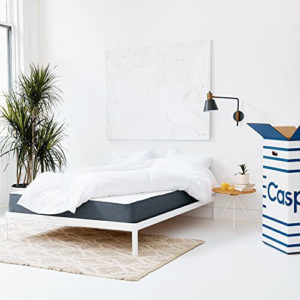 Casper came into the industry in 2013 and revolutionized the online mattress industry. It is one of the most popular brands on the market because of its flagship product: a bed-in-a-box mattress that's delivered straight to your door.
Casper mattresses feature a support system that's different than other foam mattresses on the market. The mattress is made up of several layers of memory foam, high-density polyfoam, and latex. They installed the foam with different thicknesses in different zones. This design means that sleepers will experience pressure relief in the areas they need it most.
Casper was also one of the first bed-in-a-box companies to go public in February 2020. So, with all that growth and a competitive market, are Casper mattresses made here? We did the research to find out. Our verdict is below.
Verdict: Are Casper Mattresses Made in the USA?
Casper sources some materials and assembles in the USA, but also sources materials from Canada, China, Mexico, and other countries.
We spoke with a Casper rep who provided us with many of the details below, although they were quite vague or "didn't have that information" when we asked them about sourcing locations for specific layers.
Most of their assembly happens in the United States. For the Original mattress, they partner with manufacturers in cities like Nashville, Chicago, and Fort Smith, Arkansas. For the Wave mattress models, they also assemble in Dallas, among other locations.
One of their manufacturing partners is Sinomax USA, which is based in Houston, Texas and sources a lot of their memory foam from U.S. partners. Sinomax also partners with Serta-Simmons, Walmart, Overstock.com, Costco, Amazon, Wayfair, and tons of other companies to produce their mattresses too. So, no matter what mattress you purchase, it's probably coming from the same handful of manufacturers like Sinomax and others.
Casper also outsources their manufacturing to FXI, Future Foam, and Jeffco.
FXI focuses on manufacturing for various foam layers, so they likely supply the AirScape foam, Zoned Support layer, and other non-base foam layers in Casper mattresses, although we couldn't get the Casper teammates we spoke to confirm that. Most of their locations are in the U.S., but they have one location in Mexico and could source some foam from overseas.
Future Foam specializes in pouring foam, so Casper likely gets some polyurethane base layers from them. They have several U.S. locations, but also have two facilities in Germany and one facility in the Huangwan District of China, where Casper could be sourcing some of their materials (the China facility specializes in foam pouring and fabrication).
Jeffco Fibres is another major manufacturer that Casper outsources production to. Jeffco states that "Many of our products are manufactured and assembled in the USA" on their website, which is an admission that not all of them are made here, but a good sign nonetheless that this family-owned business is keeping most production in-house.
We confirmed with the Casper rep we spoke to that Casper pillows and many other accessories are made in China.
We'll be doing some further research to get a breakdown of some of the materials they use and where they are sourced from:
AirScape foam
Zoned Support and Zoned Support Max memory foam
Polyurethane foam base
Springs (used in Hybrid versions)
Cover and QuickCool Cover
Cooling gel and gel pods (used in Wave Hybrid and Wave Hybrid Snow)
HeatDelete Bands (used in Snow versions)
We think it's safe to say that not all of these foams and layers are sourced in the U.S. given their manufacturing partner footprint, and Casper also assembles some of its mattresses in Canada.
Casper has also been very cagey in the last few years about where their mattresses are made. A prime example is their FAQ page where they don't even answer their own question about the country of origin, simply saying that their mattresses are "designed" in California.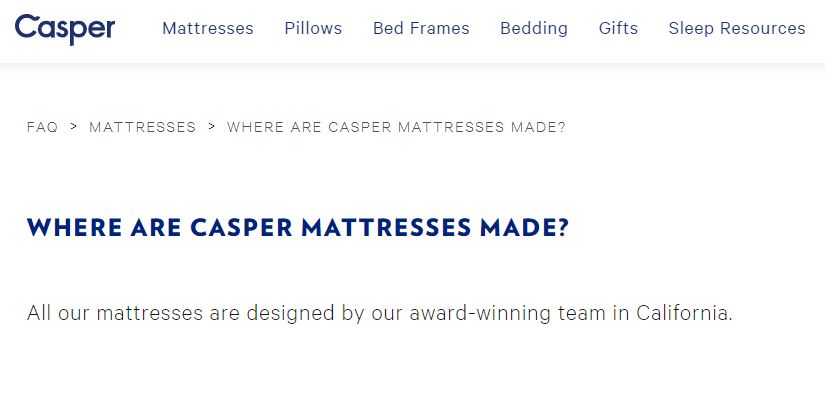 Casper used to be a bit more transparent though. Here is a screenshot of their website from 2015 where they clearly state the country of origin. Today, Casper has removed that "developed and crafted in the USA" language.

Overall, I think you can find a more trustworthy mattress company that is actually made in the USA. I included some of our recommendations below and some links to related research if you want to check it out.
Popular American Made Casper Mattresses
None 100% made in the USA that we could confirm
Popular Casper Mattresses and Other Products Not Made in the USA
Pillows – China
Mattress toppers – China
Some foams and other mattress materials are sourced internationally
Related Articles