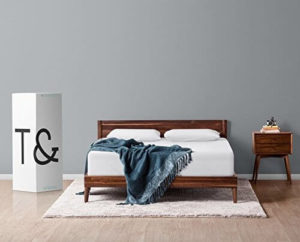 Tuft & Needle was founded in 2012, a couple of years later than some of its competition. However, even with a slightly later start, it quickly grew into one of the most popular brands in the mattress-in-a-box market. It's also expanded its offerings to bedding, frames, mattress toppers, and more, making it an excellent brand for all of your bedroom needs.
The Tuft & Needle mattress is no-frills and straightforward. They make it from two foam layers with a thin polyester cover. While it may seem like two layers may make this bed unsupportive, this company has come up with a proprietary system that makes this bed firm and comfortable while you sleep.
In 2018, Tuft & Needle merged with Serta Simmons Bedding, one of the biggest mattress manufacturers in the world. So, are T&N mattresses still made in the USA? We did the research; here is our verdict.
Verdict: Are Tuft & Needle Mattresses Made in the USA?
All Tuft & Needle mattresses are made in the USA and Canada, which I confirmed with the Tuft & Needle team. They source other products and materials from China, India, Pakistan, and some areas of Europe.
Since Tuft & Needle merged with Serta Simmons Bedding, I'm sure they switched over a lot of their manufacturing to Serta Simmons' infrastructure, which also produces all of the Beautyrest mattresses on the market (another brand they own). The comments from the Tuft & Needle rep that I talked to certainly support that. Serta Simmons has 27 manufacturing plants, all of which are in North America, but not all are in the USA. Here are the locations:
Cullman, AL
Tolleson, AZ
Moreno Valley, CA
Aurora, CO
Windsor Locks, CT
Grovetown, GA
Waycross, GA
Riviera Beach, FL
Kapolei, HI
Clear Lake, IA
Shawnee Mission, KS
Charlotte, NC
Coxsackie, NY
Jamestown, NY
Monroe, OH
Hazleton, PA
Houston, TX
Fredricksburg, VA
Puyallup, WA
Beloit, WI
Janesville, WI
Calgary, Alberta, Canada
St. Leonard, Quebec, Canada
Kirkland, Quebec, Canada
Vaughan, Ontario, Canada
Burnaby, B.C., Canada
Trujillo Alto, Puerto Rico
So, most Tuft & Needle mattresses are primarily produced in the USA, but some are made in Canada.
What's a little disappointing though is that the country of origin is nowhere to be found for any of their products on the Tuft & Needle website. So, we had to do a lot of digging and talking with their team to find out where everything is made.
When it comes to accessories, this is where Tuft & Needle relies heavily on outsourcing. As you'll see below, they source a lot of these from India, Pakistan, China, and other countries. What is really perplexing though is that some of their products, like their percale sheets, are manufactured overseas, but made with 100% American grown cotton. That seems very backwards and inefficient…
Anyways, below are some of their most popular mattresses and other products and where they are made.
Popular American Made Tuft & Needle Mattresses
Original mattress
Mint mattress
Hybrid mattress
Mattress topper
Original foam pillow
*Some models made in Canada in addition to the USA
Popular Tuft & Needle Mattresses and Other Products Not Made in the USA
Down alternative pillow and down pillow – made in the USA from imported materials
Mattress protector – made in China
Linen sheets – made in India and Pakistan with European flax
Percale sheets – made in India and Pakistan using American grown Pima cotton
Organic jersey sheets – made in Pakistan with cotton grown in Tajikistan, Turkey, and Tanzania
Down and down alternative duvet inserts – filled and assembled in the USA with imported materials (duvet insert shells are made in China)
Related Articles