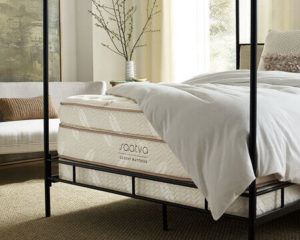 Saatva began their company in 2011 by rolling out this innerspring bed. It's unique in its market. Although it's a mattress you can order and deliver online, it has innerspring, unlike its hybrid bed-in-a-box competitors. It means that it has more spring than other hybrids and less foam. The technology gives you the traditional feel of a spring mattress with the added comfort of foam technology.
Saatva has grown tremendously over the years and also owns several other brands in the mattress industry, like Loom & Leaf and Zenhaven. They are still privately owned and based in New York, NY today.
Saatva started in the USA, but are their mattresses still made here? We dug in to find out. Our verdict is below.
Verdict: Are Saatva Mattresses Made in the USA?
Yes, Saatva mattresses are made and primarily sourced in the USA. Saatva has 19 U.S. factory partners that make the materials and assemble the mattresses.
Mattress brands are typically pretty cheeky on where their beds are actually made, but Saatva is refreshingly transparent. While they do use language like "handcrafted in the USA" (which many brands use to skirt around the fact that their materials aren't U.S. sourced), Saatva sources all of their eco-friendly foams and over 85% of all other materials from U.S. manufacturers. So, they are not 100% made in the USA, but Saatva is well above the average for the industry and certainly committed to American manufacturing. The remaining 15% of materials are small components of the mattress, not the primary materials like foams and springs.
It's important to note that Saatva doesn't own these factories, they are independent manufacturing partners. For example, one of their partners is Bedding Industries of America (BIA), based in New Jersey.
Popular American Made Saatva Mattresses
Original Saatva mattress – Ideal for combination sleepers who move around a lot as they sleep. The coils help keep you uplifted and supported while you move, and the memory foam helps relieve pressure points. There are also several firmness options, unlike other online shipping mattresses on the market.
Loom & Leaf – A great choice if you're looking for a good memory foam mattress.
Zenhaven – An excellent choice for health and eco-conscious individuals. The latex provides excellent support and buoyancy from natural and organic materials.
Popular Saatva Mattresses Not Made in the USA
None fully, but there are some materials sourced from other countries, like wool from New Zealand.
Related Articles