New Balance is a popular American company based out of the Brighton neighborhood in the Boston area that primarily manufactures athletic footwear. They were founded in 1906 and originally known as the New Balance Arch Support Company, and now operate in several countries across the globe. They are most well known for their 990 and 574 models and have long touted that they are proud to be made in the USA, but is that actually true? We dug in and found out.
Verdict: Are New Balance Shoes Made in the USA?
No, not all New Balance shoes are made in America. They claim that "1 out of every 4 pairs of shoes we sell in the USA was made or assembled in American factories, by American workers." They key phrase there: "made or assembled." New Balance gets many of their materials overseas, including their outer soles, which are made in China. Many of their popular shoes, like the 1540s, are made in Vietnam.
Additionally, New Balance is likely fooling you in their marketing. They label products to be Made in the USA when they are only 70% domestic! Here's the direct quote from their website: "where the domestic value is at least 70%, we label our shoes Made in the USA." There has been an ongoing legal dispute since the 1990's with the FTC and New Balance. The FTC has a "all or virtually all" standard when it comes to using the Made in USA label, which it seems New Balance was in violation of.
Here is the statement from their website. Even though they do not make their products 100% in the U.S., it is a plus that they are still supporting American manufacturing with over 7,000 local employees.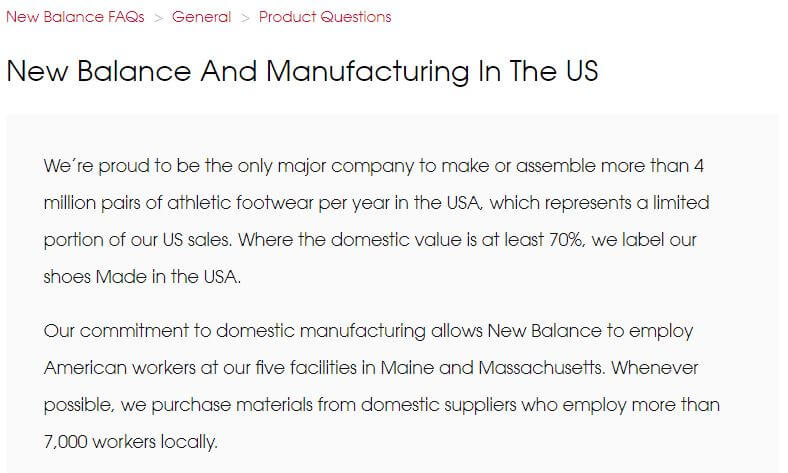 While New Balance is proud to show which shoes are made domestically (somewhat, at least), they do not disclose the country of origin for any of their other products made internationally.
New Balance has recently prioritized opening new U.S. manufacturing facilities, though. So, more and more of their shoes are starting to be made domestically, which is a great sign. They have five factories in the New England region right now.
Popular American Made New Balance Shoes
Unfortunately, we can't seem to find any New Balance shoes that we can verify are 100% made in the USA. Here are some popular products that they list in their Made in the USA section on their website:
New Balance 990v2
New Balance 990v3
New Balance 990v5 Core
New Balance 993 Core
We updated this list to reflect the removal of the 1540s from U.S. manufacturing.
New Balance also manufactures PF Flyers, which have some styles made in the USA.
Popular New Balance Shoes Not Made in the USA
New Balance 550
New Balance 574 Core
New Balance Fresh Foam 1080v12
New Balance 327
New Balance 928v3
New Balance MX608V5
Find an American Made Alternative
Related Articles