Love them or hate them, Crocs are celebrating their 20th anniversary this year. Although some people deride them as the world's ugliest shoe, others swear by them because of their comfort and versatility.
There are lots of reasons why the Broomfield, Colorado-based company is among the world's 10 largest non-athletic footwear brands. Crocs are the perfect shoes for the beach because they can be worn in the water, but some varieties (did you know they make boots?) are great for winter. Crocs also come in all the colors of the rainbow.
What makes Crocs unique is that they are made entirely out of Croslite, a foam material, rather than rubber or plastic. Croslite helps absorb the shock from walking and spreads weight across the entire foot.
Believe it or not, Crocs are becoming hip. Celebrities are wearing them and models are showing them off on fashion runways.
Crocs, Inc. and Soles4Souls have partnered to provide the opportunity to recycle lightly worn Crocs. Once Soles4Souls receives your shoes, they will clean them and donate them to people in impoverished nations around the world who are in need of footwear.
Are these distinctive shoes made in the USA? We've dug in, see our verdict below.
Verdict: Are Crocs Made in the USA?
The short answer is no, Crocs are not made in the USA – at least for now. Crocs shoes are currently made in various locations such China, Vietnam, Nicaragua, and Mexico, according to the company representative.
The company used to manufacture some of its footwear in the United States, according to our research. However, that is not the case at this time, a Crocs representative stated in an online chat session.
You should be able to see the country of origin stamped on the tag of any pair of Crocs if you're curious about where particular pairs are manufactured.
What really bothers me though is the fact that Crocs is not transparent at all about the country of origin on their website. They aren't required to be, but the transparency would be nice since this information is notoriously tough to get to. Here is an example from one of their product pages.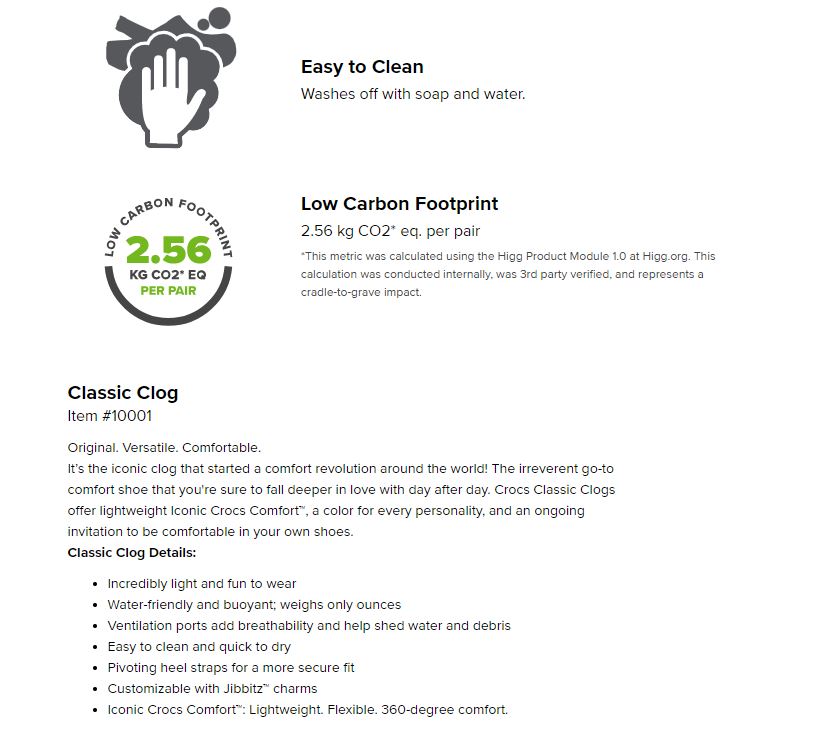 I also find it amusing that they highlight the low carbon footprint of their shoes, but they are shipping them from overseas! I'm sure they could be way more environmentally friendly if they manufactured their shoes in the United States.
Anyways, there are much better options for shoes and sandals, which I linked below.
Popular American Made Crocs
Popular Crocs Not Made in the USA
Santa Cruz
Swiftwater
Classic
Capri 5
LiteRide Clog
Bogota Clog
Reviva Flip Flop
Serena Flip
Kadee
Citilane Roka
Kids Classic Clog
YouTube Video: Checking Where Crocs Are Made
---
Related Articles