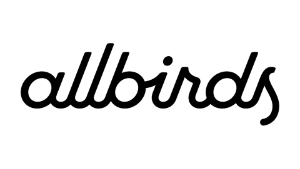 The population of New Zealand is 25.3 million. Sheep. The country only has 5.15 million humans. Clearly, it's a country built upon wool. That's exactly what led New Zealand native Tim Brown to incorporate nature's fleece into footwear construction.
With a desire to make shoes with natural materials and sustainable practices, Allbirds was born. Founded in 2016, the company is less than 10 years old. Still, they hit the ground running, made over $7 million in their first year of business, and are now publicly traded.
The name Allbirds was conceptualized based on the fact that New Zealand has no native land mammals. Instead, it is a country of "all birds." Although they emerged from the land down under the land down under, Allbirds is now headquartered out of San Francisco, California.
From a kickstarter dream, to a single product launch, and now a global company collaborating with the likes of Adidas, it seems they did pretty well. As far as where these birds are flying from today…read on to find out.
Verdict: Are Allbirds Made in the USA?
No, Allbirds shoes are not made in the USA. Allbirds manufactures their socks in the USA, but all other products are made overseas.
And this, they are not shy about. Right from the company's FAQ, they give it to you straight. Their footwear is made in South Korea and China, their clothing is made in East Asia, and socks are made in North Carolina.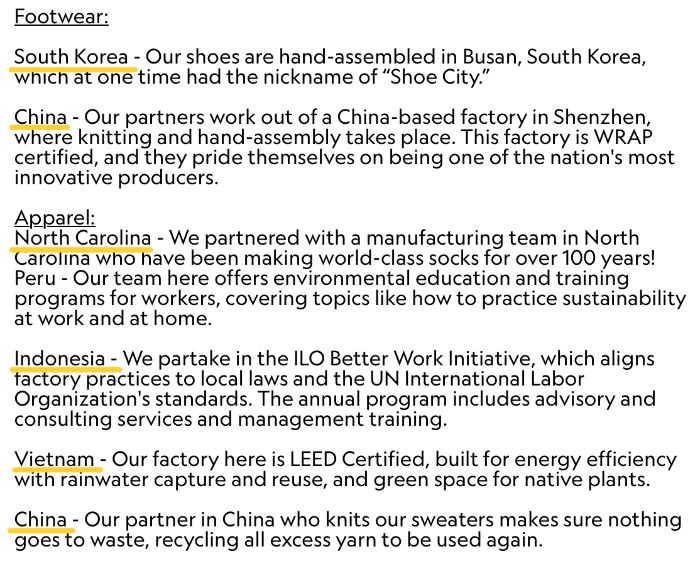 They go so far as to include the link to all their Tier 1 suppliers (and regularly update it) for your viewing pleasure. If that bottom-line-up-front information isn't good enough for you, Allbirds also includes the country of origin on each product page. And it's not even hidden in the details.
Following info from Women's Tree Runners: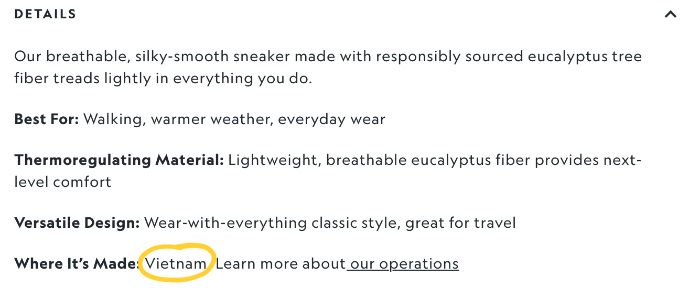 Of all their products, the only thing that Allbirds sells that is Made in the USA is their socks. They only carry three sock styles: Anytime No Show Sock, Anytime Ankle Sock, and Anytime Crew Sock.
Following information from the Anytime No Show Sock: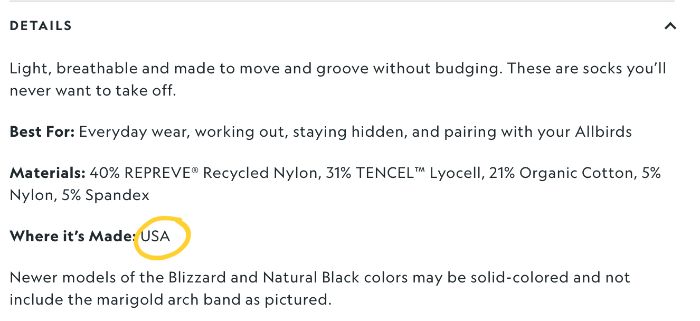 Allbirds is a very young company. It's often the young companies that are the most transparent. Maybe that's because they're closer in age to the generation demanding the most honesty from manufacturers? Maybe they aren't as stuck in their ways as these century-old businesses? Whatever the case, we know a few elder companies that could learn a lesson or two from these whippersnappers.
Aside from their blaring honesty, Allbirds gets extra cake for being a certified B Corp business, using 90% post-consumer recycled packaging, donating used shoes to Soles4Souls, and rejecting the standard practice of obnoxious labeling and logos. Will they ever manufacture shoes in the USA? It doesn't seem likely.
If you're looking for USA made shoes, you won't find them at Allbirds. Instead, they'll serve you some American-made socks from North Carolina and a side of transparent honesty.
Popular American Made Allbirds Products
Anytime No Show Sock
Anytime Ankle Sock
Anytime Crew Sock
Popular Allbirds Products Not Made in the USA
Women's Tree Runners
Women's Tree Breezers
Men's Wool Runner Mizzles
Related Articles