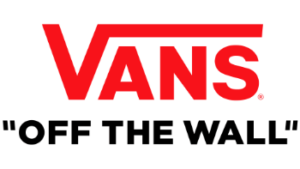 Head to any busy downtown, and you're destined to see a fair share of people wearing Vans footwear. Vans shoes have become outrageously popular here in the US, from skaters to moms, hipsters, and even toddlers. 
The brand was founded in 1966 by two brothers, Paul and Jim Van Doren. Can you guess where the company name came from? It started as the Van Doren Rubber Company and was based in Anaheim, California. Rubber-soled shoes were sold straight from the factory the day they were completed. 
From a single factory/shoe-selling storefront grew the huge brand that exists today. Every year, the company produces over 70 million pairs of shoes. You know Vans where you see them…the chunky rubber sole and signature side squiggle. Although initially designed for skaters, shoe-wearers of all types enjoy these sneaks. 
Vans went public in 1991 and merged with VF Corporation, an American apparel and footwear company, in 2014. They sponsor two public skate parks in California and host the annual Vans Warped Tour, an American music festival.
The company is clearly steeped in California culture. They remain headquartered there today, based out of Costa Mesa. But is this global brand still manufactured in the Golden State?
Verdict: Are Vans Shoes Made in the USA?
No. Well…not for the public, at least. Nearly all of Vans shoes are made in China and Vietnam. The brand debuted an exclusive American made shoe in 2017, but it was only available to pros. 
Come along on this sad story. Vans were initially made in California up until the late 1990s. For 30 years, Vans were manufactured in California factories, including the original Anaheim location, until operations were moved overseas due to rising demand. 
We first encountered this information on Vans European website, as it is not easy to find on the US site.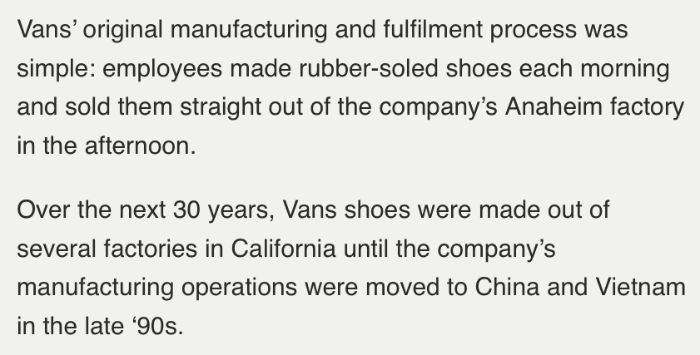 As usual, overseas manufacturing isn't something many brands tend to gloat about or even clearly advertise. You won't find any clues about the origin when browsing the product pages on the Vans website. Even their About Page, which leads to a long scrolling timeline of company events, fails to mention the current manufacturing locale. 
Here are a few views of where you can confidently find out where a pair of Vans was made: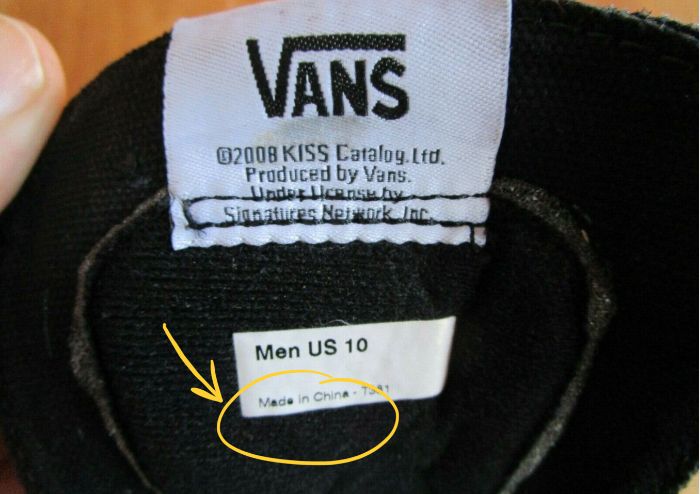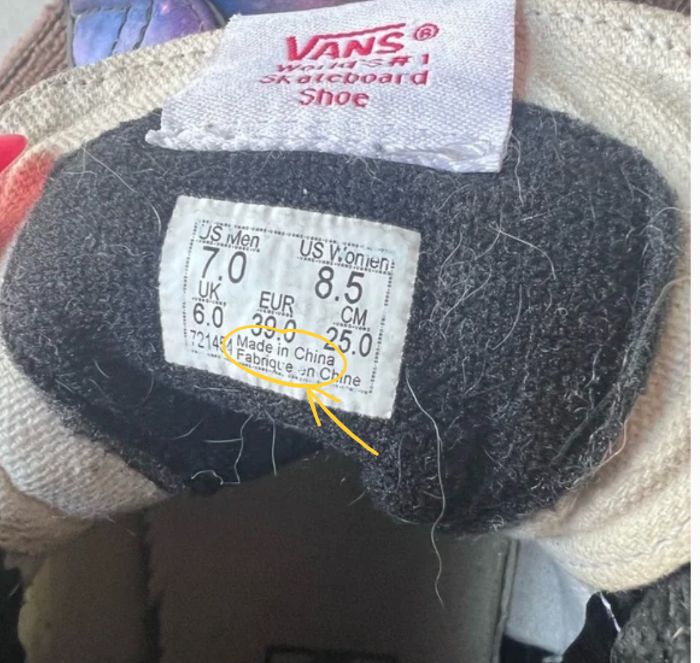 The special release 2017 American-made Vans shoe was available exclusively to skate pros. The design was intended to replicate the early models of shoes made by the company, and only 700 pairs were made. It was the first American-made Vans shoe produced in over 20 years.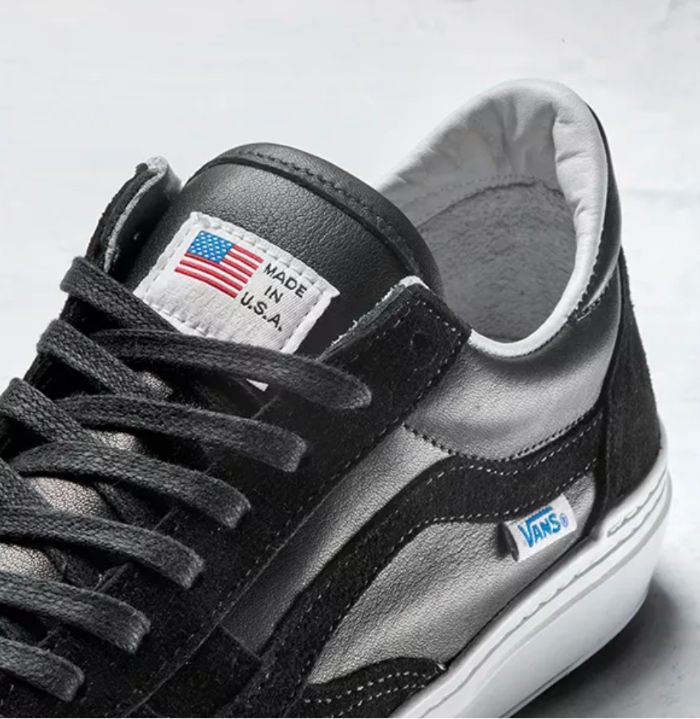 Although previously made in America (before the 1990s), Vans shoes are now produced overseas. So, if you're shopping in person, check the inside tongue of the shoes to find the country of origin. If you're shopping online, there's only one thing you can know for sure – those shoes are not made in the USA. 
Popular American Made Vans Shoes
Style 113 Pro USA ArcAd, Limited Edition, debuted in 2017.
Popular Vans Shoes Not Made in the USA
Old Skool Shoe
UltraRange Neo VR3
Sk8-Hi Shoe
Related Articles