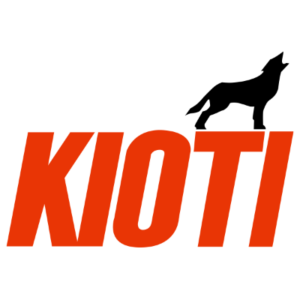 For those of us that want to know where products are made, the need increases even more when it comes to large purchases. Farmland machinery is a large purchase, to say the least. As the saying goes, buy it once, buy it right.
We set out to investigate the Kioti Tractor brand to find out more about the company and where they manufacture their products.
Revealing as it may be, Kioti Tractor didn't start with that name. The company began as Daedong Corporation in South Korea. It was founded in 1947 out of Daegu, South Korea, and didn't export its first tractor to the US until 1986. It would take nearly another decade before the title "Kioti Tractor" was given to represent the brand in America.
Kioti Tractor produces all manner of farm equipment, from tractors to ATVs, harvesters, and more. Their headquarters remain in Daegu, South Korea, and as of 2020, their revenue is an astonishing $895 billion. The regional office in America is located in Wilson, NC, and has been there since 1993.
Year after year, Kioti Tractor introduces new machine vehicles in their product line. Though they began in Korea and now service the globe, we need to find out for certain where the equipment is manufactured.
Verdict: Are Kioti Tractors Made in the USA?
No, Kioti Tractors are manufactured in Korea, not made in the USA.
It likely comes as no surprise, given the company's history. Having been founded in South Korea and retaining its brand hierarchy, its manufacturing is expected not to shift stateside. Further subsidiaries of the Daedong Corporate brand include branches in Canada, Europe, and China.

The mother company began in 1947, and Daedong-USA wasn't established until 1993. By that point, the brand had been manufacturing farm equipment for nearly 50 years. The only facilities owned by Daedong that you will find in the US are distribution and service centers, not manufacturing sites.

Although Kioti is very clear about their connections to their South Korean heritage, there is still no blatant statement about where manufacturing occurs. From the script above, we can surmise that it doesn't occur in the US. As much of a selling point as "Made in the USA" is, brands tend to be brazen about it when they possess that quality.
Knowing that there are no manufacturing sites in the US, it's still interesting to know where exactly Kioti Tractors are being built. We reached out to customer service to find out more. Here is their response: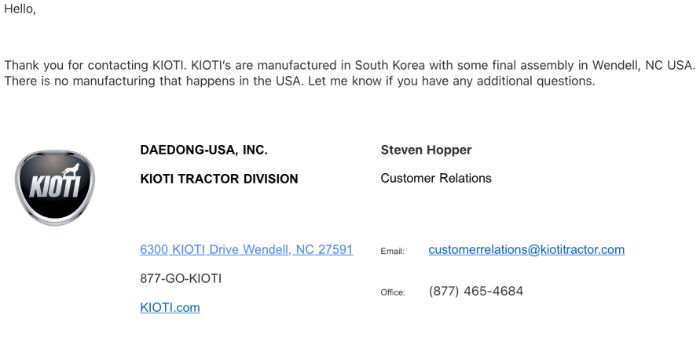 Kioti Tractor was born in Korea and remains in Korea. No manufacturing happens in the US. The Daedong brand was established at its homesite long before it ever came to the US. Procedurally, it wouldn't make sense for the company to attempt manufacturing in the US when its systems are already in place. At least now, you can shop and be informed.
Popular American Made Kioti Equipment
Popular Kioti Equipment Not Made in the USA
Sub Compact CS Series Tractor
ZXR Series Zero Turn Mower
Kioti MECHRON
Related Articles