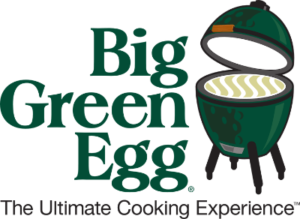 You've seen those big egg-shaped cookers at specialty hardware stores or a friend's cookout. They're iconic and somehow balance futuristic and age-old all at once. It looks like a dinosaur egg…because it was inspired by man's first interaction with fire! Though, unlike the dinosaurs, the Big Green Egg has stood the test of time.
Ed Fisher, the founder of the Big Green Egg, established his first retail store in Atlanta, Georgia, to sell his original cooker prototypes. The product went through a range of improvements, including the incorporation of material developed for NASA, to become what it is today.
The EGG, as it is fondly referred to, is now available in seven size ranges and can be purchased in over fifty countries. Its distinctive Kamado-imitation style is inspired by the wood-fueled stoves used in Japan. They reportedly use less fuel, can cook anything, make food taste superb, and come with a cult following of "Eggheads."
Maybe publications refer to the Big Green Egg as the cream of the crop. Let's find out a bit more about where this famed grill is made.
Verdict: Is Big Green Egg Made in the USA?
No, Big Green Egg is not made in the USA. It is manufactured in Mexico.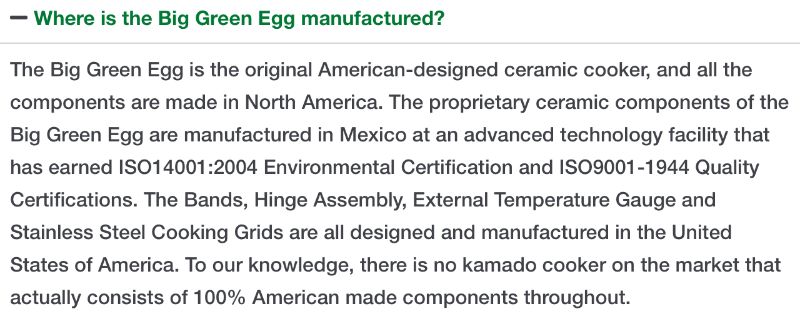 The company utilizes a high-tech facility based out of Mexico for the majority of the Big Green Egg components. Do you know those divots all over the surface of the grill? And the embossed logo? They're both hand-carved. It's clear that a lot of craftsmanship goes into the process of making an EGG.

Pack up your mini grills, you can hit the road to meet up with like-minded EGG enthusiasts at an EGGfest. There's always a reason why a product would have a cult following.
But it doesn't come cheap. These grills are pricey. An exclusive contract with their manufacturing facility ensures that they are the only grill produced on-site and allows for full control over the entire process. The partnership began in 1995 and remains solid today. This exclusivity safeguards quality and thus yields a higher price point.
The Big Green Egg doesn't just sell grills. They also offer a ton of accessories. We reached out to customer service to ask where these supplementary items are made.
All American: Hello, I saw that your grill is made in Mexico. Where do you manufacture your other accessories?
EGG: Oh gosh, we have so many products and places where we make them. Is there something you are looking at in particular?
AA: Just wanting to know if anything is made in the US?
EGG: Let me ask my supervisor.
placed on hold
Supervisor: Hello, can I help you?
AA: I'd like to know where your accessories are made and if any are made in the US?
Supervisor: ya some of them are…a lot of the cast iron stuff and stainless steel stuff. Quite a bit comes from China and Vietnam as things are these days.
AA: Is there any way to see that on the website?
Supervisor: no, not really. You might be better off looking at boxes. We have over 300 SKUs. And we work with some companies that are American companies but they might bring parts from China and manufacture them in America. Like we get the Egg-Genius from Flameboss that is an American company but some parts are made in China. I do know that some of the cast iron and stainless steel stuff we have is American made. Not all the stainless steel, but the heavy duty grates for the grills are made in the US. Also, some of our merchandise. Like our hats are from Richardson Hats, which is an American brand.
A product search of their web shop yielded 15 items that are labeled "Made in USA." However, this is deceiving as not every item from this search is truly made in the USA. For example, the 1.5oz Silishot – Everlasting Emerald is a product made by the brand Siliprints. And the Siliprints website reports that their items are made in China.

We double-checked every item from that search and only listed the ones that specifically stated they were made in the USA in our round-up below (it was just two items).
An American brand started by a Russian immigrant, inspired by ancient Asian cookware, now manufactured in Mexico and around the world. Turns out this coal grill can function as a melting pot too.
Popular American Made Big Green Egg Products
Big Green Egg Flying Discs
Limited Edition EGGtoberfest Temperature Gauge – 2018
Popular Big Green Egg Products Not Made in the USA
Medium Big Green Egg & all Big Green Egg Grills
1.5oz Silishot – Everlasting Emerald
Big Green Egg Victorinox Swiss Army Knife – Tinker
Related Articles