There's nothing like the great outdoors. Add on a fire-made meal, and it gets even better. Camp Chef is a brand of outdoor grills and cookware made for the adventurer and tent-dwellers of the world. 
Founded in 1990, this relatively young brand began with the intention of making a more robust cooking setup for camp. Their systems are modular, expandable, and packable. Aside from the cooking stove itself, the company also sells cast iron cookware, accessories, and more. 
Camp Chef is owned by Vista Outdoor, a large company that includes many other outdoor brands. The list includes popular brands like CamelBak, Bell, Giro, Fox, Remington, and more. Vista bought Camp Chef in 2016 for $74 million.
Their parent brand is very established, with 41 others under its wing. Although they are headquartered in Anoka, Minnesota, how likely is it that they host some American made brands? Let's find out where one of those brands, Camp Chef, is being made.
Verdict: Is Camp Chef Made in the USA?
No, Camp Chef is not made in the USA. All of their grills are made in China.
This information isn't boasted about on their website. You can't find it on their About Page or any supplier information pages, even on the Vista Outdoors website. 
Vista Outdoors reports that they manufacture worldwide, including in the US and abroad.

However, according to the Vista Outdoor website, they don't even perform third-party audits for human trafficking or employee benefits at the factories they utilize. Instead, they use an annual training to raise awareness of this issue. That doesn't seem like enough. 
We snooped through the product FAQs of a few Camp Chef items. There, we were able to spot our question at hand.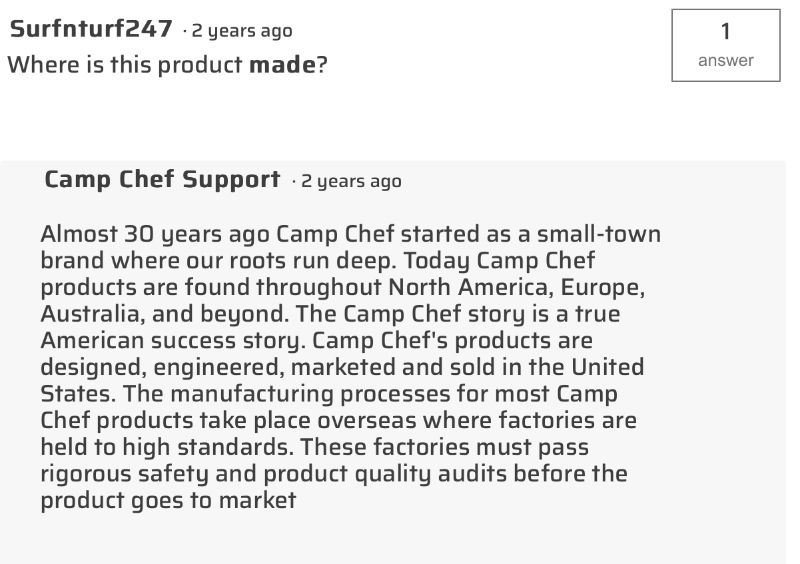 The answer is supplied, though it is vague: "Most" products are manufactured overseas. But where overseas? And is anything at all made in the USA? 
Here's another FAQ about their Pro 90X Cooking System: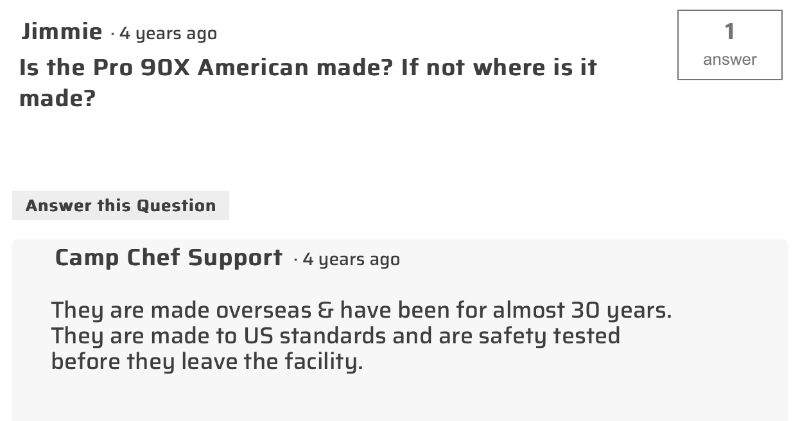 It seems like Camp Chef likes to keep it vague. Dare they say the dreaded "C" word? Spoiler alert, when it comes to manufacturing, the "C" word is China.
We've inspected brands that offer cast iron cookware that is made in the USA, so it is possible that this could be the case for Camp Chef.
We reached out to their customer support to inquire further about their grills.

Finally, an official answer from the company – their grills are made in China.
Through further investigation and a few articles, we found that Camp Chef may have manufactured some of their grills stateside at some point. It doesn't seem that this is the case any longer. These articles specify that the pellet grills were made in the US. But digging through the FAQs on the pellet stove products, we found this question, answered with a copy & paste response like the one above.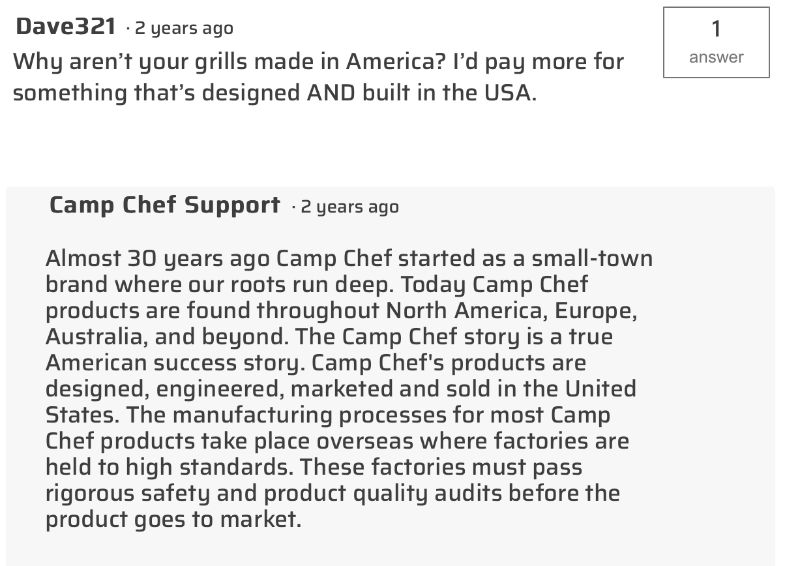 We've got to hand it to Dave321. He's right: we'd pay more for something designed and built in the USA.
Anyways…avoid Camp Chef; we listed some links below to our research on great alternatives made in the USA.
Popular American Made Camp Chef Products
Popular Camp Chef Products Not Made in the USA
16" Cast Iron Griddle
Pro 16 Stove System
Pellet Grill Blanket 24"
Related Articles