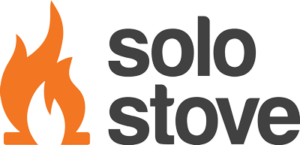 There's nothing better than a toasty fire and crispy food charred over a flame. You could go full caveman and build a fire in a pit or class up your act with a modern system like the Solo Stove.
Solo Stove is a company offering a variety of cooking and heating stoves, accessories, and fuel. Pizza ovens, patio heaters, camping stoves, and fire pits can all be found on the retail website. What makes the Solo Stove special is its compact design and smokeless system. It's a popular choice for minimalist campers and outdoor lovers.
In 2010, two brothers with a love for camping developed their stove concept. All they had was $15,000, and they used that to start a brand. They've come a long way from a humble beginning to now a public-traded company.
The company is now based out of Grapevine, Texas, and is no longer run by the original founders. We looked into their manufacturing processes to find out where they make their products. Are they made in the USA? Here is our verdict.
Verdict: Is Solo Stove Made in the USA?
The Solo Stove itself is not made in the USA. All stoves and fire pits are manufactured in China, Vietnam, or India. The company does offer several products that are US made, though it is a minimal selection.
The primary product of Solo Stove is…the Solo Stove. It is designed in Texas, but made overseas.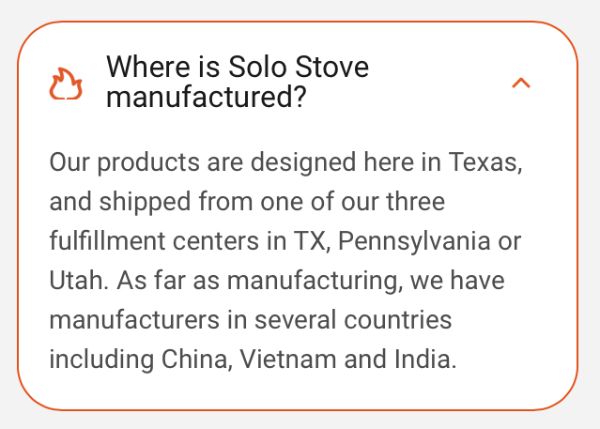 We reached out to customer service to ask directly about their manufacturing practice. The employee we spoke to was responsive, but offered the same copy-and-paste response displayed above. So, we asked specifically if Solo Stove has any items made here in the USA. Here is that conversation: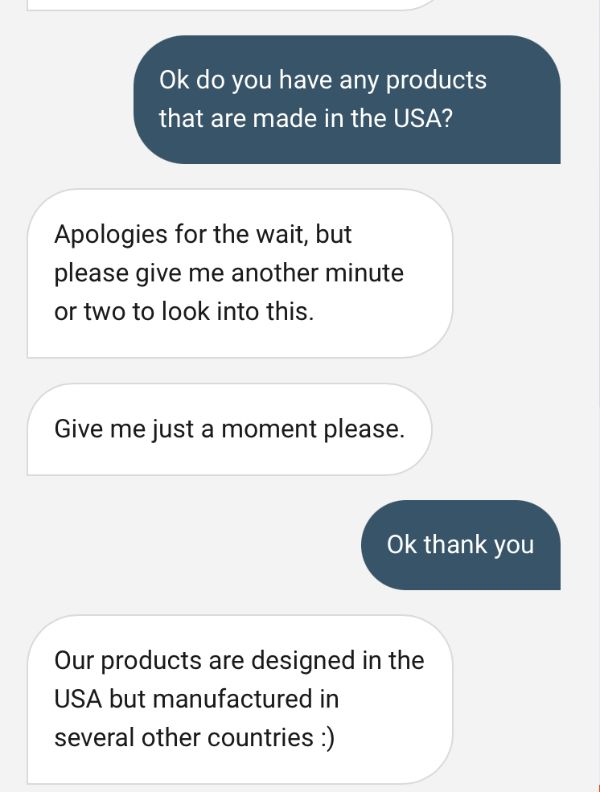 It's not a very helpful answer. We did our own searching and found a few USA-made products, like wood fuel and food items, on the website.
According to the website, the Premium Wood Pellets are sourced in the US.

Solo Stove offers more than just a stove and fuel. You can also find recipes and ingredient boxes to make pizzas and more. Food products are reportedly made in US kitchens, but ingredients, like tomatoes, are often sourced from overseas.
Following information from the Neapolitan Artisan (Pi)zza Box: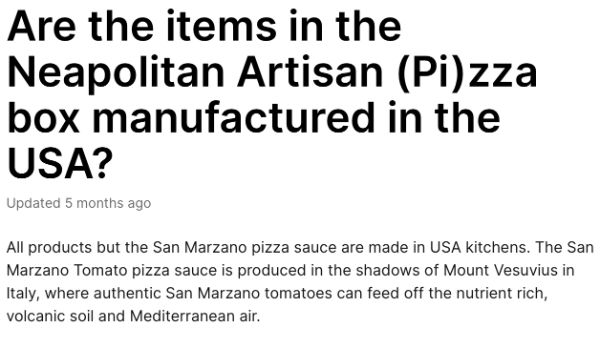 Following information from the Neapolitan Dough Balls:

In conclusion, Solo Stove products are produced overseas. Their food items, like the Dough Balls, are made in the US with some imported ingredients.
Popular American Made Solo Stove Products
Solo Stove Premium Wood Pellets
Neapolitan Dough Balls
Neapolitan Artisan (Pi)zza Box
Popular Solo Stove Products Not Made in the USA
Mesa
Bonfire 2.0
Tower Shelter
Related Articles