Schwinn is one of the most recognizable brand names in bicycles in the United States. The company was founded by Ignaz Schwinn in Chicago all the way back in 1895 and quickly became the largest U.S. bicycle manufacturer in the 20th century. You could find a Corvette bicycle model, the Sting-Ray, or the Schwinn Twinn tandem bike on almost any street corner in the 50s, 60s, and 70s when the bicycle craze was really taking hold. Today, Schwinn is still producing a ton of bikes, but has gone through some turmoil over the years. Schwinn went into bankruptcy in 1992, the company was bought by the Zell investment group the following year, then bought again in 1997, then back into bankruptcy in 2001, then sold to Pacific Cycle and eventually Dorel Industries in 2004 where the company currently resides. So, with all that bouncing around, are any Schwinn bikes still made in that iconic Chicago factory or anywhere else in the U.S.? We dug in to find out. Our verdict is below.
Verdict: Are Schwinn Bikes Made in the USA?
No, Schwinn bikes are no longer made in the USA. Most of their bikes are now made in China and other Asian countries.
This is unfortunate news for (arguably) America's most recognizable bike brand, but not all that surprising. The problems started in the 1980s when Schwinn was facing some internal labor troubles and increased competition from other global manufacturers. The Schwinn management team made the decision to start sourcing most of their bicycle production from Panasonic Bicycle in Japan and Giant Bicycles in Taiwan. The trend only continued from there and today Schwinn is more of a marketing label than an actual bike manufacturer.
What really rubs me the wrong way though is how Schwinn still leans into the American messaging around their bikes, which makes a lot of consumers think that their bikes might be American made, being "America's bike brand" and all.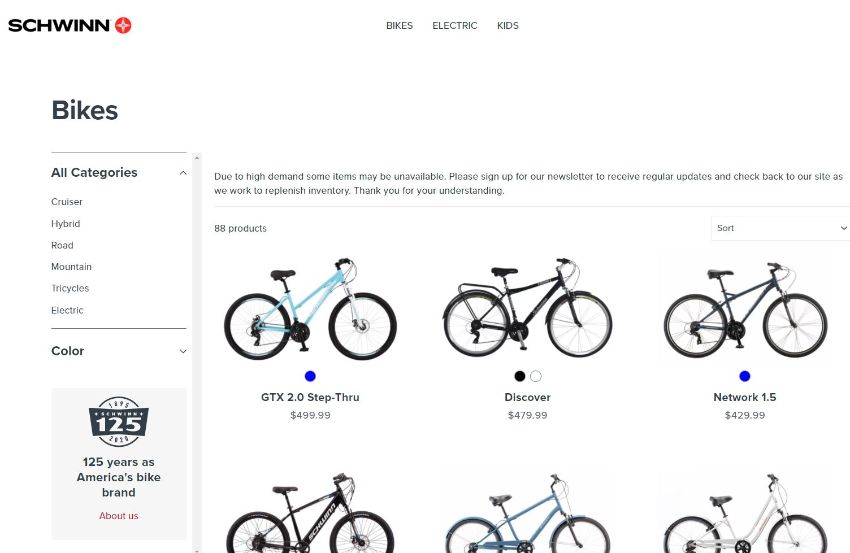 And although it's not required by law, they do not disclose the country of origin anywhere on their website.
Schwinn did come back with a bike that assembled in the USA called the Homegrown, which is well-known in the mountain biking community, but it has since been discontinued.
Anyways, there are way better options out there for American made bikes, like Co-Motion Cycles, so I've linked to our research on the topic below.
Popular American Made Schwinn Bikes
Popular Schwinn Bikes Not Made in the USA
GTX 2.0 Step-Thru
Discover
Network
Huron
Regioneer
Koen
Elm
Wayfarer
Amalgam
Related Articles