Co-Motion Cycles came across our radar when we were looking for bikes made in the USA, and they stood out almost immediately as a step ahead of the competition. Since then, we've kept in contact with Dwan Shepard, the owner, and learned a lot more about Co-Motion and some of the other great bikes that they make in their Eugene, Oregon facility every day. Soon after, we knew we had to get the inside scoop on how they came to be, their production process, and what makes them tick. So, we reached out to Dwan and he was gracious enough to share the Co-Motion story with us. Below is our conversation with him. Our questions are marked with "AAO" and his answers are marked with "CM". We hope you enjoy the insights as much as we did!
History of Co-Motion Cycles
Co-Motion comes from humble beginnings in 1988, as you'll read from Dwan's story below. The sincerity in their work remains as true today as it did 30 years ago, always having a relentless focus on quality and staying close with their customers and the broader cycling community. Here is Co-Motion's story in their own words.
AAO: Give us a insider look at the history of Co-Motion Cycles in your own words.
CM: Co-Motion Cycles started with a lot of ideas and virtually no resources. I (founder Dwan Shepard) had two part-time jobs; one at a bicycle shop and one with local bicycle framebuilder Gary Hale. In 1988, after 5 years essentially working as an apprentice builder, Hale announced that he wanted to quit the bicycle business and pursue other design and fabrication work, offering me the opportunity to purchase his equipment and take over the leased 1,000 sq. ft. space. Just 26 years old, my response was "Are you kidding? You know I have no money – I work for you!". Still, the idea tormented me and I asked my friend Butch Boucher if he would be interested in going in on an offer, and we reached a deal with Hale. For a paltry $3K we were in the bicycle business with an old Atlas lathe, a Jet mill/drill, an assortment of files, a bandsaw, a makeshift frame fixture, a torch and the leased shop.
We built a couple of bike frames for ourselves and a few friends and made ends meet by developing a reputation as the place in the Pacific Northwest to have a bicycle frame modified or repaired . We had shops from Washington, California, and Oregon sending us bent and broken frames, or having the U-brake mounts removed and cantilever brake mounts added. We didn't have a name until we invited our friends to a party where we displayed our first unpainted tandem frame. The theme of the party was to name the bike. We passed out notepads and told people to write down their ideas to be voted on later in the evening. There were dozens of good suggestions, including some that I've later seen on successful car models and other products, like "Intrepid", "Vulcan", and tech-sounding names like "Syzygy", but the clear winner, submitted by our dear friend Anae Rosenberg was "Co-Motion" – we thought that nailed the connection between human and machine perfectly, as well as evoking the cooperative effort of a pair of tandem riders. The votes were unanimous, we added "Cycles" to complete the name, and we then had a brand and an identity.
I have said we survived on moldy bread and tears, and that's not far from the truth. For the first year, I kept my part time job, a year later making a full time commitment that was in reality well beyond a full time job. We worked ridiculous hours to get bicycles out the door, to demo bikes at events as well as some racing any any other exposure we could muster. Our good friend Dan Vrijmoet joined us in 1990 and we elected to make him equal partner in 1991, poor fella. The three of us worked diligently for the next 3 years before hiring our first employee, Bob Westman, who remains at Co-Motion to this day.
Meanwhile, our reputation grew. Our focus on tandems as an underserved niche was paying off. We set our tandems apart from our competition in recognizable, definitive ways as we do to this day. Although few people outside of the area knew, we also made single (non-tandem) bicycles that were growing more refined and developed a following. We found that many cyclists were hungry for a hand-crafted bicycle with a proven track record, a name, a purpose, a defined specification for geometry and components, clear pricing, and deliverability. Many bike builders never quite get there, but this really helps people to understand your focus.
I believe the best tool any business has is the human ear. You've got to listen to what your customer has to say and respond in a positive way. That doesn't mean you have to say yes to every request, but if you're going to say no, you need to say it for good reason. We know we can't be all things to all people, but we can do a lot of things very well, so we focus on what we do best and constantly work to improve. A growing business needs a talented and engaged workforce that shares its vision to deliver upon its promise of quality and lasting value. We've been very lucky in the amazing people who have found there way here.
Although Butch moved on in the mid 90's, and Dan retired in 2017, I find my passion for this work continues to grow, and there are new things to learn every day. Our staff is incredibly proud of the work they do and very conscientious of what it means to create American Made, Oregon Made, Handmade bicycles.
No business is complete without its customers, who have recognized the work we do consistently and faithfully. It's an incredible honor to be given that vote of confidence every time we take an order. It's a thrill to see new families riding a tandem together for the first time, seeing photos of elated bike tourers from all over the world, Paralympic medalists, National and State champs, and really everyone who finds the simple joy of getting out on a bicycle. Our business has thrived only because you entrusted us to build you a great bike. We promise to you that we will make your next bike right here in Oregon with love, with pride and the care and attention to detail that you have come to expect, as always. We look forward to many more great rides for decades to come!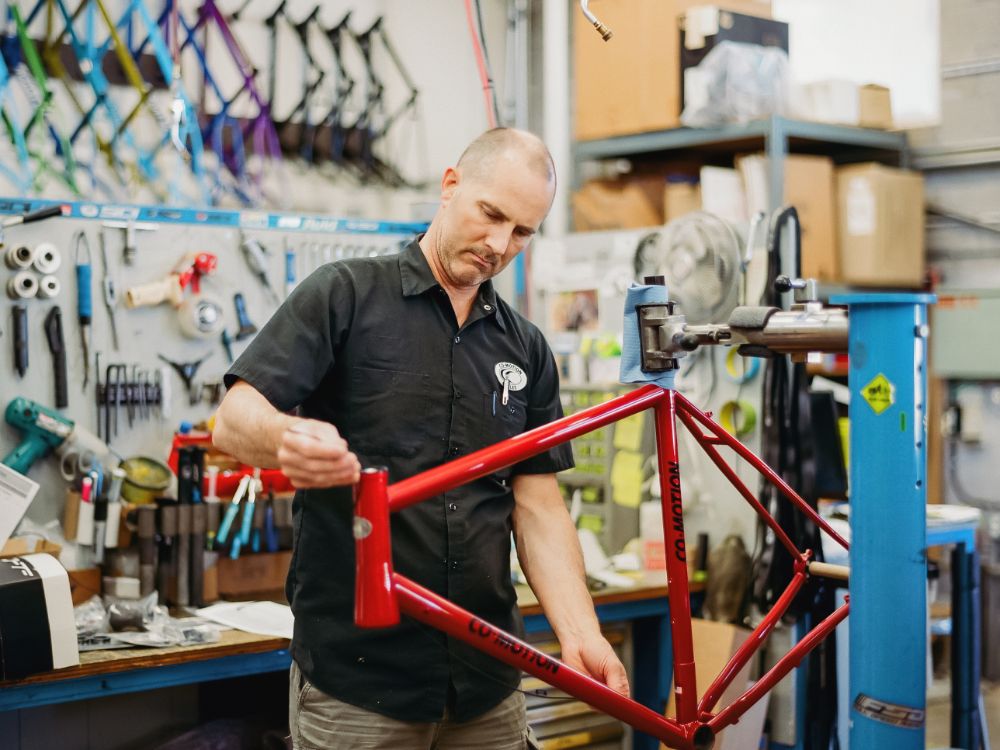 AAO: What made you want to get started?
CM: Bicycle Love.
AAO: How many U.S. based employees do you have and in what locations?
CM: Eighteen. All in our facility in Eugene, Oregon.
AAO: Why do you choose to manufacture in the U.S.?
CM: It's really our identity and what our customers expect from us. We believe to turn away from that would be a betrayal of our clientele as well as our own beliefs.
Featured Co-Motion Bikes
I think it's pretty obvious so far – Co-Motion puts a ton of care and high-quality craftsmanship into every single one of their tandem and single bicycles. Here are some of their most popular bikes, including our favorite – the Camino. We had Dwan add some lengthy descriptions below each one and we also listed where to get them.
Camino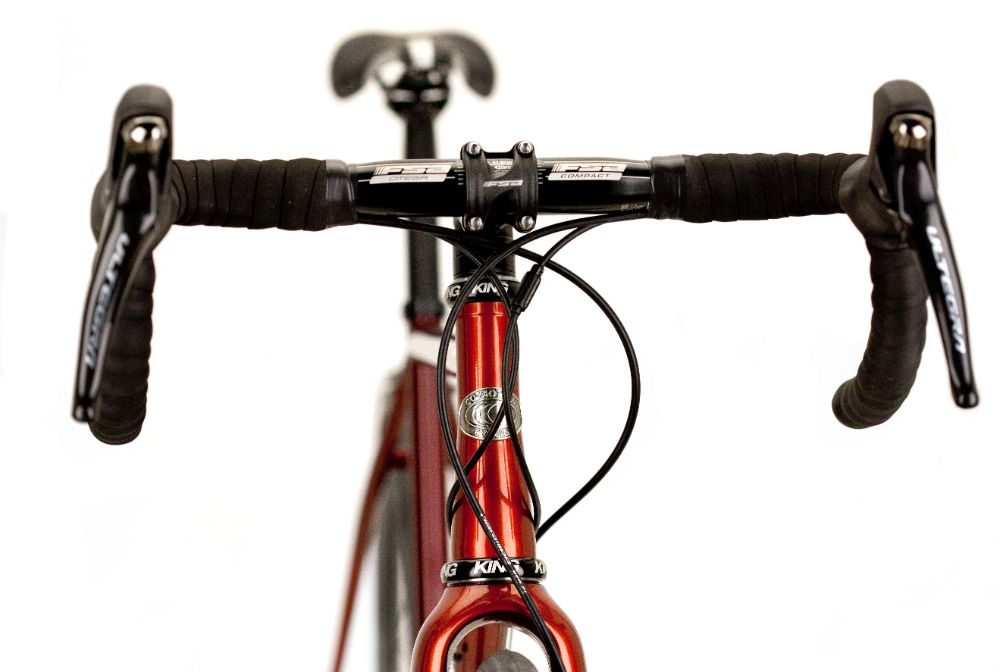 CM: Our Camino is perfect if you're looking for just one great bike that can do anything. It's light and fast for taking on club rides, can take bigger tires and fenders for unpaved adventures in the back-country, and you can ride it all year long even here in the wet and wooly Northwest. Disc brakes make speed control and stopping easy and safe in all conditions. Take it on a gravel ride or go bikepacking – it really is that versatile. The Camino truly defines the "All-Roads" ideal.
AAO: Quality, durability, and versatility all make the Co-Motion Cycles Camino an excellent purchase. It has everything that you need in a bike, whether you're looking to ride on rough surfaces or commute to work in the city. The color options and other customizations are exceptional and show how much Co-Motion cares about their customers. Like all of their bicycles, the Camino's frames, forks, and stems carry a limited lifetime warranty for the original owner, and you can register your bike online at their website. If you're looking for a reliable all-purpose bike, the Camino will not disappoint.
Java
CM: Take a look at our Java adventure tandem with the Pinion gearbox option. This is a tandem you can take anywhere; The Great Divide route or your favorite Saturday loop. We're the first company to offer a Pinion gearbox transmission on a tandem, with full support from Pinion in Germany. The 18-speed gearbox offers wider gear range than a regular derailleur system, with Gates Carbon Drive belts requiring no lubrication in place of chain. Because we offer a lot of choices, you can also opt for a Java tandem with a normal derailleur drivetrain, S+S couplers for travel, paint it with countless color options and more.
Ochoco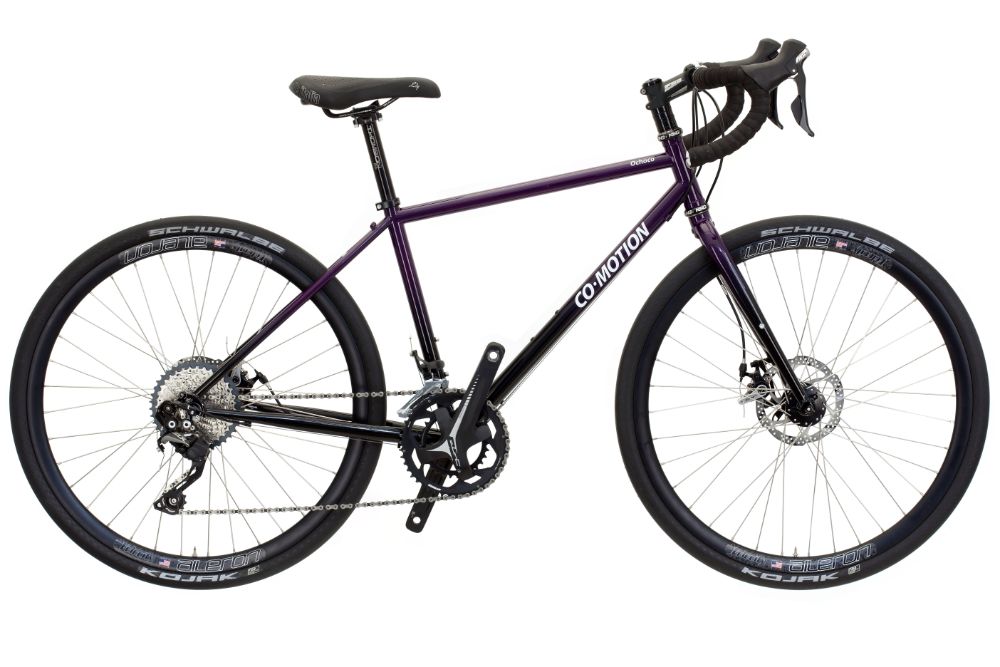 CM: The Co-Motion Ochoco is a very special touring bike built for smaller-stature riders, primarily women, but we don't want to exclude anyone who can benefit from a bike that is really built to shine in ways that the big bike companies have never gotten right. Did you know that most "women's" bicycles use the same wheel size and the same fork as bikes made for larger cyclists? That's a problem when these bikes that are marketed toward women do not handle well, particularly when loaded with touring gear, where a smaller cyclist can feel unsafe going over mountain passes and the challenging terrain that is integral to bike touring. If you're not a tall cyclist, we've scaled the Ochoco's special touring geometry, smaller 650B wheels and custom fork to ride like it's a part of you, and that is a new experience for many smaller riders.
Travel Easy: The Co-Pilot Option
CM: Have you ever taken a look at a folding bike, and then just wished you could take your best bike with you when you travel? Good news! Most of our bikes are available with our Co-Pilot option, meaning we can build your bike with S+S couplers so the frame can be split into two parts and your entire bike will then fit into our Co-Pilot airline-checkable luggage. Your travel bike need not have tiny wheels or non-standard parts. Your Co-Motion Co-Pilot can be your one and only bike, and you can fly with it anywhere. Check our bike models for the Co-Pilot option.
Bicycles with Purpose
AAO: What do your customers love most about you and your products?
CM: We're a no-nonsense, factual company with solid values. Our bicycles are very purpose-oriented, and we can show you what we do that's different from any other bike company, as well as why we do it, and why it's better. Take a test ride and you'll find it very difficult to disagree. Own a Co-Motion bike and you'll be an avid advocate. Customer loyalty and word of mouth have been our driving and sustaining force from day one.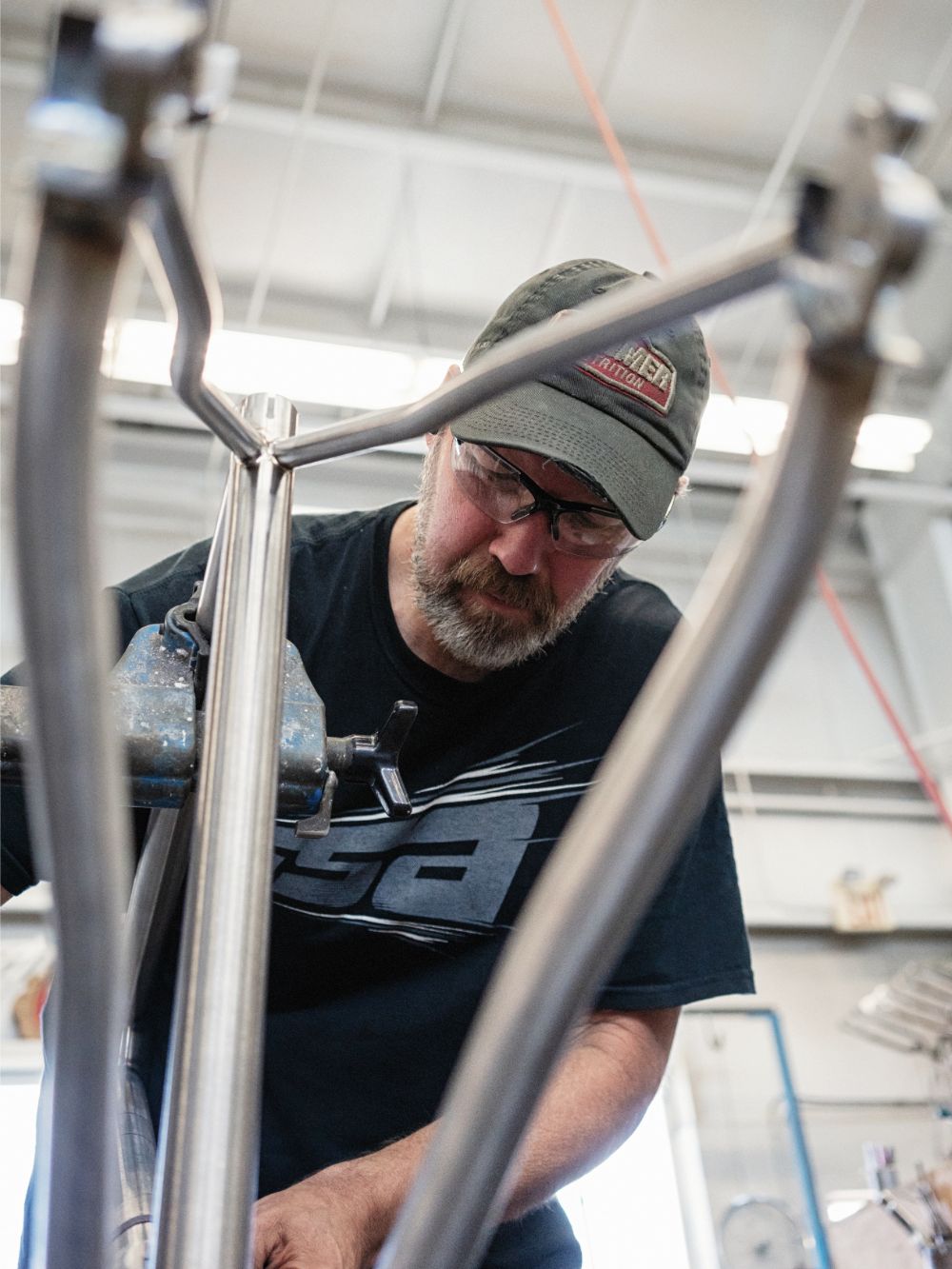 The Future
AAO: What gets you excited about the future of Co-Motion Cycles? Where are you headed?
CM: We're thrilled to bring some of the newest innovations in cycling to you in a bicycle that is purpose-designed to make best use of new ideas. Throughout our history, we've been among the first if not THE first in the U.S. and even worldwide to make a bicycle that fully integrates a new idea, such as the S + S coupling or the Pinion Transmission. At Co-Motion Cycles, we also develop a lot of our own ideas, such as the telescoping seatmast system on our PeriScope family tandem bicycles, as well as the special tubing and key frame components that all of our bicycles are constructed with. New ideas keep coming, and we continue to find ways to make better bicycles that take people adventuring for life.
We had an absolute blast talking to Dwan and the team at Co-Motion Cycles, and we wish them all the best! We are excited for all of the cool innovations and high quality bicycles they are bringing to the cycling community. They are a truly great American brand.