Cannondale is one of the most recognizable names in bikes. They got started over 50 years ago in Wilton, Connecticut (still their headquarters today) by Joe Montgomery and Murdock MacGregor, but funny enough, bikes weren't the first product they made. They started in concrete manufacturing and it wasn't until 1983 when they produced their first bicycle. Fast forward to today and Cannondale is one of the biggest bicycle brands in the world and sponsors some of the top riders in competitive events like the Tour De France. They make everything from road bikes to mountain bikes and even electric bikes these days. Over Cannondale's lifetime, they went into bankruptcy in 2003 and then eventually got bought by Dorel Industries in 2008 (their current parent company), which is a Canadian-based consumer products company. Dorel Industries is heavy in the bike industry, also owning popular brands like Schwinn and Mongoose. So, we know that Cannondale is no longer owned by a U.S. company. The question remains though – are any of their bicycles made in the USA anymore? We did the research to find out. Our verdict is below.
Verdict: Are Cannondale Bikes Made in the USA?
No, Cannondale bikes are unfortunately no longer made in the USA. Most of their bikes are now made in Taiwan.
This news isn't all that surprising given the sale to a large multinational corporation, which many have a history of squeezing every last penny out of the businesses they buy and not really caring about anything else.
A lot of Cannondale bikes used to be manufactured in Bedford, Pennsylvania in a huge 225,000 sq. ft. facility employing hundreds of American workers. All of their entry-level aluminum bikes were made there all the way from 1983 to 2009. However, after Dorel Industries purchased Cannondale in 2008, they quickly started shifting manufacturing overseas to their "center of excellence" in Taiwan in 2009.
What I find more troubling though is that Cannondale and Dorel are not forthcoming at all about the country of origin for their bikes. The manufacturing location is nowhere to be seen on either website, so we had to do some secret shopping of our own to find out more.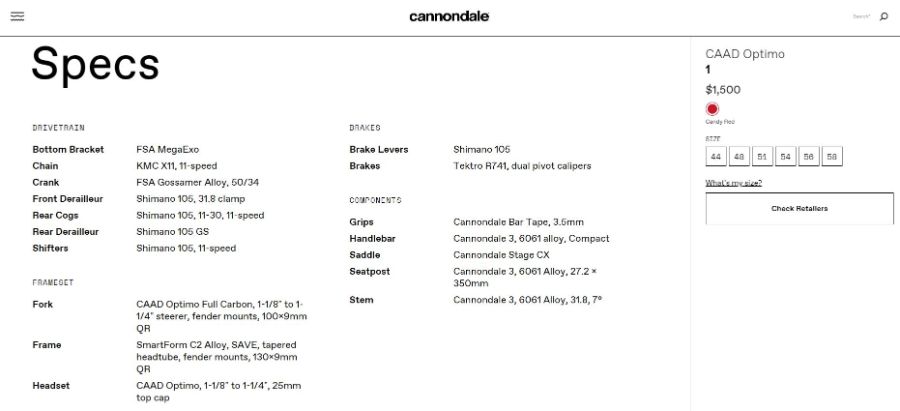 Below are some of Cannondale's more popular models and some better American made alternatives.
Popular American Made Cannondale Bikes
Popular Cannondale Bikes Not Made in the USA
CAAD Optimo
Habit
F-Si
SuperSix EVO
Topstone
Neo models
Related Articles