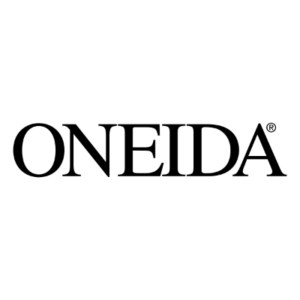 You might not think of something like your utensils when it comes to the manufacturing location. But forks and knives have to get made somewhere! We took a look at the popular flatware brand, Oneida.
They were founded nearly 200 years ago in upstate New York and describe themselves in one word…perfection. The brand has a very interesting origin story. A religious group calling themselves the Perfectionists was a self-sufficient community of men and women who created crafts and handmade goods. From this practice was born the silversmithing art that went on to become Oneida Limited.
The name Oneida comes from the town where the brand was born. It remains headquartered there to this day. Original designs were crafted out of silver, but today, they are made from stainless steel. 
Oneida introduced the use of stainless steel in the 1960s. This shift made quality utensils available and accessible to many more people around the world. Today, they boast over 2,000 different flatware styles, with many offered in several finishing options. 
Oneida is part of a larger brand family owned by Lenox. Other brands under Lenox include Kate Spade, Cambridge, and Reed&Barton. They now produce and distribute their products worldwide on nearly every continent. What started as flatware made in the US has exploded into a global brand offering everything from stemware to tabletop goods and kitchen tools. 
Is Oneida still manufactured in New York? Let's look and find out if they fit the bill of perfection they claim. 
Verdict: Is Oneida Flatware Made in the USA?
No, Oneida flatware is not made in the USA. All of the Oneida products are imported from overseas. Most items are likely produced in China. Not quite the "perfect" we were looking for. 
We utilized the Live Chat function to speak with customer service. The agent wouldn't reveal any country of origin unless we provided a specific item number. But they did inform us that there are no US made products. Here is that conversation: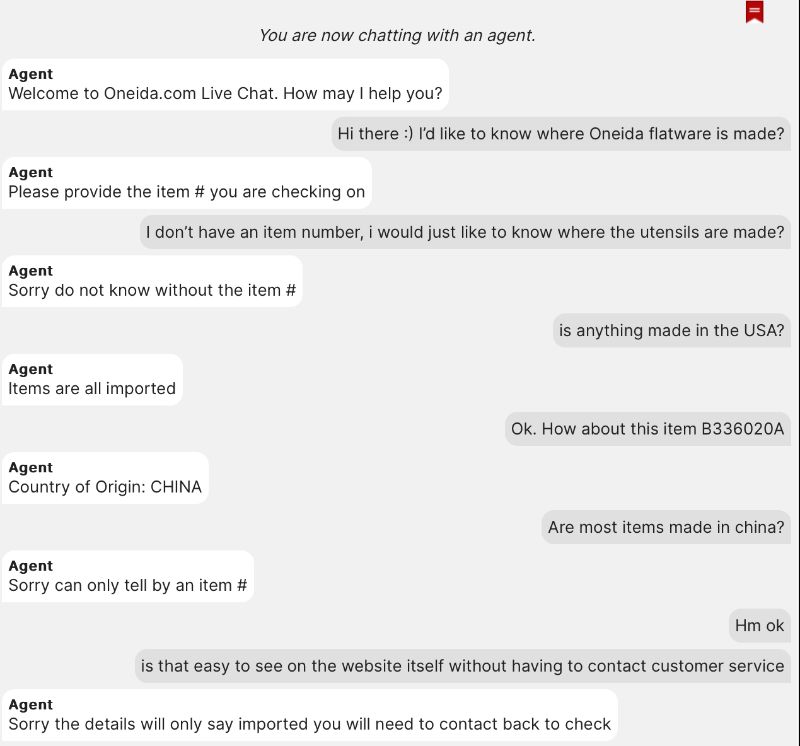 The Oneida website is massive, listing those 2,000-some design styles in multiple finishes. However, none of them are made in the US. We chose a random item number to ask customer service about, and what do you know, it was made in China. 
The customer service rep told us that items will be labeled "imported," though we couldn't find this tag on any of the products we scoped. But what does it really matter, knowing that every single item is imported anyways? 
We looked a bit further into the history of Oneida. Turns out, they used to make their flatware in New York and US-based factories (along with World War II trucks and engine parts), but it has since sold those locations. One NY factory was sold to a brand by the name of Liberty Tabletop, which continues to make utensils there today. 
So, although Oneida claims to be the home of flatware, their home is… in outsourced Chinese factories.
Popular American Made Oneida Flatware Products
Popular Oneida Flatware Products Not Made in the USA
Mooncrest 20 Piece Everyday Flatware Set, Service for 4
Flight 20 Piece Everyday Flatware Set
True Rose 5 Piece Everyday Flatware Serving Set
Related Articles