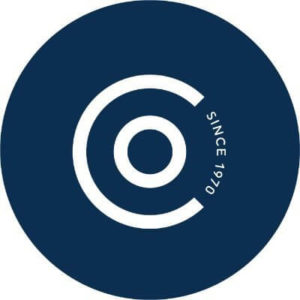 What do you plate your meals on? Chances are it might be Corelle. The widely used dishes can be found all over the United States. They're strong, durable, and nicely priced. And it all started right here in the USA.
In the 1860s, a company by the name of Corning Glassworks began in the historic town of Corning, NY. They produced light bulbs and eventually grew their product base to create dishes and other glass items.
Corelle was created in 1970 by the Corning Glass Works company. It is made of a three-layer glass composite known as Vitrelle. This material comes with a "No Chip. No Crack. Guarantee."
Corelle is owned by Instant Brands. Other brands under this business include Pyrex, Corningware, Snapware, and Chicago Cutlery. Instant Brands is based out of Downers Grove, Illinois.
They got their start in New York, and now we find out, are they still manufacturing from the states?
Verdict: Is Corelle Dinnerware Made in the USA?
Yes, most of the products from Corelle are made in the USA. The stoneware and mugs are made in China.
Hoorah, a made in the USA brand! Well, mostly.
We'd like to see a little more pride from their manufacturing department! Show us some photos of your production facility…highlight worker profiles…tell us a funny story about the site's holiday party!
Especially coming from such a rich history, Corelle could really beef up its About Us pages. Like other huge brands, they seem to have lost their identity. What many huge brands tend to lose is their identity. People want more from their shopping experience besides just a click-and-buy situation. It's the little details that create a brand story and are able to capture a community following.
It took us visiting Corelle's Australian website to see this banner:

That banner is not present on the American website! Why?! Thankfully, on each product page, you can find where the item is manufactured. For the lack of brand imagery and storytelling in their About section, at least they're upfront on the product pages.
The below information from the Corelle Classic Splendor 78-Piece Dinnerware Set: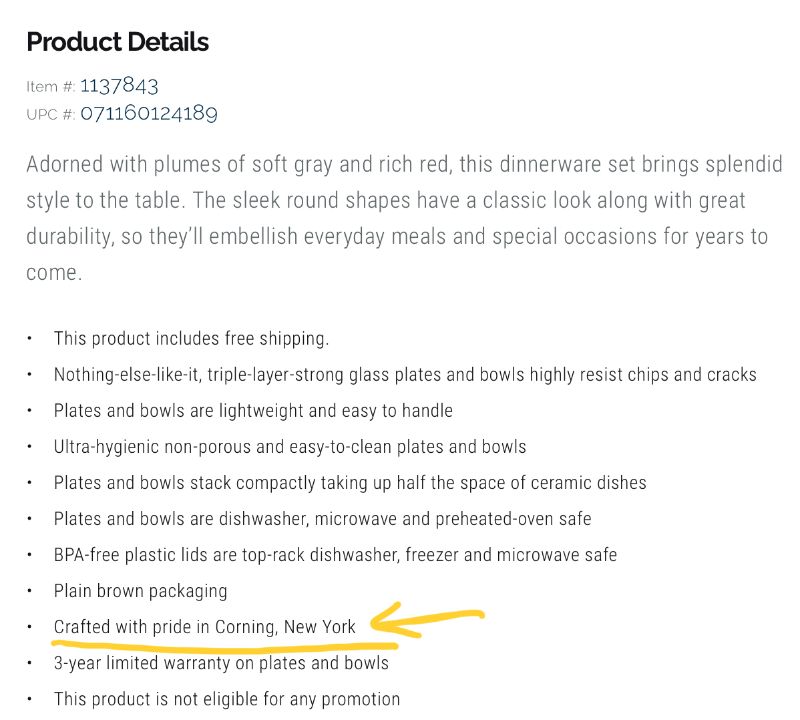 But not everything is made in the US. Only the company's glassware plates and bowls are produced in their Corning, New York factory. Other items, like stoneware, are made in China.
The below information from the Corelle Stoneware 16-piece Dinnerware Set: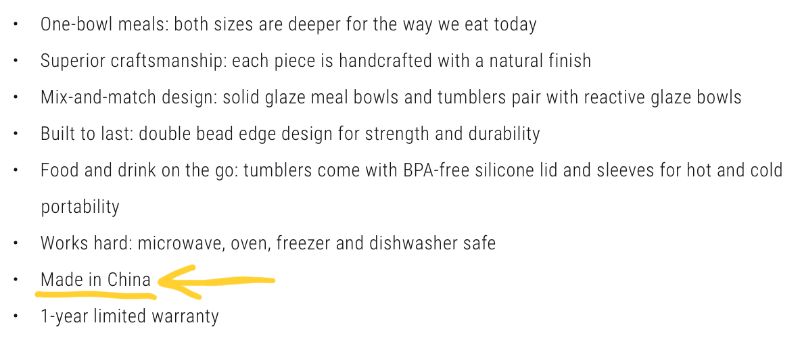 Remember that – only their plates and bowls are made in the USA. Even their mugs, though they are of the same materials and paired in the dish sets with the US-made plates and bowls, are made in China.
Below is information from the Corelle Cusco 16-piece Dinnerware Set: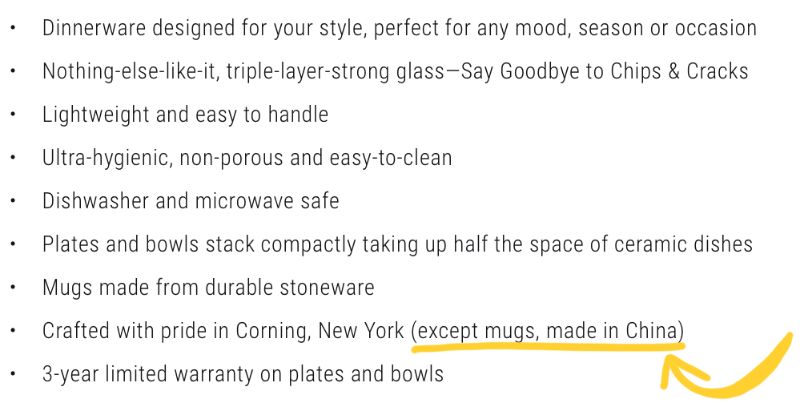 To sum it all up: Corelle manufactures its plates and bowls in its Corning, New York factory. Mugs and stoneware are made in China.
Popular American Made Corelle Dinnerware Products
Corelle 12-piece Dinnerware Set: Disney Mickey Mouse: The True Original
Corelle Leaf Stitch 12-piece Dinnerware Set
Corelle Winter Frost White 16-piece Mugless Dinnerware Set
Popular Corelle Products Not Made in the USA
Corelle 11-ounce Slate Gray Mug
Corelle Stoneware 8.45" Meal Bowls, Oatmeal
Corelle Stoneware 21-ounce Bowls, Navy
Related Articles