It began with a pot—a quick cooking "magic" pressure cooker that caught fire (not literally) across the nation. People everywhere were googling recipes and blogging about the incredible all-in-one appliance. Of the vast selection of brands available on Amazon, Instant Pot is the number one selling. 
In 2009, a group of Canadian technology entrepreneurs got together to test out cooking appliance designs. It took 18 months, but they finally developed the Instant Pot and began the brand Instant Brands.
Instant Brands is an encompassing brand that includes several other large companies, such as Corelle, Pyrex, CorningWare, Snapware, and Chicago Cutlery. Among the titles is Instant Brands themselves, which produces the famed Instant Pot. 
There are other pressure cookers out there. So, what makes Instant Pot stand out? It's multi-function use. The appliance can perform pressure cooking, slow cooking, rice cooker, steamer, and warmer. And with every newly developed design, those functions expand: yogurt maker, sauté pan, and more. In 2014, they released an Instant Pot with Bluetooth capability.
Popularity never slowed, and people everywhere still ask, "Should I get an Instant Pot?" Well, we're here to help you answer that question by first finding out where Instant Pot is manufactured. 
Verdict: Is Instant Pot Made in the USA?
Instant Pot products are made in China.
Our search for this answer proved to be quite a journey. Naturally, their website contains no leading information on brand or product pages. So, we reached out to their Chat team and subsequently went for a ride: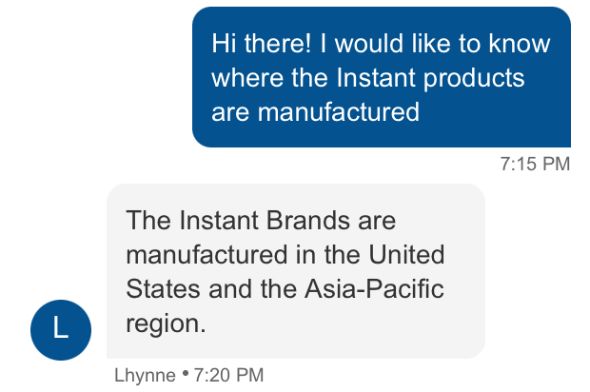 According to the customer service representative we chatted with, Instant Brand items are made both in the US and abroad, specifically in Asia-Pacific locations. Hey, that's great! Tell me what products are made in the US!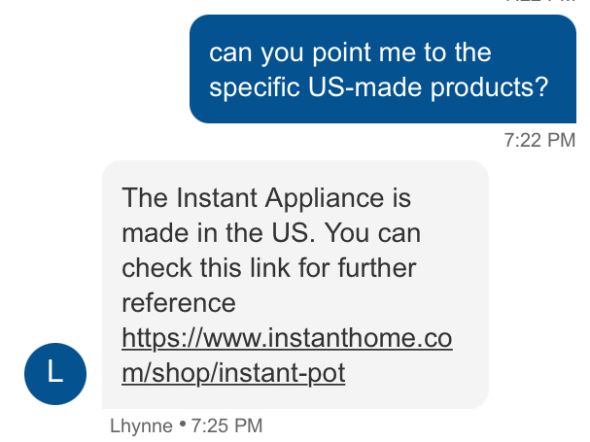 The link provided by the rep simply led to the home site for the Instant brand. Whaaat? Is everything Instant Brands made in the US?! How did we not know this? ….seems unlikely; let's get some clarification: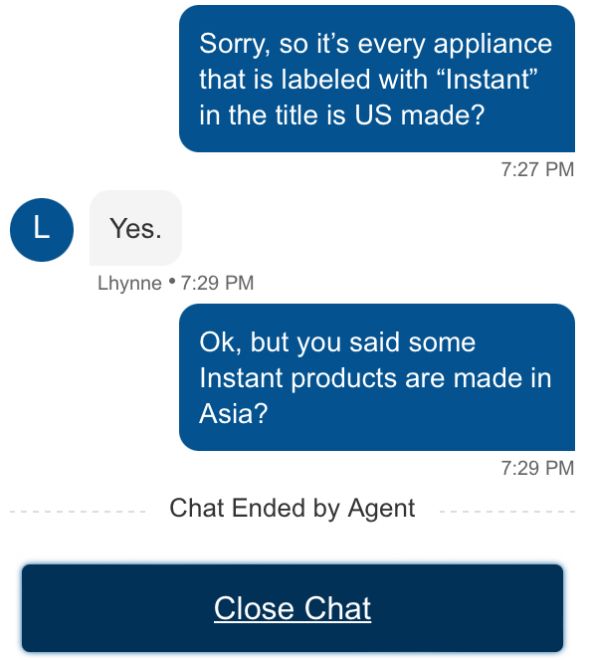 Well, doesn't trust just go down the drain when a customer service rep ghosts you? When someone refuses to answer a question, we can assume the answer, can't we?
With this interaction coming off suspicious (at best), we reached out again, but this time through email. The response we received seems much more accurate:

Comparing the two interactions, we'll label the latter as holding more weight. Now, we've finally learned that Instant Brands products are made in China. The end. 
Popular American Made Instant Brands Products
Popular Instant Brands Products Not Made in the USA
Instant Cold Brewer
Instant Essentials 4-hart Air Fryer
Instant Pot Duo Crisp
Related Articles