There is no other blender quite as popular as the Vitamix. Especially with the growing preference for alternative diets like plant-based and Mediterranean, the need for a powerful blender is becoming larger.
But Vitamix certainly isn't new to the scene. The company has been around for over 100 years. It was founded in 1921 by William G. Barnard, and it all started with a mission to help people prepare and eat healthier foods.
The company is still owned by the same family, a century later. In fact, Vitamix reports that it is a "fourth-generation family-owned American company." Yet, instead of a small dream, Vitamix is now a globally known name. Their products are available in over 130 countries and used worldwide by over 150 culinary schools.
If budding chefs choose it, it's probably a solid choice for the home cook. But our real question is, where is it made? According to the brand, it all began in a little log cabin in America. It's clear that Vitamix has grown to be a highly coveted brand and is in high demand around the world. Now, it's time to find out if this company remained stateside or expanded to foreign manufacturing.
Verdict: is Vitamix Made in the USA?
Vitamix products are assembled right here in the USA, but they use several globally-sourced components.
Though the blenders aren't still made in that original log cabin, they are still assembled domestically. And it doesn't get more American than a log cabin, does it?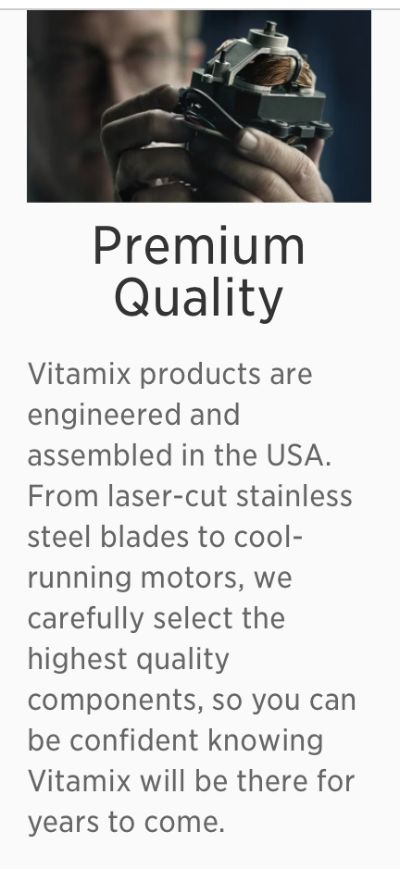 You can see the manufacturing location of each item – spoiler alert, the location is the same for all – in the "Specifications" section of each product page. Vitamix products are made at their headquarters location in Ohio. See the image below:
Vitamix's products are both engineered and manufactured in the US, but they do utilize global materials. See here their short description of their world partners below:

It isn't just their American-made essence that sets Vitamix a step above its peers. It's the precision and ultimate quality that makes this the blender of all blenders. The blades are made of aircraft-grade stainless steel, the company offers a gasp-worthy 10-year full warranty, and the company has a purpose.
From Day 1, Vitamix has sought to make families healthier. One scroll through their website, and you'll find testimonies of people who used the Vitamix to change their lives for the better. Whether that is recovering from breast cancer, propelling a culinary career, or caring for patients with depression, people that use Vitamix only see positive results.
The founder, "Papa" Barnard, has always seen natural whole foods as the key to health and wellness, even possibly the cure to common diseases. Vitamix retains this viewpoint today and continues its mission to make families healthier, one smoothie and puréed soup at a time.
Popular American Made Vitamix Products
Food Processor
Aer Disc Container
Ascent A3500 Gourmet SmartPrep Kitchen System
*All made with globally sourced components
Popular Vitamix Products Not Made in the USA
None that we could find that are assembled abroad
Related Articles