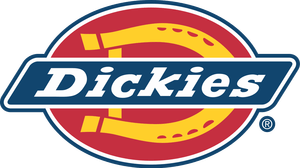 Williamson-Dickie Manufacturing companu, more commonly known as Dickies, was founded in 1918 in Bryan, Texas by C.N. Williamson and E.E. "Colonel" Dickie. They grew steady for their first 15 years, but really started to explode when they began to supply millions of uniforms for our American armed forces in World War II. From then on, they expanded into several apparel product lines. Today they are headquartered in Forth Worth, TX and are America's largest manufacturer of workwear, ahead of other brands like Carhartt and Dockers. In 2017, they were bought by VF Corporation, a large apparel conglomerate from Greensboro, NC. To this day though, Dickies remains synonymous with the American working man – but are their products still made in the USA? We did the research to find out. Our verdict below.
Verdict: Are Dickies Made in the USA?
Unfortunately, most (if not all) of Dickies current apparel is not made in the USA. They have recently outsourced all of their manufacturing to countries like Mexico, China, Pakistan, and Cambodia. So much so, we couldn't find a single apparel product that is fully produced in the United States.
This news is pretty disappointing and unfortunately follows a historic trend in this industry of a mass exodus overseas in the late 20th century. One of their manufacturing facilities is in Zaragoza, Mexico, just a 40 minute drive south of the Texas border.
The country of origin is clearly marked on most of Dickies' products, so you can see for yourself where each product line is being manufactured. That level of detail is a little harder to find on their website, each product is simply marked as "Imported." Below, we've highlighted a few of their more popular items and where they are produced.
Popular American Made Dickies Products
Popular Dickies Products Not Made in the USA
Carpenter Duck Jeans – Honduras
Carpenter Denim Jeans – Mexico
Classic Cotton Overalls – China
Twill Shirts – Pakistan and Cambodia
Find an American Made Alternative
Related Articles
YouTube Video: Checking Where Dickies Is Made